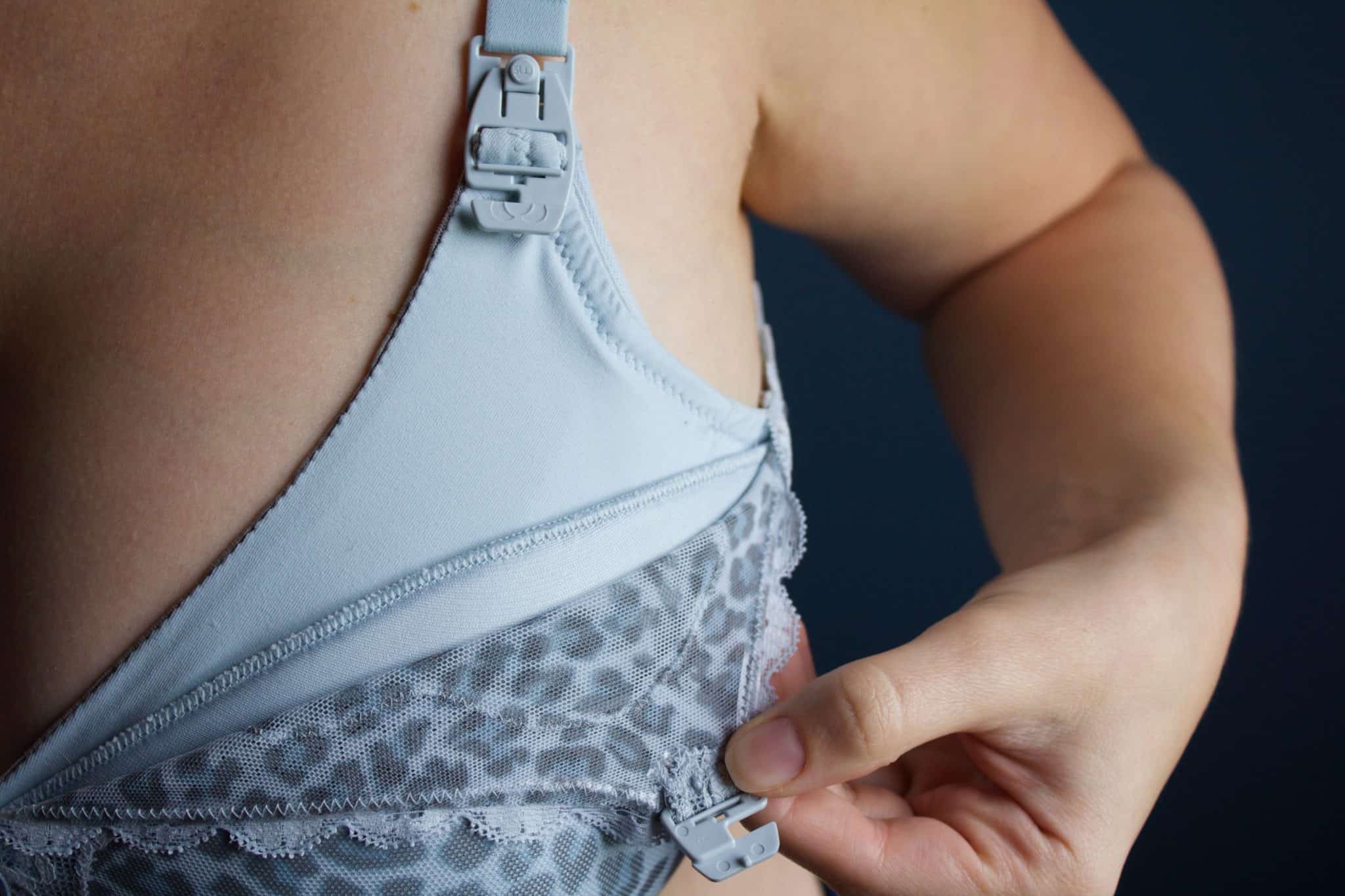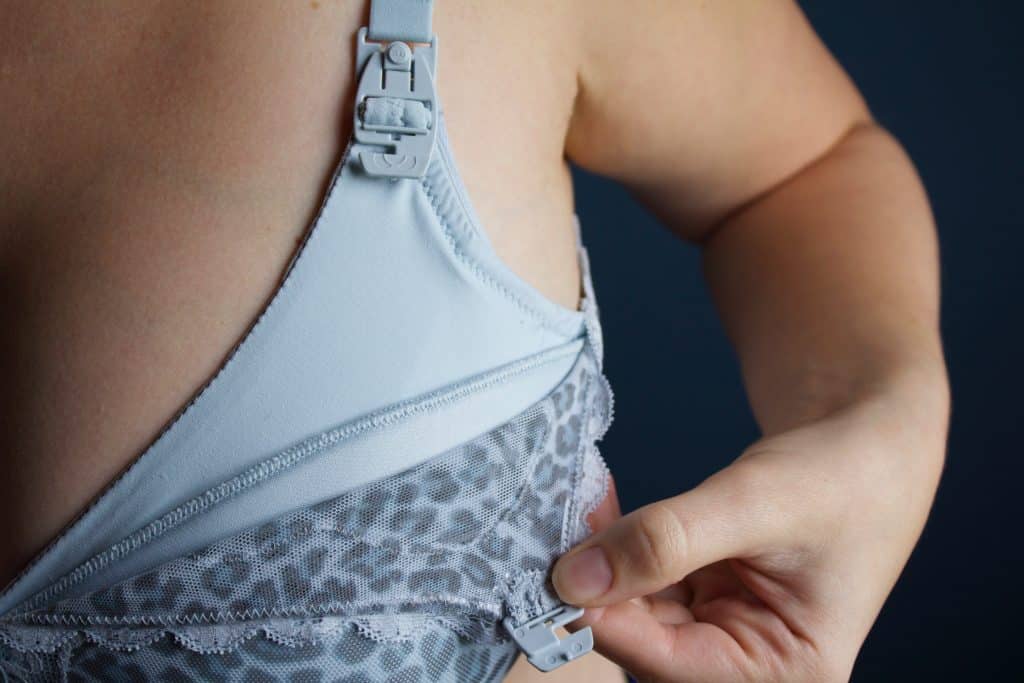 This post may contain affiliate links. See the disclosure tab for more details.
If you're a breastfeeding mom who will be traveling while exclusively pumping, you may be wondering how on earth you're going to make it work.
It can seem daunting at first, but with a bit of preparation and some handy tips, you'll be able to make the most of your trip and continue breastfeeding your baby.
In this blog post, we will discuss some tips for traveling while exclusively pumping.
Stay tuned for helpful advice on everything from packing to pumping and getting your milk home safe!
Being Prepared for Pumping While Traveling
It can be tough to juggle traveling and pumping breast milk, but it's important to remember that you're doing an amazing job.
With a little bit of planning, you can make it work.
Packing Your Breast Pump and Accessories
One of the most important things to do when preparing for a trip is to make sure you have everything you need to pump.
This means bringing along your pump, storage bags or bottles, and any other necessary breast pump parts.
It is also good to carry two sets of breast pump parts while traveling in case anything happens to one.
Sarah Wells Abby Bag
When traveling while exclusively pumping, a great breast pump bag is a must.
I came across the perfect Spectra S1 Breast Pump Bag to fit my pump, cooler, and all my personal belongings. The Sarah Wells Abby Bag does it all.
The Sarah Wells Abby Bag has a simple, sophisticated look in a neutral, black or navy color. The leather details on the handles make it look very high-end and the wipeable exterior fabric holds up great.
The bag has two insulated, zipper compartments accessible from the sides.
The larger one holds a breast pump (big enough for the Spectra S1 and all other pumps,) while the other holds a small cooler or ice packs to keep expressed milk cold.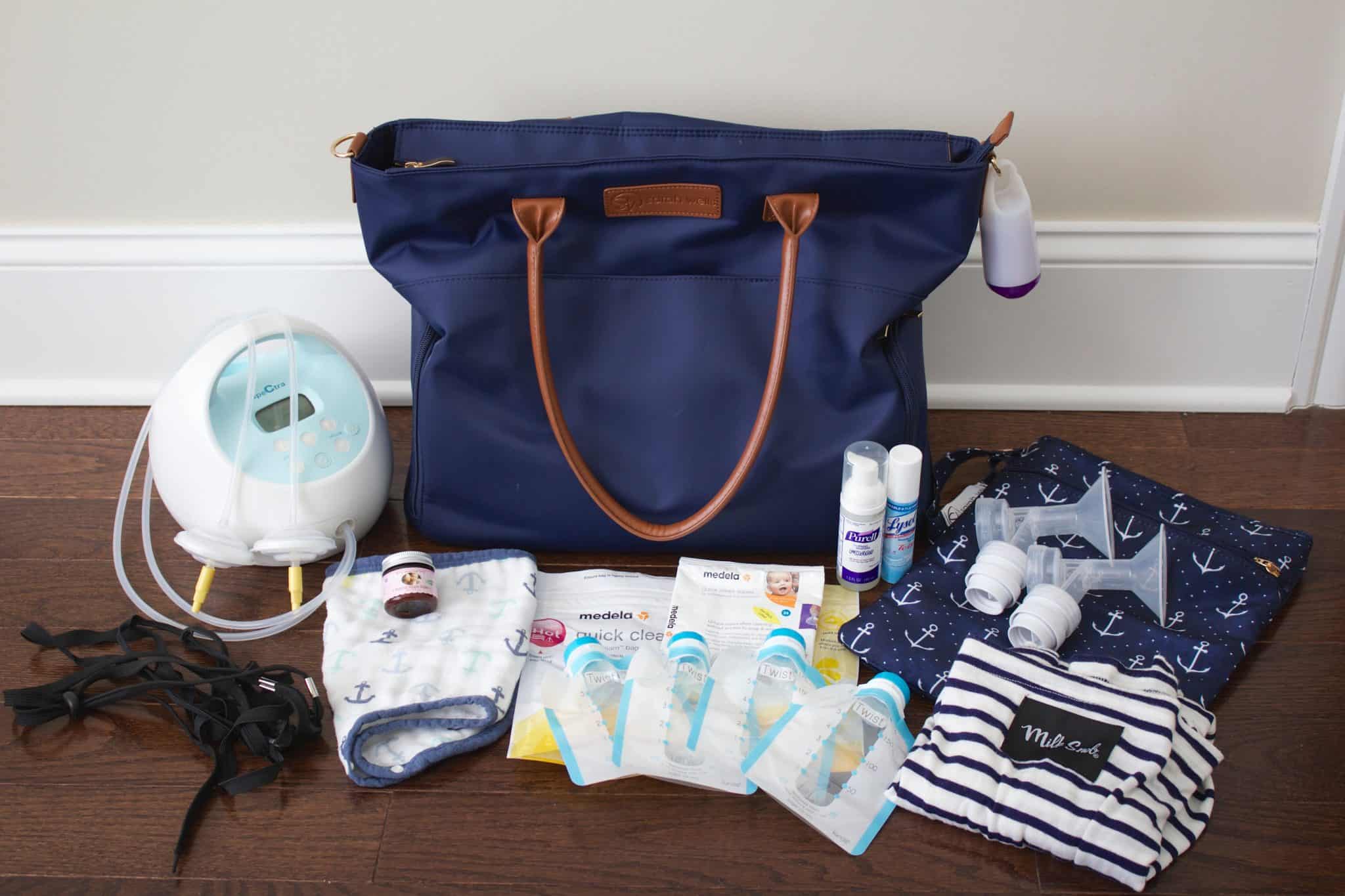 Planning Exclusive Pumping into your Trip
You'll want to think about when and where you'll be pumping. If you're staying in a hotel, you can request a fridge for your room where you can store your pumped milk.
If you're visiting a major attraction – like Disney World – research in advance to see if there are any lactation rooms that you can use during your visit.
When you're traveling with others, let them know in advance that you'll need to factor pumping into the schedule.
Dress for Easy Pumping
To save time during your pump sessions, dress to pump easily. Your typical breastfeeding clothes will give you quick access.
I also suggest wearing a pumping bra while traveling so you don't have to worry about changing bras in whatever space you are pumping in.
Bring a nursing cover if you think you'd be more comfortable. This can help in large spaces, like an airport, to give you more privacy.
Which Breast Pump for Traveling
Several breast pumps work for traveling. With a rechargeable battery pack, these pumps will free you from cuddling the wall. Just don't forget your charger!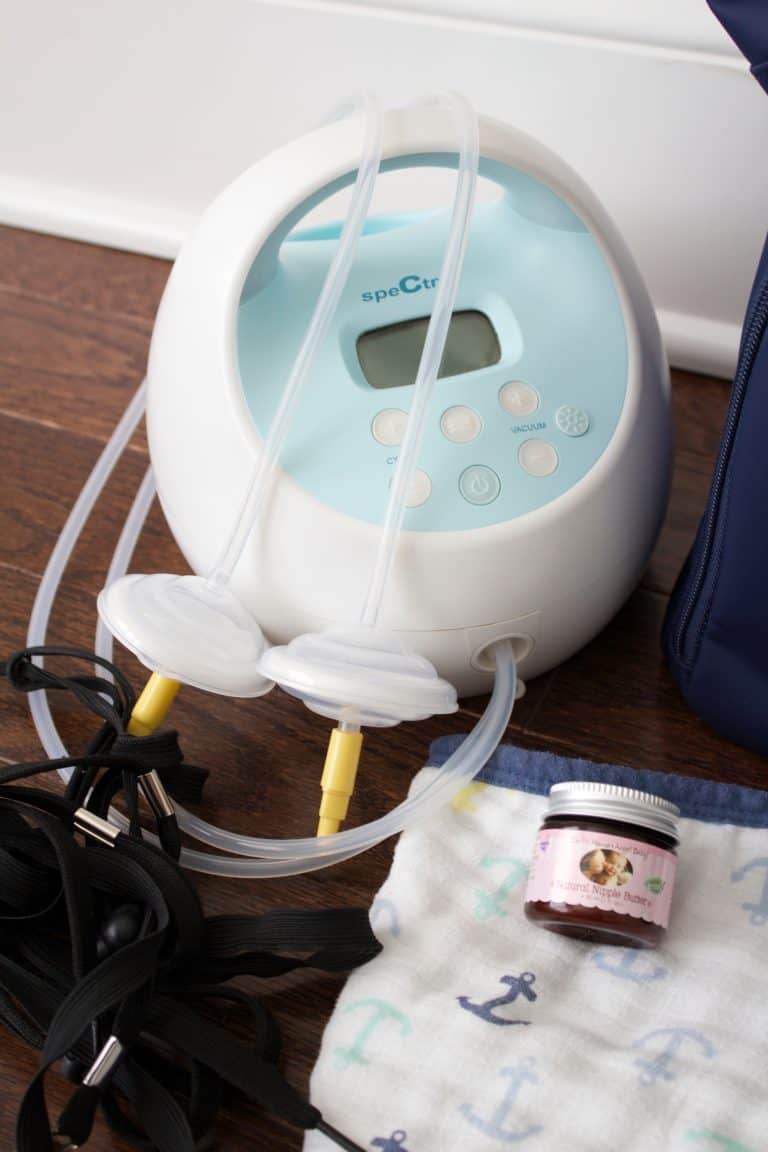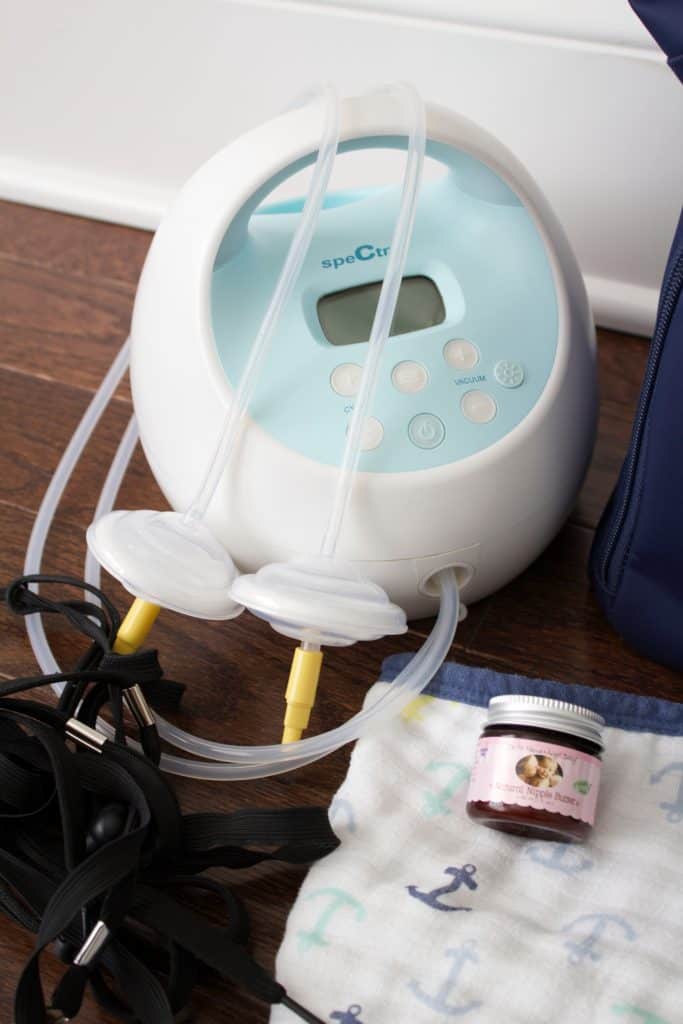 Spectra S1
The Spectra S1 is the gold standard for exclusive pumping moms.
It is a fabulous hospital-grade pump that is rechargeable so it travels easily.
The charge should last the entire day. The only downside is it's pretty large.
I lovingly referred to it as my bowling ball. However, it works great and you can easily go anywhere with it.
Elvie Stride
Elvie Stride is a fabulous pump that can be worn under your clothes with no one being the wiser.
While wearables are the new thing, they can be quite costly.
Elvie Stride is available through insurance, usually as an upgrade, eliminating the huge cost issue.
While the Elive Stride involves a few more parts to function, if you need a pump that is completely hidden while you're out and about, this is it.
Medela Freestyle Flex
If you're a Medela breast pump fan, the Medela Freestyle Flex is a great choice for exclusively pumping moms who are looking for a compact, portable breast pump.
It's small enough to fit in your purse or diaper bag, and it has a built-in rechargeable battery, so you can pump anywhere.
The only downside is that it's not as powerful as some of the other pumps on this list.
Traveling Without Baby While Exclusively Pumping
Stick to the Same Schedule
Whether you typically nurse your baby or are an exclusive pumping mom, stick to your normal schedule as much as possible.
Skipping pumps or times your baby typically nurses signals to your body that your baby doesn't need as much milk and could drop your milk supply.
Pumping about every 3 hours, give or take, based on your baby's age will help your supply stay consistent.
Baby Empties Better
If this is your first time exclusively pumping for your baby, keep in mind that a pump will not empty you as well as your baby can.
Don't be discouraged if you don't see as much milk as you think you're supposed to have. Just keep pumping and sticking to a schedule.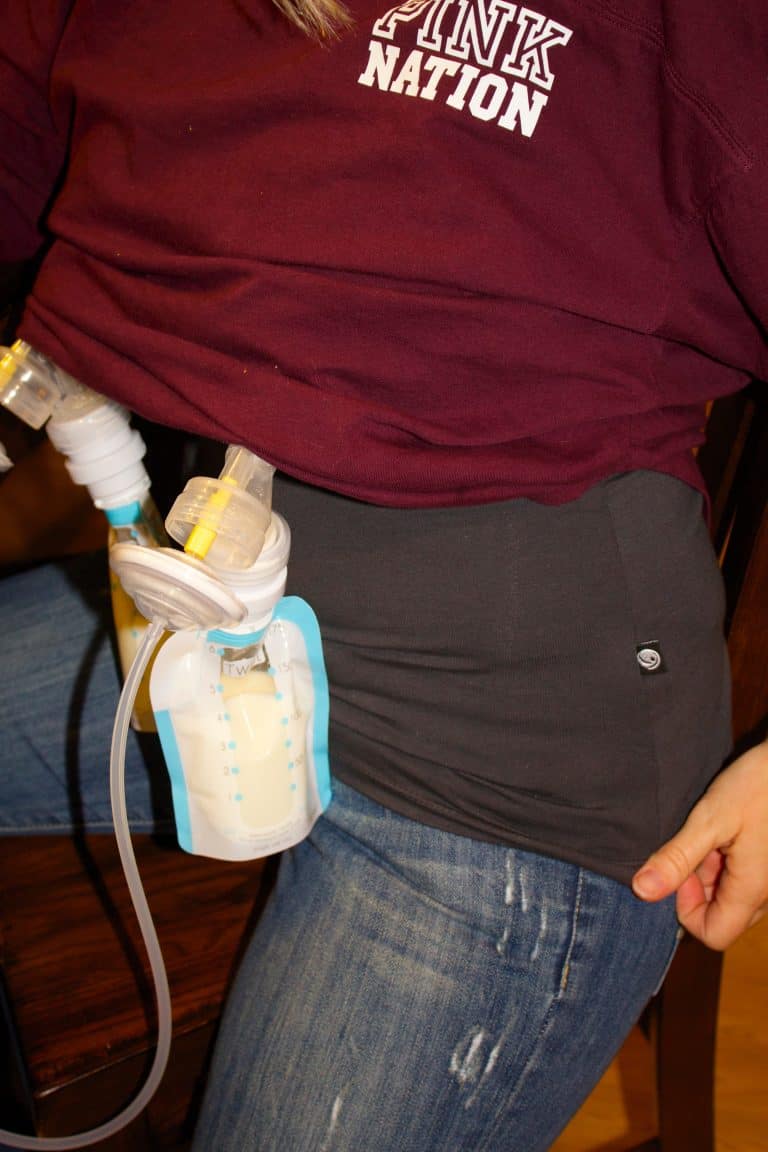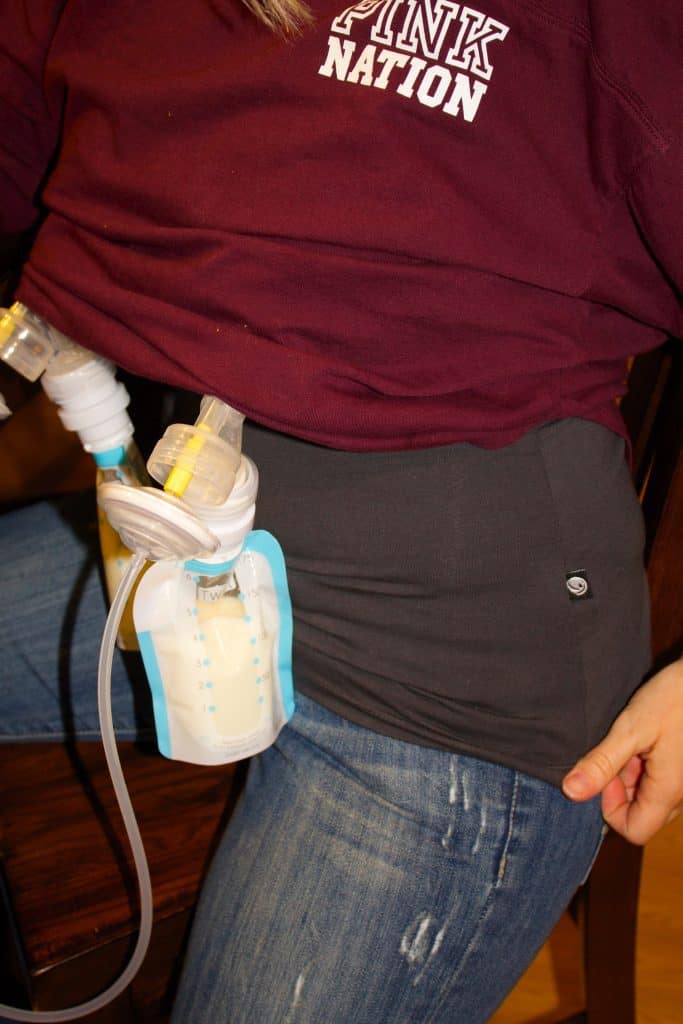 Washing Breast Pump Parts While Traveling
Depending on how you're traveling and for how long, washing pump parts could be a big concern.
If you'll have access to a sink – great. If not, it's time to get creative. Here are a few methods to consider.
Quick Clean Wipes
Medela quick clean wipes are probably the easiest cleaning method to use while traveling.
No water is needed, just wipe down the flanges and let them air dry.
I usually tend to shake out any excess breast milk onto a burp cloth first.
I wouldn't recommend this method for days of travel without a good wash, but it can easily get you through your travel day until you can access a sink.
The wipes are pretty big, so you can cut them in half to get twice as much use from a pack.
Wet/Dry Storage Bag
A wet/dry bag is a great accessory to have with your pump.
Storing your flanges or other washable pump parts in a wet/dry bag will save money over disposable storage options.
There is one side for clean parts and the other side is for storing wet or used parts until they can be cleaned.
Additionally, this can save you wash time as you can store all your parts in the refrigerator without washing them.
I usually store mine for 24 hours before removing them to wash. This will work if you have a travel refrigerator for the car or a cooler.
Drying Rack
If your travels are quick and you can access water to wash your parts and leave them out to dry, grab a travel drying rack.
I love this Boon drying rack because it comes with brushes and was specifically made with pumping in mind.
It's a must for staying in hotels or vacation rentals.
Sterilizer Bags
Although they require you to have access to a microwave, I recommend sterilizing with steam bags about once per day while traveling or not being able to give them a full wash.
When we are on the go, our hands get washed less and we are around more germs.
These are best if you can't access a sink right away, but know you will later.
Just pour bottled water through your parts until they can be quickly sterilized at your next stop.
The goal is to remove the milk so it doesn't dry into the small crevices of the pump parts.
Breast Milk Storage When You're Traveling
Expressed Milk Storage Guidelines
The CDC has Breastmilk storage guidelines to assure your milk is safe for baby.
These are important to follow when you are traveling. Here are some key guidelines to keep in mind:
Freshly expressed breastmilk can be stored at room temperature for up to 4 hours
You can store your breastmilk in the refrigerator for up to 4 days
Breastmilk can be stored in a cooler with ice packs for up to 24 hours
Breast Milk Storage Bags or Bottles
Depending on your pump you may use bottles, milk storage bags or both.
You may decide to pump directly into bottles and transfer to milk storage bags to have less bulk while traveling.
Just keep in mind any spills that could happen with bags and possibly put your breastmilk storage bags into a larger ziplock bag.
I have found the Kiinde system to be a huge time saver while traveling.
You can pump directly into the milk storage bags, place the cap on and store the milk. Kiinde comes with adaptors for most major pump brands.
Breast Milk Cooler Bags and Ice Packs
If you are traveling with breast milk by car, it can be stored in a cooler bag with ice packs for up to 24 hours.
This is the most cost-effective storage method for shorter trips. You can also use a breast milk cooler for flying.
If you're on a road trip, it may be easier to plug in a mini fridge to keep your milk cold.
These can run off of a 12v auxiliary power outlet in your car.
Ship Breast Milk with Dry Ice
If you have a lot of pumped breast milk from a long trip, you may consider shipping it to your home versus trying to carry it through airport security.
Milkstork can help you ship refrigerated or frozen breast milk home.
They also offer a breast milk cooler to carry on or check your breast milk when flying.
Although this is a costly option, it may be worth it to avoid the hassle and safely get your breast milk home.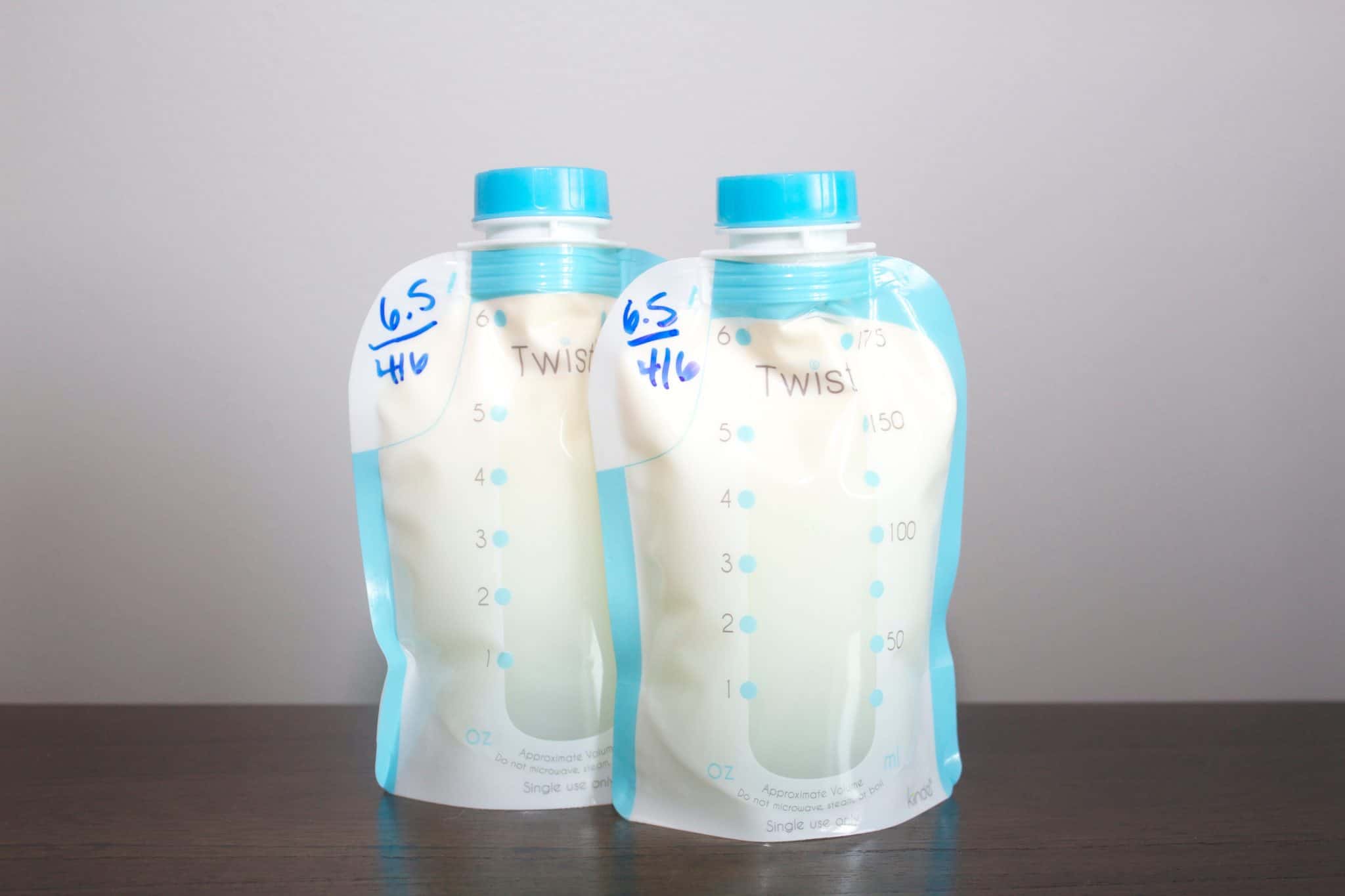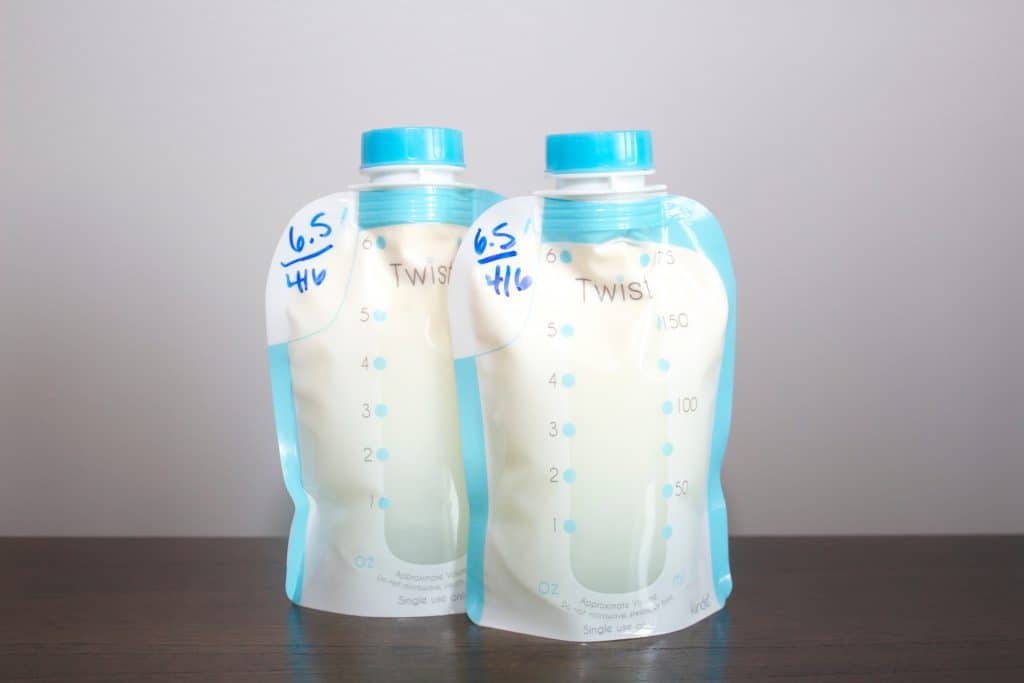 Traveling with Breast Milk by Plane
Try not to stress about traveling on a plane with breast milk. Most of the time, you will be fine if you are aware of the guidelines.
Just be sure to read them and have them ready to show anyone who wants to tell you otherwise. Remember, this is a medically necessary liquid.
Traveling with Breastmilk TSA
I'm sure you've heard horror stories about the Transportation Security Administration and traveling with breast milk.
When flying with breast milk, the best you can do is be prepared.
I highly recommend printing the TSA's information on breast milk and keeping it with you.
This is as prepared as you can be to encounter airport security with breast milk.
Pumping and Airports
Make sure all of your pump parts are with your carry-on luggage.
Pump in the airport after going through security so you don't have to worry about carrying expressed breast milk through.
I recommend trying to get your pumping done before you get on the plane, but I know it's not always possible.
Be sure to check with your airline in advance to find out their policies on breastfeeding and pumping during the flight.
Where to Pump in an Airport
Many airports have become breastfeeding and pumping-friendly and are equipped with Mamava lactation pods.
If you can locate one of these, you can use it for privately pumping breast milk.
Otherwise, airports are large and there are usually areas that are private enough for you to set up a pumping session.
Carrying around a travel bottle of Lysol and hand sanitizer can help sterilize your pumping area.
Traveling While Exclusively Pumping Breast Milk
If you find yourself planning a trip while exclusively pumping breast milk, it is important to be prepared.
Be sure to know how to store your pumped breast milk and how you are going to get it home.
While exclusively pumping while traveling can be difficult, being informed and well-packed will make your journey much easier.
How do I travel with breast milk by car?
The easiest way to store breast milk in a car is with a breast milk travel cooler. The milk can be kept cold with ice packs for up to 24 hours.
How long can I store my breast milk while traveling?
Freshly pumped breast milk can be stored at room temperature for 4 hours, 24 hours in a cooler with ice packs, and 4 days in the refrigerator. If your baby will not be drinking the expressed milk after that time, you should freeze your breast milk.
What is the best breast pump storage bag for travel?
The Sarah Wells Abby bag is a great breast pump bag for toting your breast pump, parts, and even a cooler to keep milk cold. It has plenty of room for other accessories and looks like a high-end purse. I have found it to be the best spectra s1 breast pump bag.
---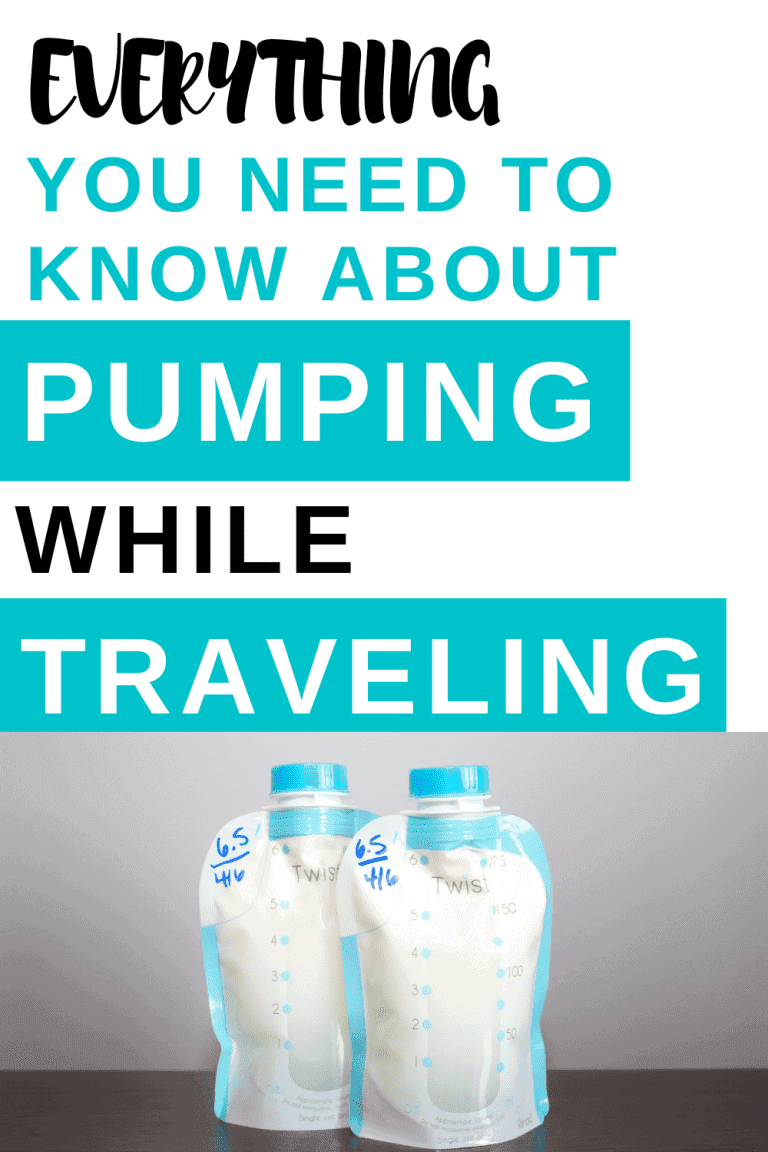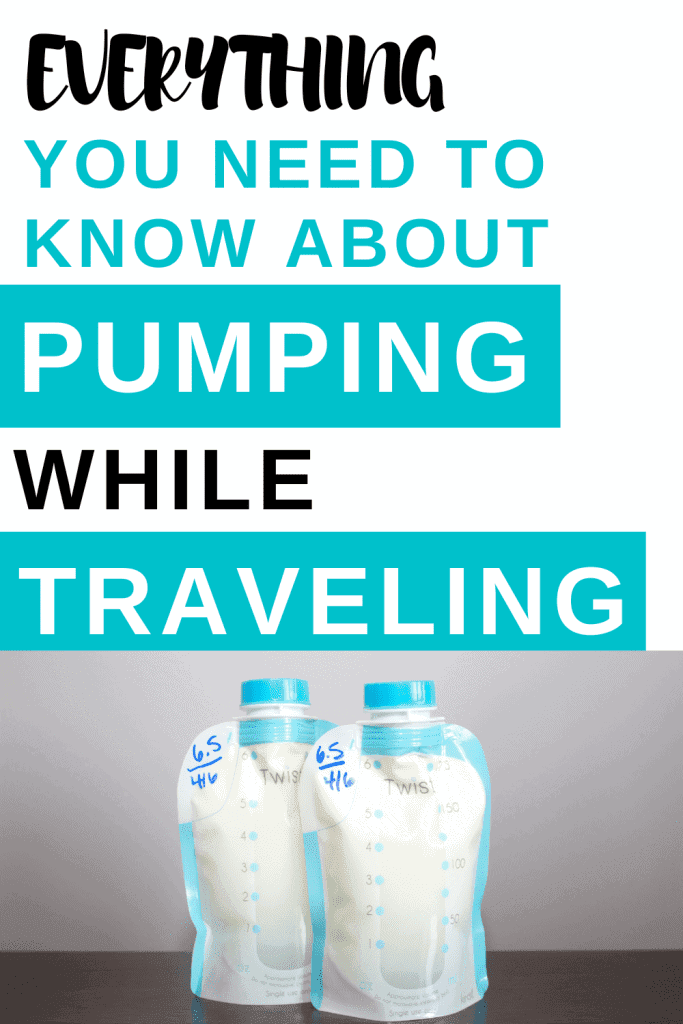 ---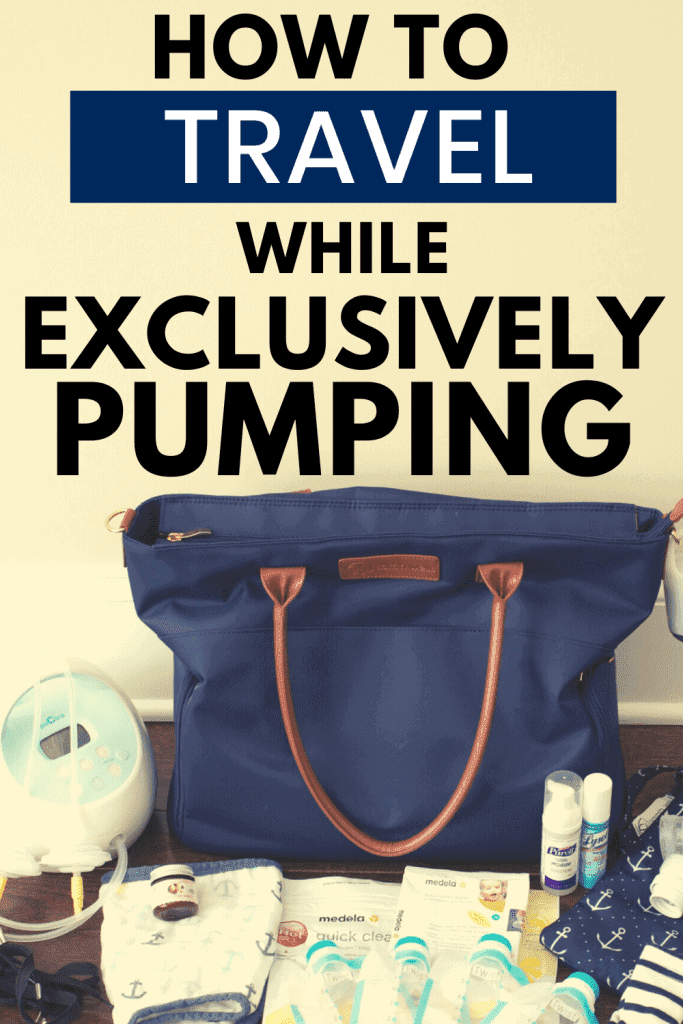 ---