If you are looking for some awesome things to do in Rodanthe, NC with your kids, look no further! We have gathered a list of activities that will keep the whole family entertained.
From exploring local attractions to playing on the beach, there is something for everyone in this charming coastal town.
So pack your bags and get ready for some unforgettable family fun in the Outer Banks of North Carolina!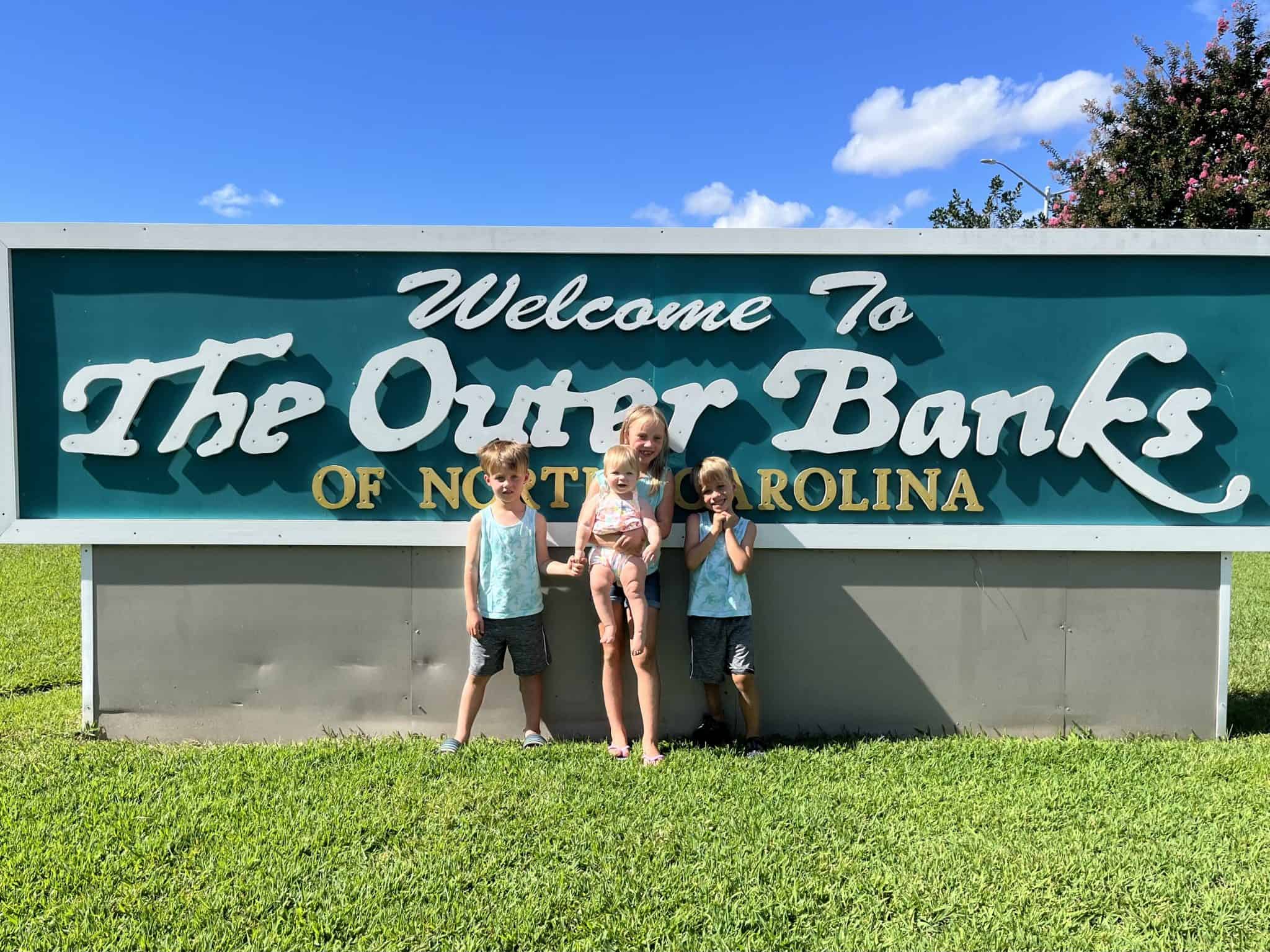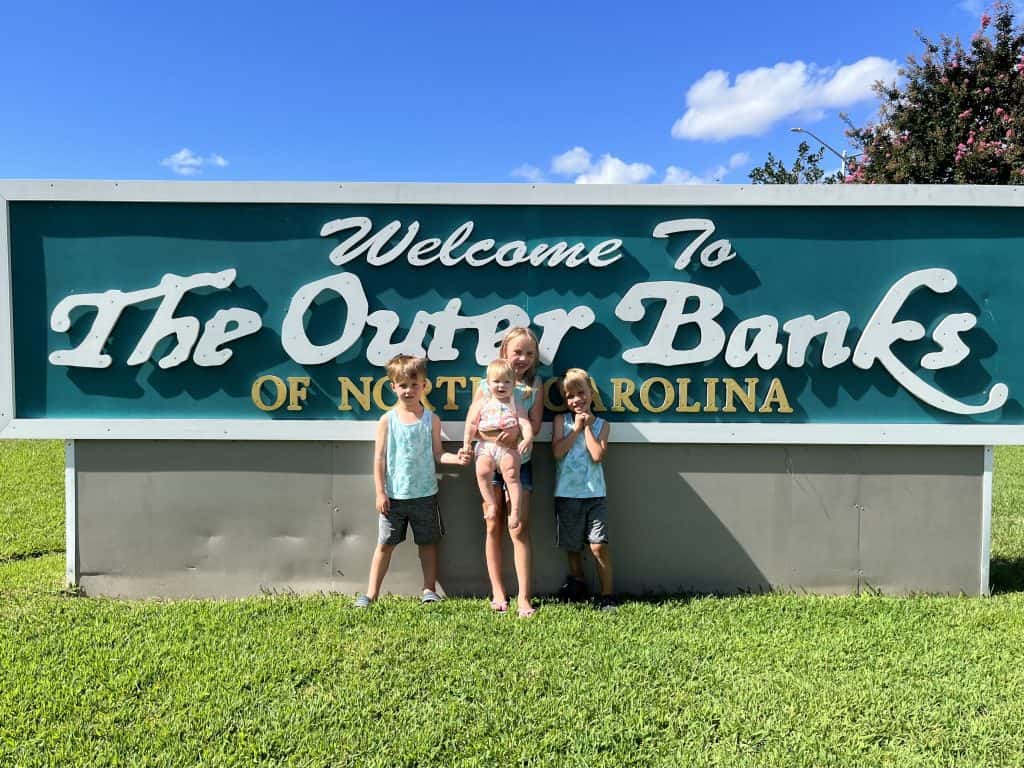 Where is Rodanthe, North Carolina?
Rodanthe is a small coastal town in the Outer Banks of North Carolina.
Located to the south of the larger tourist areas on Hatteras Island, Rodanthe, NC is a part of the Tri-Villages including the small cities of Waves and Savlo.
How to Get to Rodanthe, NC
There are two ways to get to the Outer Banks – from the north and from the west which is more towards the middle of OBX.
The easiest way to get to Rodanthe is to come in from the west. Head east on route 64 into the Outer Banks and then south on route 12. This will bypass most of the traffic in the northern cities.
If your road trip takes you through North Carolina, there are plenty of things to do in Raleigh for a fun stop before arriving in the Outer Banks.
Where to Stay in Rodanthe, NC
Like most of the Outer Banks, vacation rentals are the most popular place to stay.
Rodanthe also has several campgrounds on the water making it ideal if you own an RV.
Why Stay in Rodanthe, North Carolina?
The Outer Banks is a beautiful area and has many cities to explore. The popular areas, (Nags Head, Kitty Hawk, Kill Devil Hills, Duck,) are up north. But when you head south it gets a little less commercial.
The water is still beautiful and the beaches are just as nice. You will find less people and more peace and quiet to enjoy the beauty of OBX.
Rodanthe is also located on the Cape Hatteras National Seashore – one of just ten national seashores in the United States.
Things to do in Rodanthe, NC
#1 Rodanthe Beach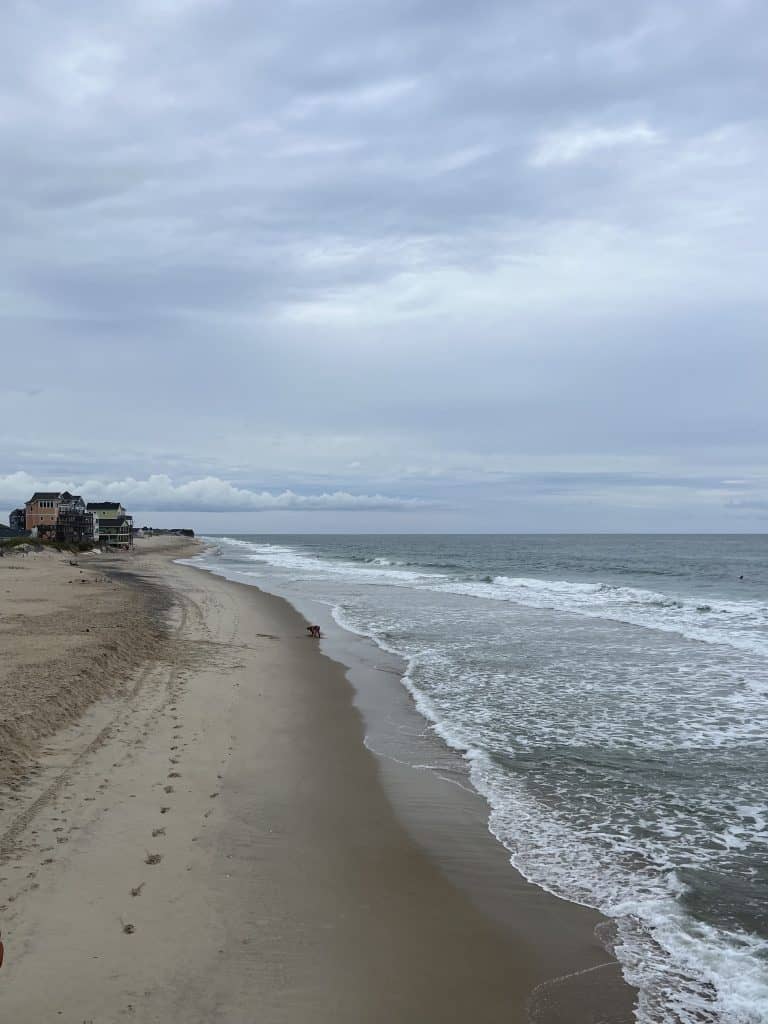 Of course, the number one thing to do in Rodanthe, NC is to go to the beach!
Most vacation rentals offer private beach access and there are public beach access points as well. Rent a house for a week and enjoy all that the Outer Banks has to offer.
Kids will love to look for shells. Although it's not the greatest place for finding whole shells, the fun is in the hunt!
The sand stays pretty wet and makes it ideal for sand castle building – or simply digging holes as my boys like to do!
Be sure to bring your sunscreen and the best toddler beach gear to keep your kids busy at the beach!
If they're ready to get in the water, boogie boarding is a must when you're at the beach. Kids will love to catch the waves and ride them into the shore.
Just be prepared for the wind! It can get pretty windy on the Outer Banks, so make sure you have a plan to keep all of your stuff, staked down.
#2 Explore the Pamlico Sound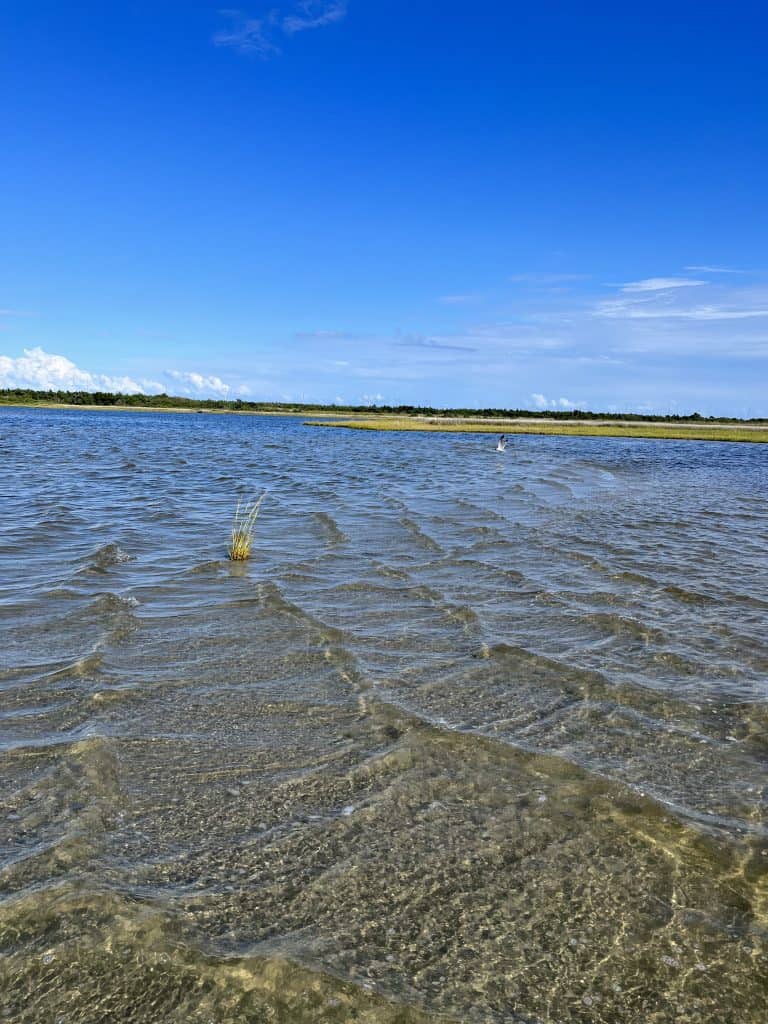 The second stop on our list of fun things to do in Rodanthe with kids is the Pamlico sound. If the beach is a little too much for young kids, they are sure to enjoy the calm, shallow waters on the sound side of Rodanthe.
Paddleboarding is a great way to get out on the water and explore. You can paddle around in the shallows and look for shells, fish, or crabs.
Kayaking is another great way to explore the sound. You can find beautiful sandbars and marshlands only accessible by the water.
Both paddleboarding and kayaking are great ways to enjoy the beauty of nature in the Outer Banks.
#3 Crab Fishing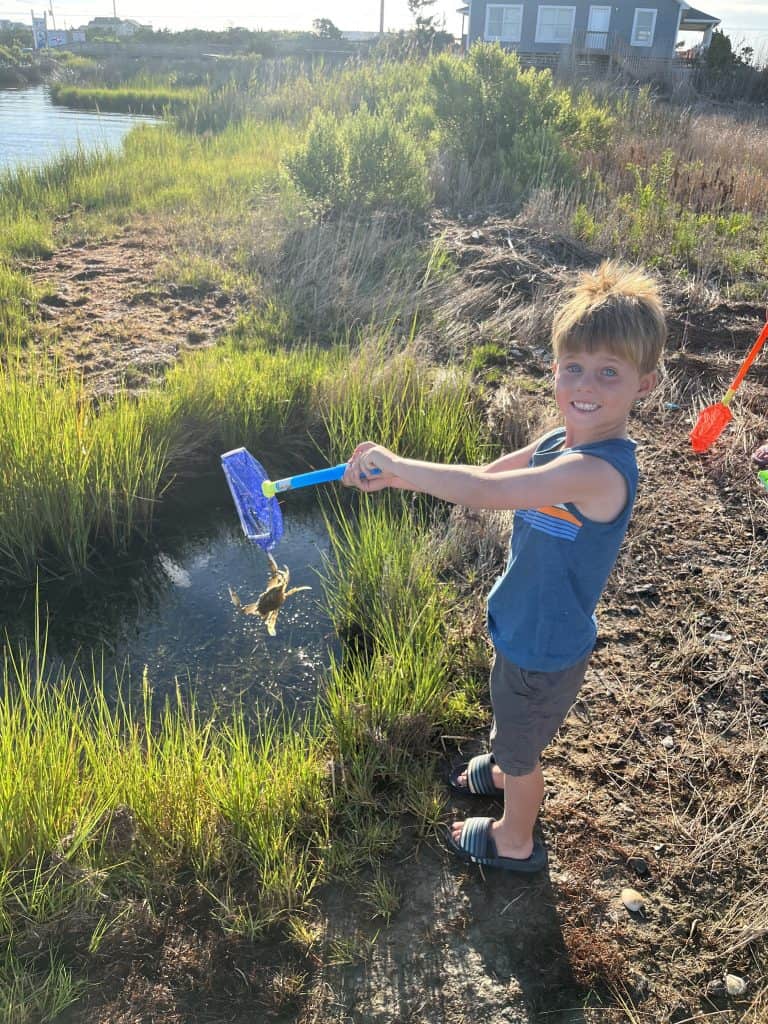 If you're looking for a quintessential Outer Banks experience, crabbing is it!
All you need is some raw chicken legs and string, and you can "fish" for blue crabs in the shallow water of the sound.
The whole family will enjoy this activity, plus, who doesn't love eating crabs? They are so easy to catch and you can boil them yourself!
Just be sure to know the size requirements for being able to keep crabs in the Outer Banks!
#4 Rodanthe Fishing Pier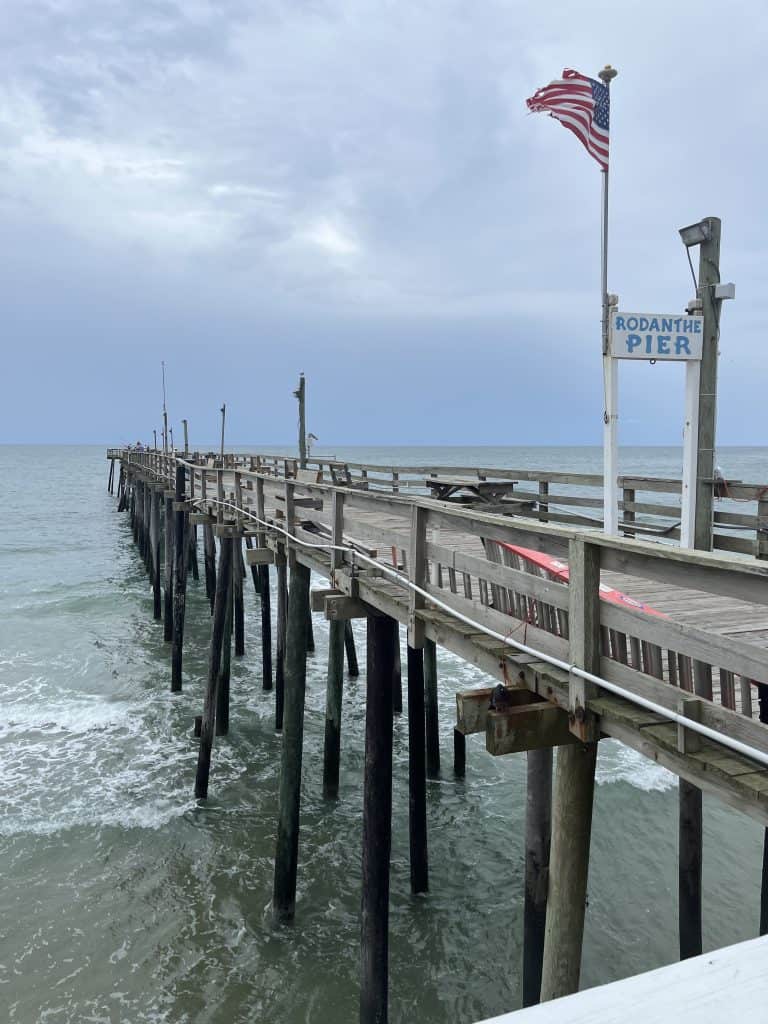 A great evening stop is the Rodanthe Pier. You can catch great views of the beach and ocean.
There is a small parking lot that charges $15 during the day hours – which is why I recommend stopping after 5pm!
It costs $2 to walk to the end of the pier but you can see plenty from the top of the stair area as well.
They also have fishing passes available if you want to fish from the pier as well!
#5 Try a New Water Sport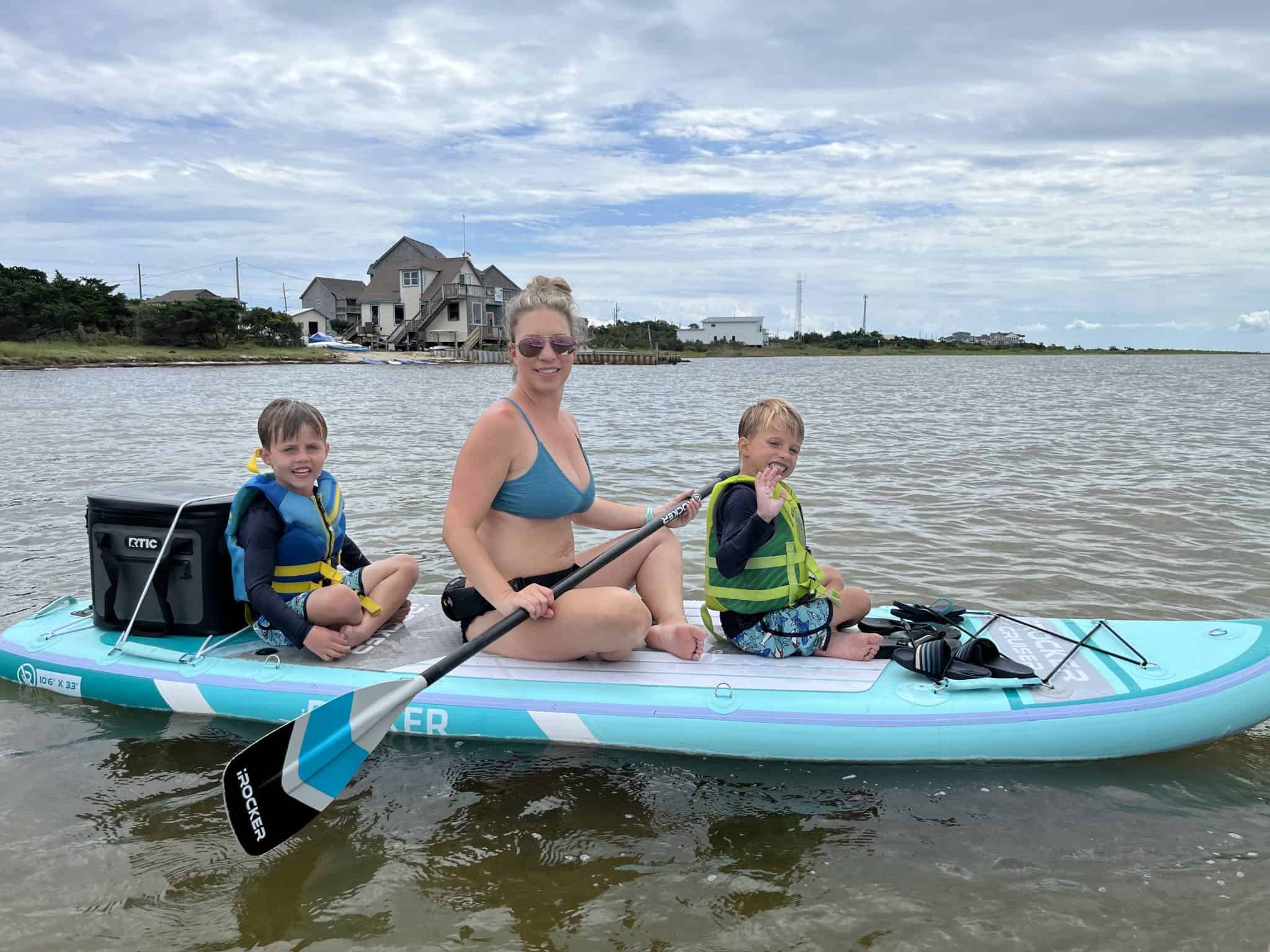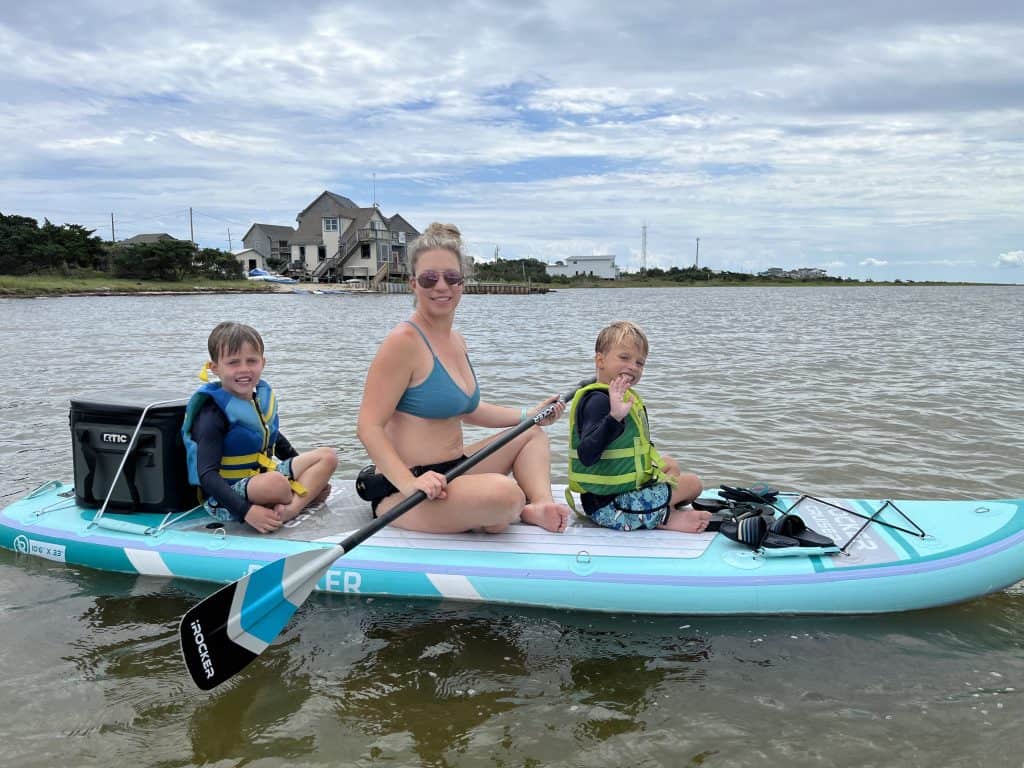 With the steady Outer Banks wind, Kite boarding is a popular water sport in Rodanthe, NC. It's a lot of fun and a great workout. Although this might be geared toward your older teens, it's also a blast for kids to watch!
Windsurfing is a bit less intense but still takes a lot of work. Harness the power of the wind to surf across the Pamlico sound like a pro. I highly recommend starting with lessons!
Surfing is a great sport for younger kids to try. The waves in Rodanthe, NC are perfect for beginners. Look into Kitty Hawk Kites for lessons and surf camps to help your little ones catch some waves and have a great time!
#6 Eat Some Local Seafood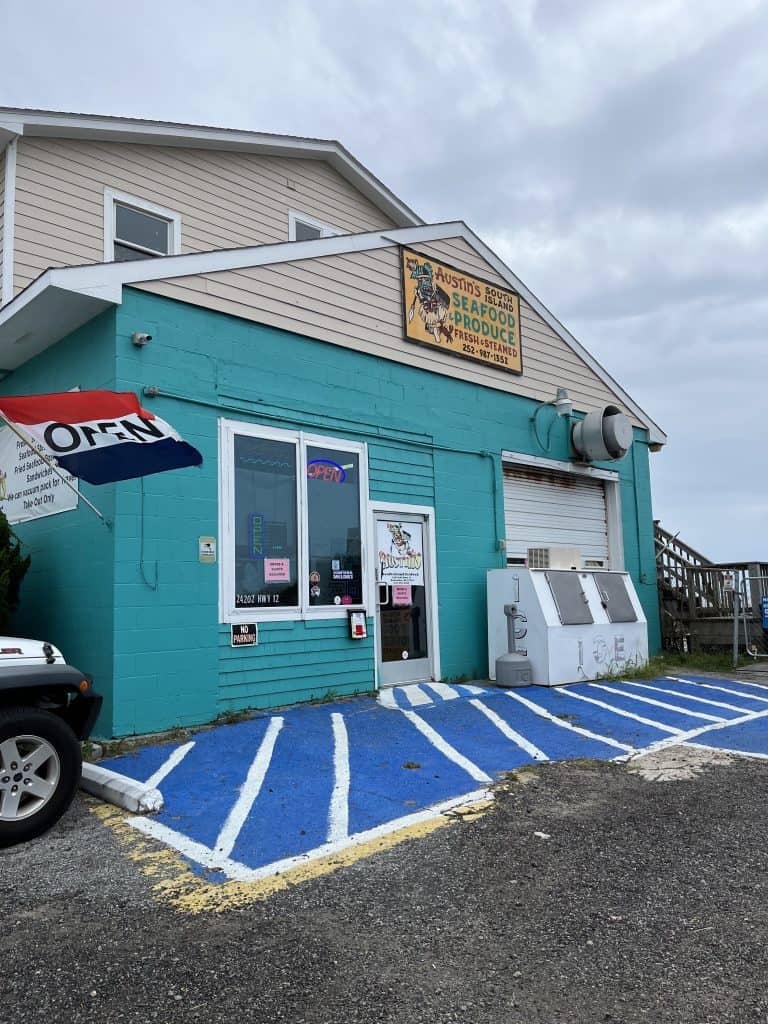 If you're looking for some truly fresh seafood, Austin's Seafood is the place to go.
They specialize in authentic, locally-caught seafood, and they offer both cooked and raw options.
Check out their steamer pots for an excellent takeout meal for the family. This will give you all the seafood you could want, plus corn and potatoes for a complete meal.
Call in your order the day of and pickup by the 6pm close time.
If you're a seafood fan, you can't skip this spot in Rodanthe!
#7 Ice Cream at Ocean Gourmet & Gifts/Sea Treasures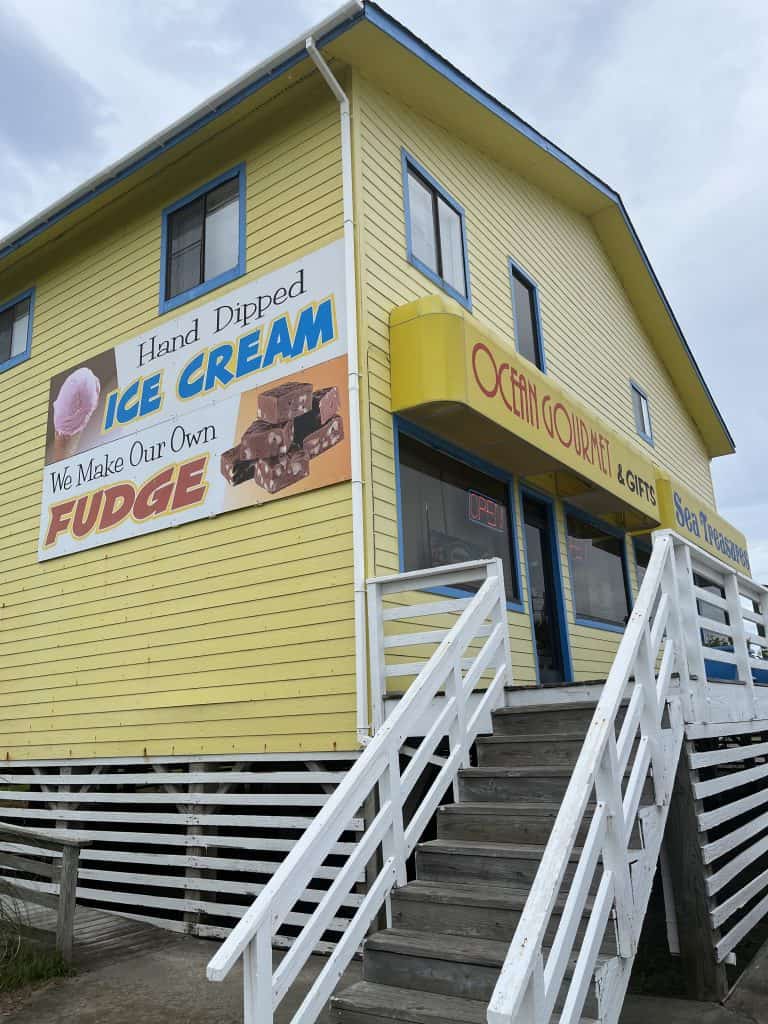 If you're looking for a delicious treat, head to Ocean Gourmet & Gifts/Sea Treasures. They have a wide selection of Hershey's Ice Cream flavors, as well as fresh fudge.
Stop in their gift shop to grab Simply Southern shirts and beach-themed decor – perfect souvenirs for everyone on your list.
Take your ice cream outside to their deck to watch the sunset on the sound across the street.
#8 Beach Bonfire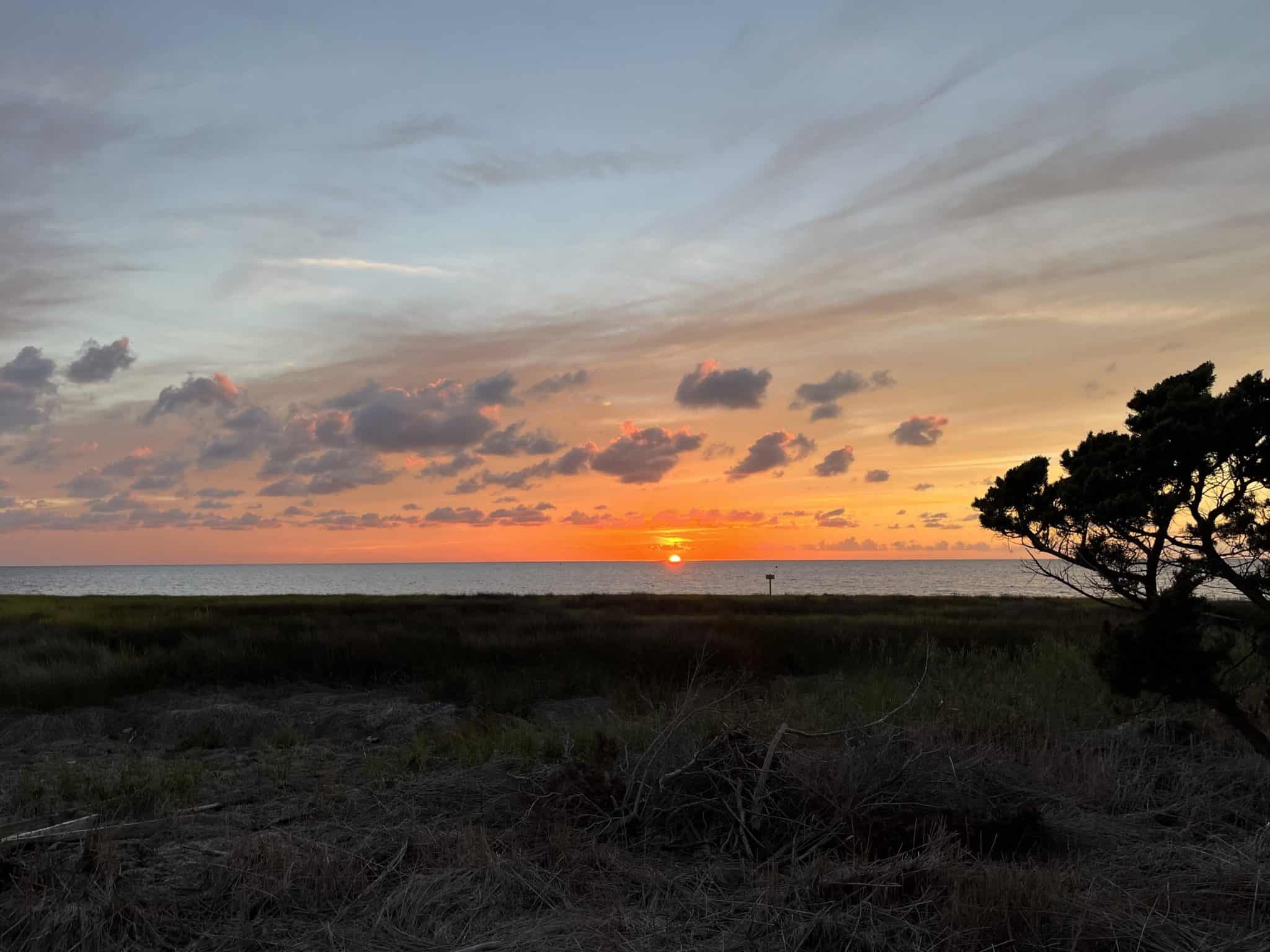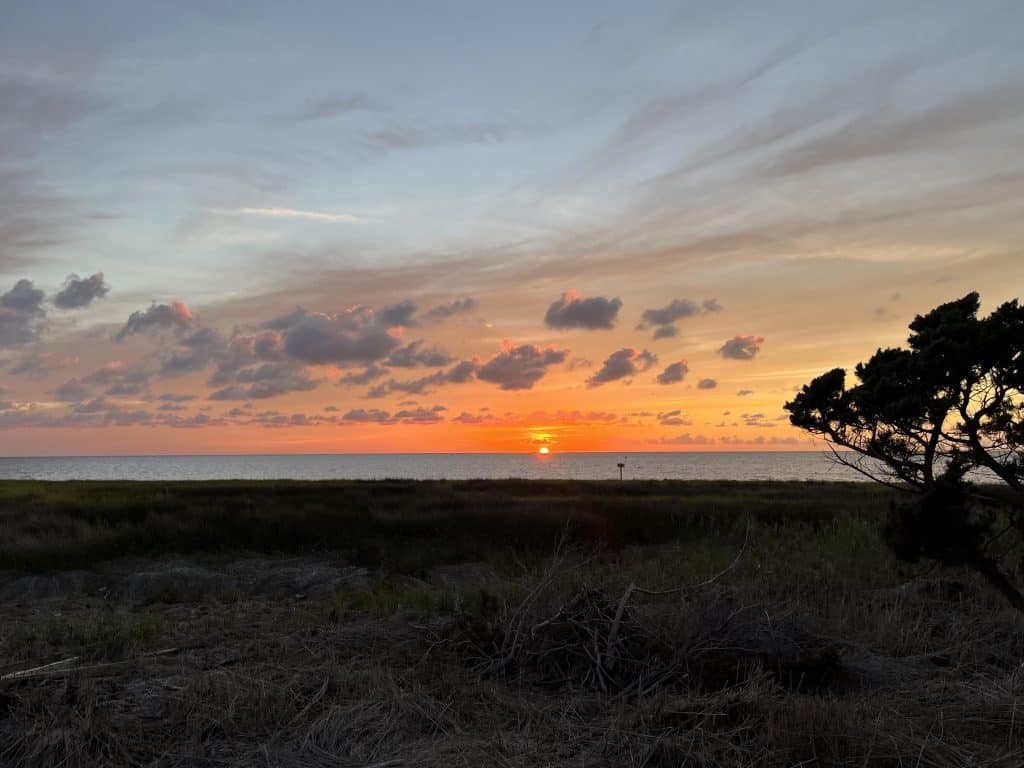 You can still enjoy the beach after the sun has set!
The nice thing about staying in Rodanthe, NC is it is one of the cities that allows beach bonfires year round.
You will need a free permit so you understand the rules of bonfires on the beach.
Don't forget the s'mores fixings for everyone to enjoy around the fire.
#9 Nighttime Ghost Crab Hunting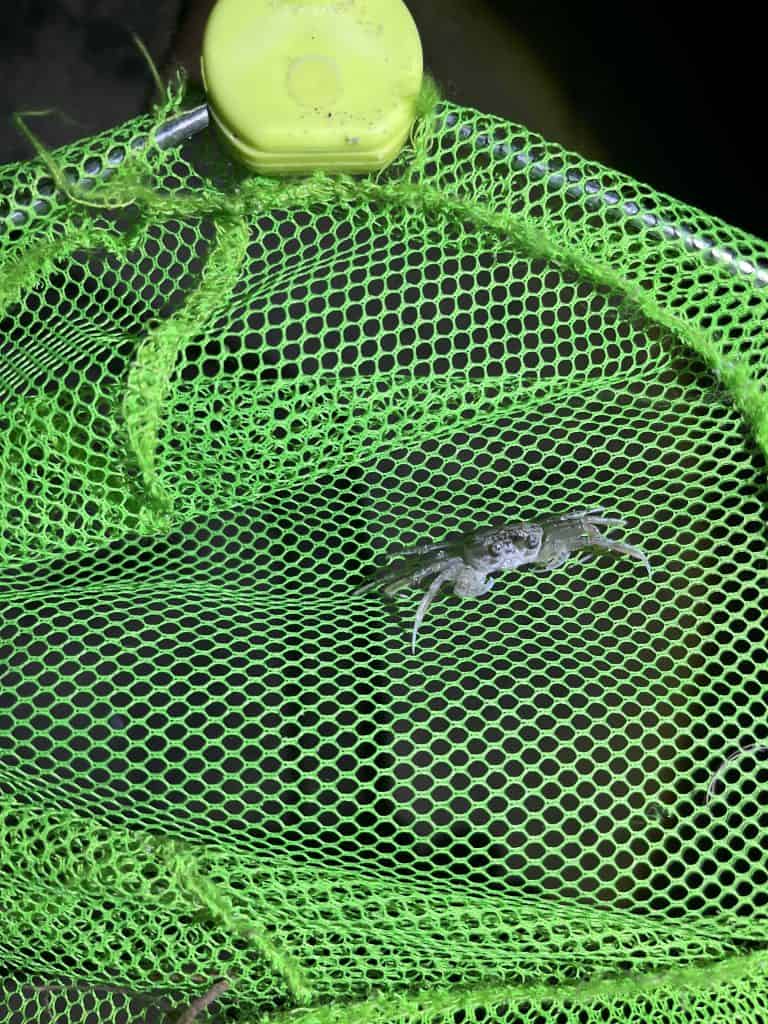 Nighttime is the right time to go crabbing – this time looking for ghost crabs! Ghost Crabs are sand colored and are most active at night.
Grab your flashlights and nets for an experience your kids won't forget! Look for them running along the shoreline or sandbars using a flashlight.
Quick Stop: Nights in Rodanthe House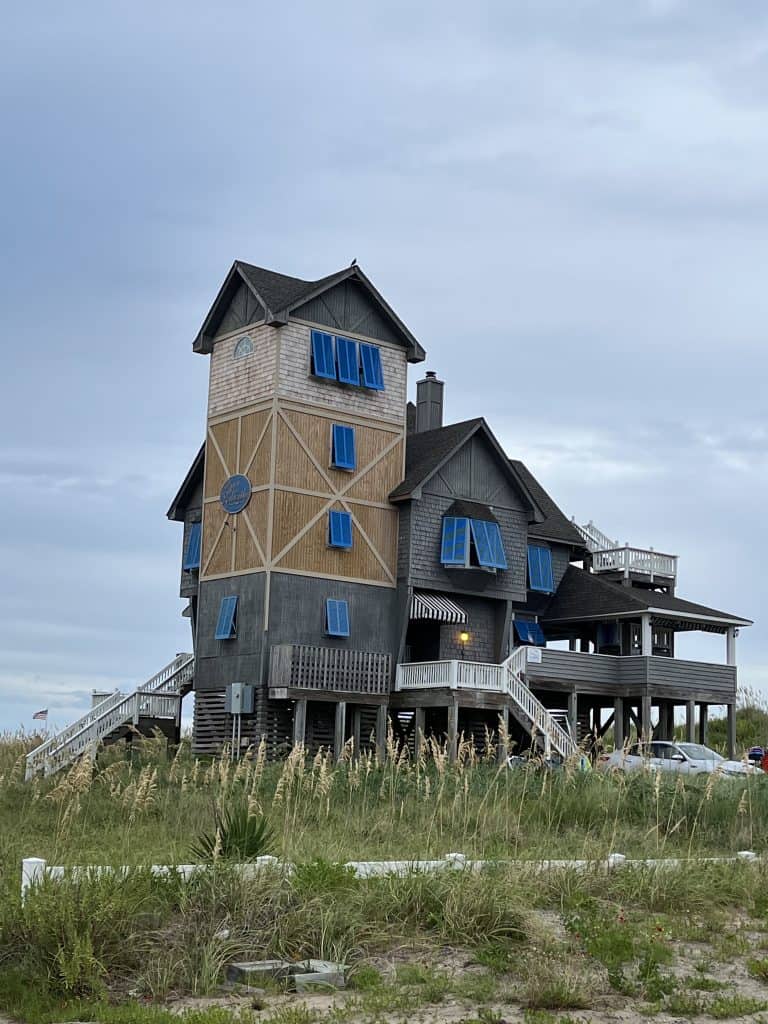 If you're a Nicholas Sparks fan, you'll enjoy seeing the Inn at Rodanthe, the home used in the filming of the 2008 movie Nights in Rodanthe.
The house has quite the story since the filming ended and is now a renovated vacation rental.
Things to do in Rodanthe, NC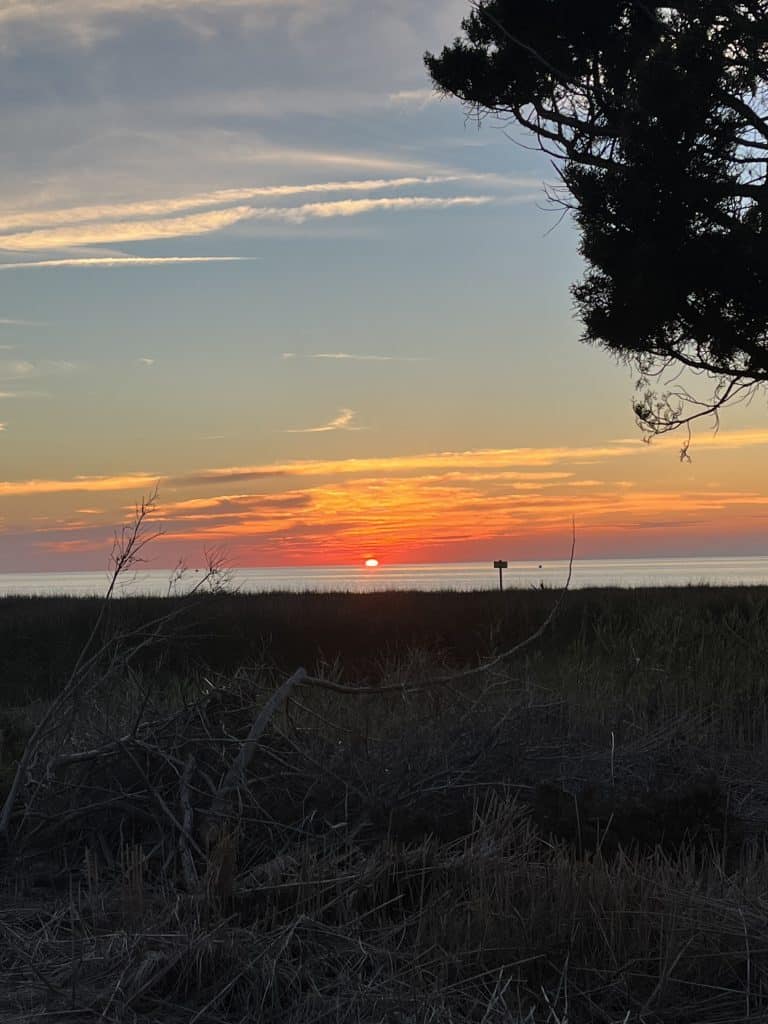 If you're looking for a fun family getaway, Rodanthe, NC in the Outer Banks is the perfect spot.
With plenty of fun things to do in Rodanthe, NC with kids, you'll never be bored.
Enjoying the beautiful Outer Banks scenery and friendly locals, your trip is sure to be memorable.
Make sure to plan your trip soon so you can take advantage of everything this charming town has to offer.
---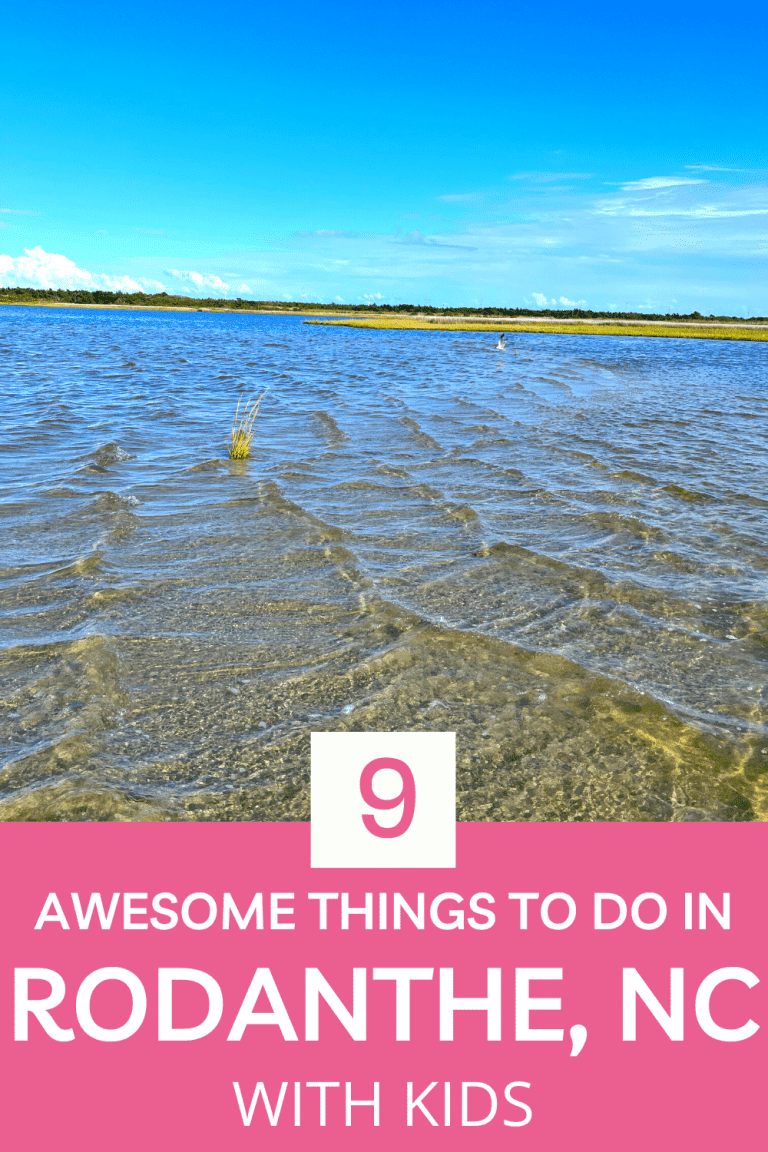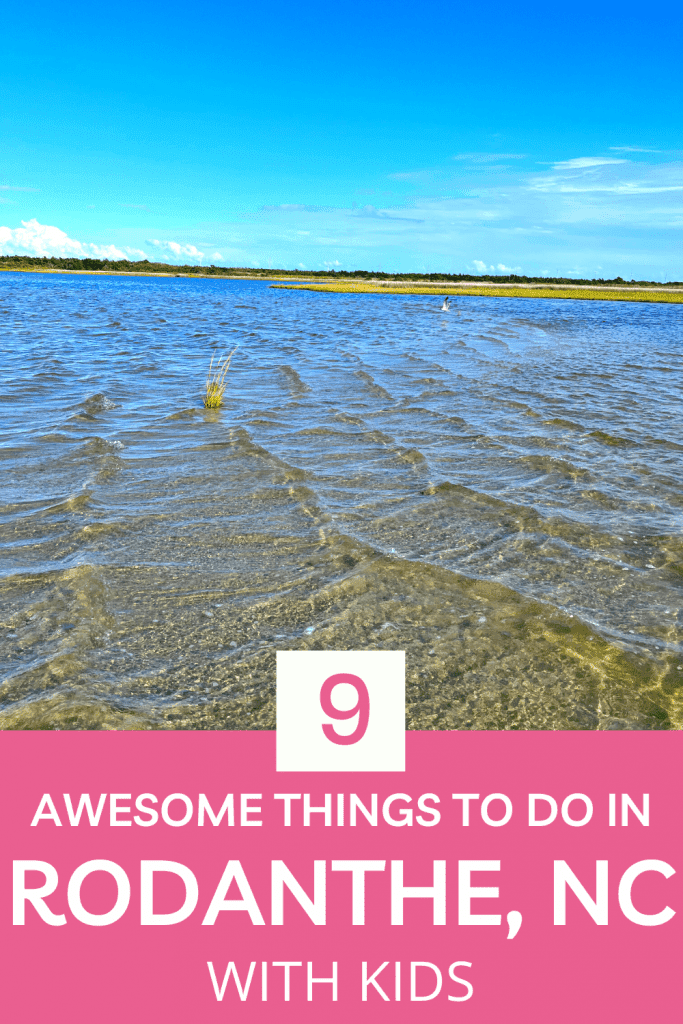 ---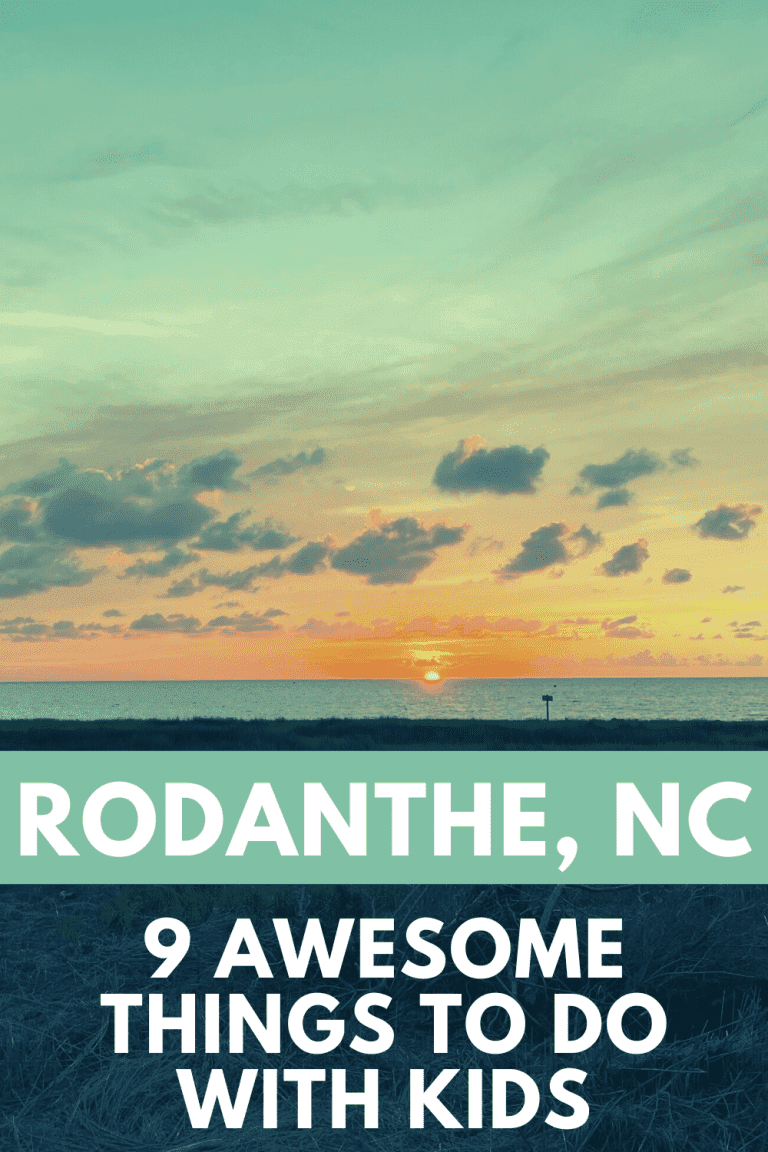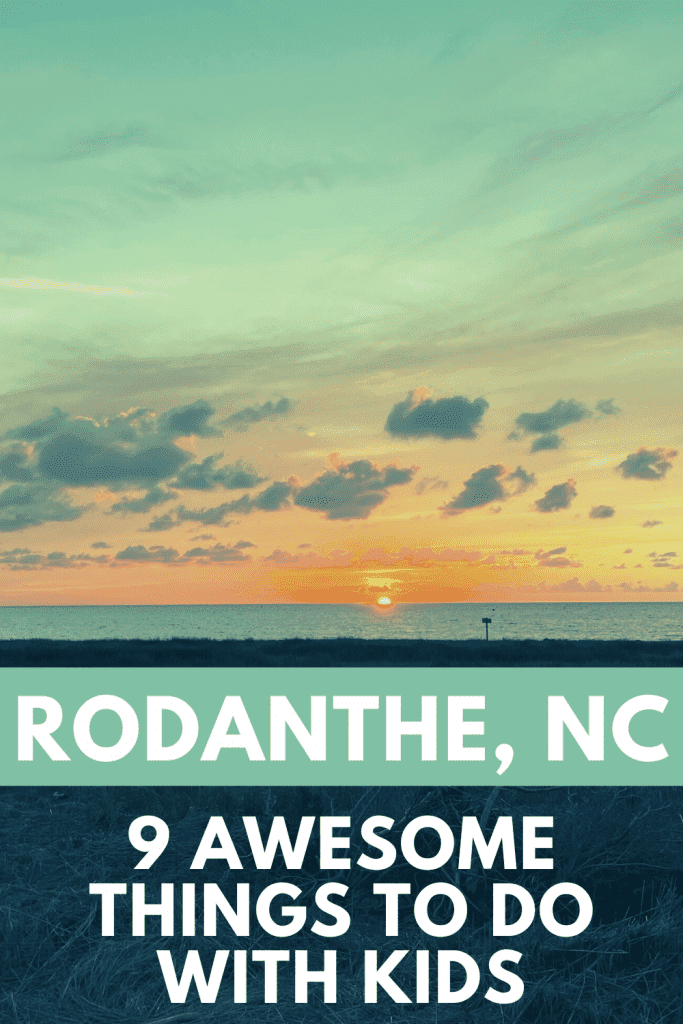 ---