This post may contain affiliate links. See the disclosure tab for more details.
Looking for things to do in Hilton Head with kids?
If you haven't been to Hilton Head, it's a gorgeous area. I've visited as a child and have great memories.
Like most destinations, things change when you visit as a parent!
That's why I got in contact with Alissa Stripling, a BabyQuip provider and resident of Bluffton, SC to tell us more about the area!
Bluffton, South Carolina is the last town you pass through before going on to Hilton Head Island. Alissa has lived there for 6 years and is a wife and mother of a little boy, Porter, who is two and a half.
If you are curious about Hilton Head Island things to do, places to stay and where to eat, be sure to see everything this local has to share with us!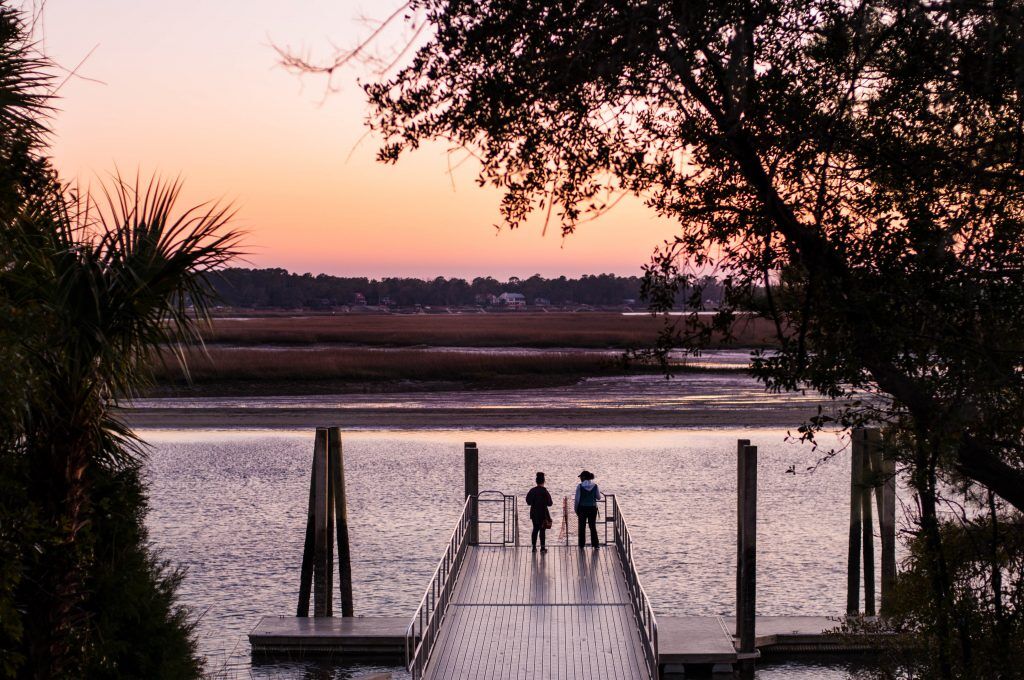 The Best of Hilton Head Island From a Local!
What is your favorite part of living near Hilton Head?
I love many things about Hilton Head! It is wonderful to be so close to the beach, but also to only be about 45 minutes from Savannah, GA which has a lot of history and nightlife!
Hilton Head is also about 1.5 hours from Charleston, SC, which is another beautiful Lowcountry location.
I am originally from Michigan, so I am still really thankful for the great weather Hilton Head has!
The summers can be brutal, but I will gladly put up with the hot temperatures because 75 degrees on Christmas Day is worth it to me!
Honestly, Hilton Head is just beautiful place to live. It isn't a typical commercialized beach town with the stores that sell beachwear on every corner.
It is a community that is built into a maritime forest. The landscaping is composed of plants are native to the area, and homes and buildings are tucked back off the roads. I will never get tired of seeing Palmetto trees lining the medians in the roads!
What are Some Things to do with Kids in Hilton Head?
Porter loves the beach! We usually go to Driessen Beach.
There is ample parking, bathrooms, and changing areas, but it isn't nearly as busy as the more touristy beaches. There is a long boardwalk down to the beach, so we make sure to bring all of our gear in a beach wagon so it is easier to transport.
Our favorite park on Hilton Head is the Shelter Cove Towne Center.
In Bluffton, we LOVE DuBois Park- the locals call it "Shrimp Boat Park" because the play structure is a giant shrimp boat!
If we go out to eat, we almost always choose a restaurant with an outdoor area so Porter can run around while we wait for our food. Luckily, there are plenty on the island!
Getting to Hilton Head Island and Getting Around
How do people typically get to Hilton Head Island?
If you are flying to Hilton Head, people most commonly fly into the Savannah-Hilton Head International Airport (SAV). There is a small airport on Hilton Head Island (HHH), but it is typically more expensive to fly into than Savannah.
If you're driving with kids, it is good to know that traffic on Saturdays during the summer is very busy. Plan for plenty of time! There is only one way on and one way off the island, so it gets backed up easily.
Almost all rentals on Hilton Head have check out at 10:00 am and check in at 4:00 pm on Saturdays. Once you get through the heavy traffic, the beach will be waiting for you!
What is the best way to get around?
I would definitely recommend a using a car during your visit to Hilton Head. There are tons of bike rentals for riding bikes on the beach, or through a community like Sea Pines and Palmetto Dunes, but if you'd like to get to grocery stores, or Chick-Fil-A, you'd need a car.
We do have Uber and Lyft on the island, too.
If you don't want to lug your kiddos' car seats on the plane with you, I have met customers both at the Savannah and the Hilton Head airports with car seats for their rental cars or Uber rides!
Best Times to Visit Hilton Head
What is the best month to visit Hilton Head?
Personally, I LOVE November on Hilton Head.
It is warm enough to walk on the beach (I probably wouldn't go in the water, though) and play in the sand! The bugs aren't as bad as they are during the summer, and the humidity is much lower.
We eat Thanksgiving dinner outside on the patio each year. Because I came from an area that often has significant snow on Thanksgiving, this still blows my mind every time!
When is Peak Season in Hilton Head?
I have found that tourist season is from Memorial Day to Labor Day.
Personally, I begin to slow down after July 4th. There is a small influx of visitors during the holiday season, but nothing like the summer time!
How is Hilton Head Island weather through the seasons?
Here in Hilton Head, we have two seasons: Mild-Winter and HOT.
Spring lasts about 2 weeks, and it is in February. All kidding aside, heat index soars here as early as mid-May, and stays hot through October. It is always very humid.
To put it in perspective, our neighborhood pool opens for the season on April Fool's Day and closes on Halloween.
I personally love our "winters" here. The last two years, we have gotten a dusting of snow around New Year's Day, but typically, it is comfortable golfing weather around the holidays!
Hurricane season is June – November. The last three years there have been hurricane evacuations called in September and October. Before 2016, the last time Hilton Head under a mandatory evacuation for a hurricane was in 1989.
What are the best things to do in Hilton Head with kids when it rains?
Like many tropical locations, late afternoon and early evening rain is common on Hilton Head. Typically, it is a light rain that doesn't last long.
This might be a good time to head back inside for a snack or a short nap! Or, as long as there is no lightning, you can keep swimming! You're already wet, anyway…
If it is a rare occasion of all day rain, I would recommend taking the crew to the Sandbox Children's Museum.
If you're up for a day trip, head to Charleston for the aquarium or children's museum.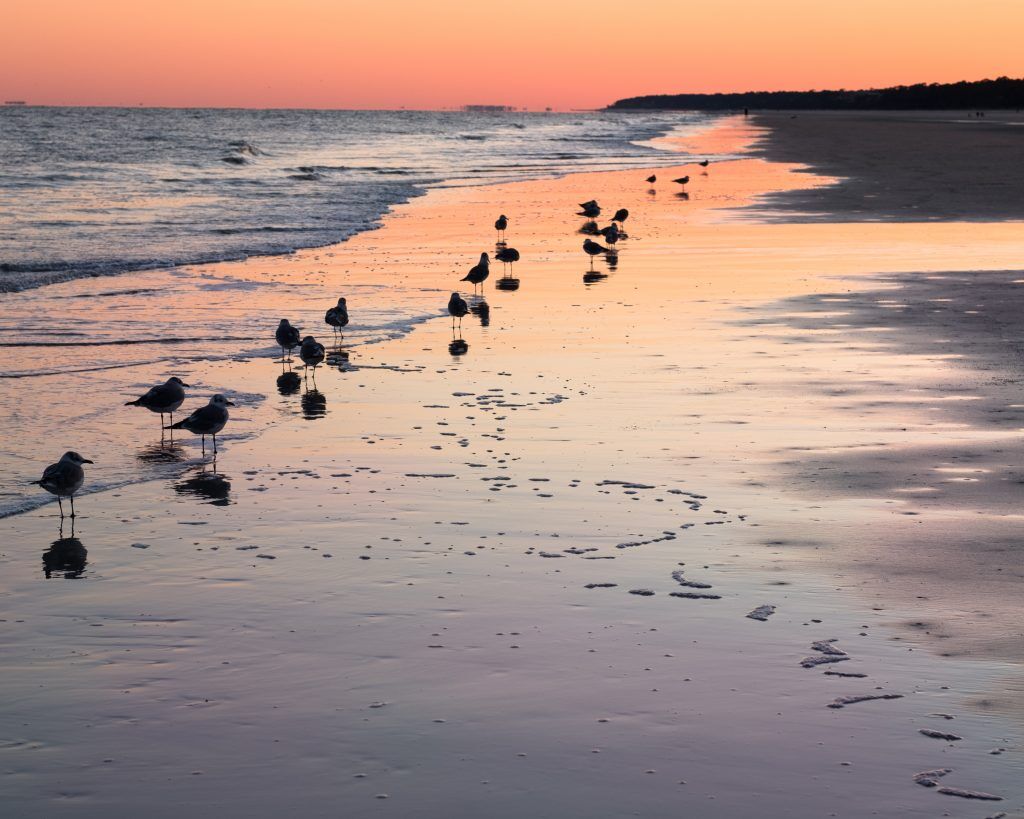 Best Hilton Head Hotels for Families
Do you recommend any particular hotels, resorts or vacation rentals in Hilton Head?
I do a lot of work with Stephanie Hoke with Beachside HHI Vacation Rentals. All of her properties are immaculately maintained and well-appointed.
In terms of hotels, my husband and I got married at The Westin Hilton Head Island Resort and Spa, so I am partial to that hotel.
I've had many customers stay at the Hilton Head Omni Resort as well as the Sonesta Resort Hilton Head and they have been pleased with their stay!
Kid Friendly Hilton Head Island Restaurants
Hilton Head has plenty of restaurants for kids. Check out a few more kids menus in Hilton Head to find something your littles are sure to enjoy!
Skull Creek Boathouse
On Hilton Head Island, Skull Creek Boathouse is a kid-friendly restaurant on the waterfront. They have both indoor and outdoor seating.
They are known for their seafood, but there are plenty of other options on the menu, too. I don't eat any type of fish, and there is plenty for me to choose from!
There is a lot of outdoor space for kids to run around and play games while you're waiting for your food.
Porter loves the giant Connect-Four game! My favorite thing about the restaurant is that there is live music every night.
It is a super popular restaurant, and they do not accept reservations. If you're visiting in the summertime or on a weekend night, be prepared to wait.
The Salty Dog Café
The Salty Dog Café in Sea Pines is a very popular tourist spot! If you've never been to Hilton Head, you might want to check it out!
It has beautiful water views, and a relaxed atmosphere. There is also an ice cream shop. They do not accept reservations.
Local Pie
Local Pie is a pizza place that we also enjoy. They make a Neapolitan-style wood-fired pizza.
Kids get a ball of pizza dough to play with while you wait for your food to arrive! They have locations both in Hilton Head and Bluffton.
Stacks Pancake House
Stacks Pancake House has a great breakfast! Be prepared to wait on Saturday mornings.
It is packed with hungry visitors who have just checked out of their units and want something to eat before hitting the road!
The Hilton Head Diner
The Hilton Head Diner is a casual restaurant with, you guessed it, diner food! They serve breakfast all day. Porter always gets the silver dollar pancakes, even for dinner.
When I was pregnant with Porter, my only real craving was onion rings from the Hilton Head Diner! No one else's could compare. Note: a "side" of onion rings is actually a BIG bowl, so come hungry!
Fat Patties
In Bluffton, I recommend Fat Patties. It is a restaurant and brewery that makes homemade ice cream! They have a large burger selection.
Whenever we go, I love to sit outside because there is an enclosed area for kids to play in! It is a sunken turf "field" that they can run around in, kick balls into the pool pockets, and use the bowling set.
Fat Patties also has a giant Connect-Four, which much to my dismay, Porter climbs up constantly!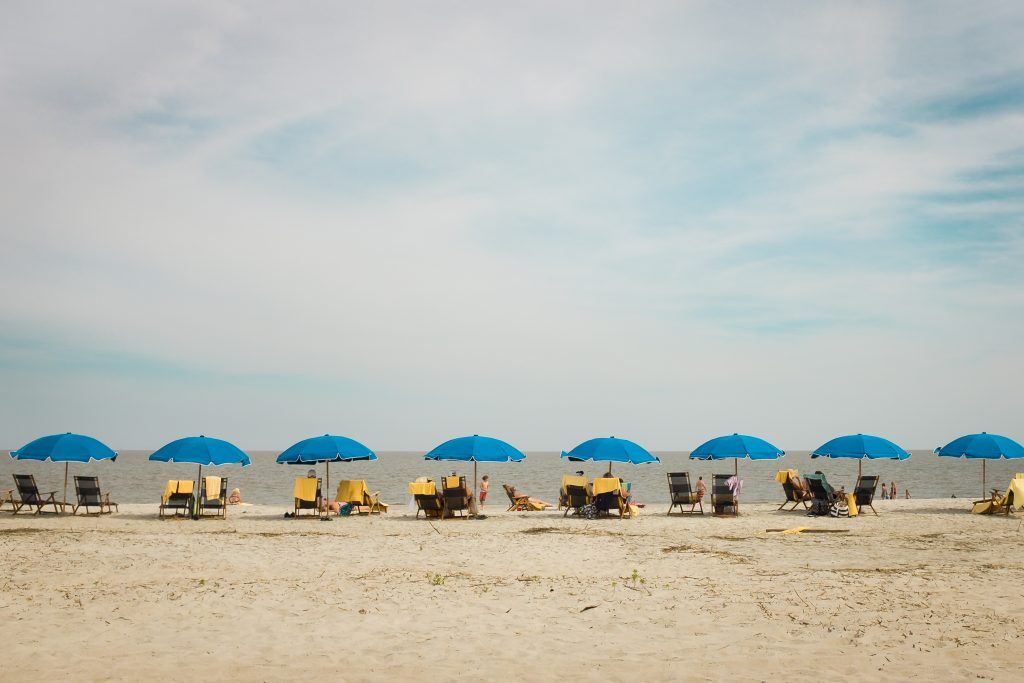 Kid Friendly Hilton Head Island Things to Do
Are there any public pools or splash pads?
There are not any public pools, but we have multiple public beaches!
Coligny Beach has a splash pad.
The playground at Harbor Town in Sea Pines is shady and lots of fun for the kids! This would be very convenient if you are staying in Sea Pines or on the south end of the island.
Best Parks in Hilton Head
I personally like to take Porter to the playground at Shelter Cove Towne Center. This is located mid-island and is across the street from Palmetto Dunes.
It has a beautiful view! We enjoy playing on the giant xylophone and climbing on the sea turtle and alligator.
On Tuesday nights in the summer, they have "Summer Jams". There is live music, bounce houses, face painting and fireworks! The fireworks usually happen when the sun goes down around 9:00 pm.
On Thursday nights, they show a movie at the park, which is very fun, (but don't forget to bring bug spray!)
Friday nights are the "Sunset Celebration" which are free, live concerts with popular local bands!
In Bluffton, I cannot recommend DuBois Park (Shrimp Boat Park!) enough. The "grass" is all turf, so there are no bugs, rocks or sticks.
Lots of kiddos run around barefoot. It is walking distance to all of the shopping and restaurants Old Town Bluffton has to offer.
What is the Best Beach in Hilton Head for Families?
Coligney Beach
Coligny Beach is the most popular beach for tourists. There are bathrooms, changing rooms, and a splash pad!
There is free parking across the street. This will be the busiest beach almost any time of the year.
Driessen Beach Park
I recommend Driessen Beach Park. There are bathrooms, showers, a small playground, a picnic pavilion, and metered parking!
It is the easiest beach to find parking, and parking costs $0.25/30 minutes. You can pay with cash or a card!
During beach season, there are lifeguards at all public beaches.
Private Beaches
If you are staying at an oceanfront resort, hotel, or a plantation community, you will have "private" beach access within that property, so you don't have to worry about beach recommendations.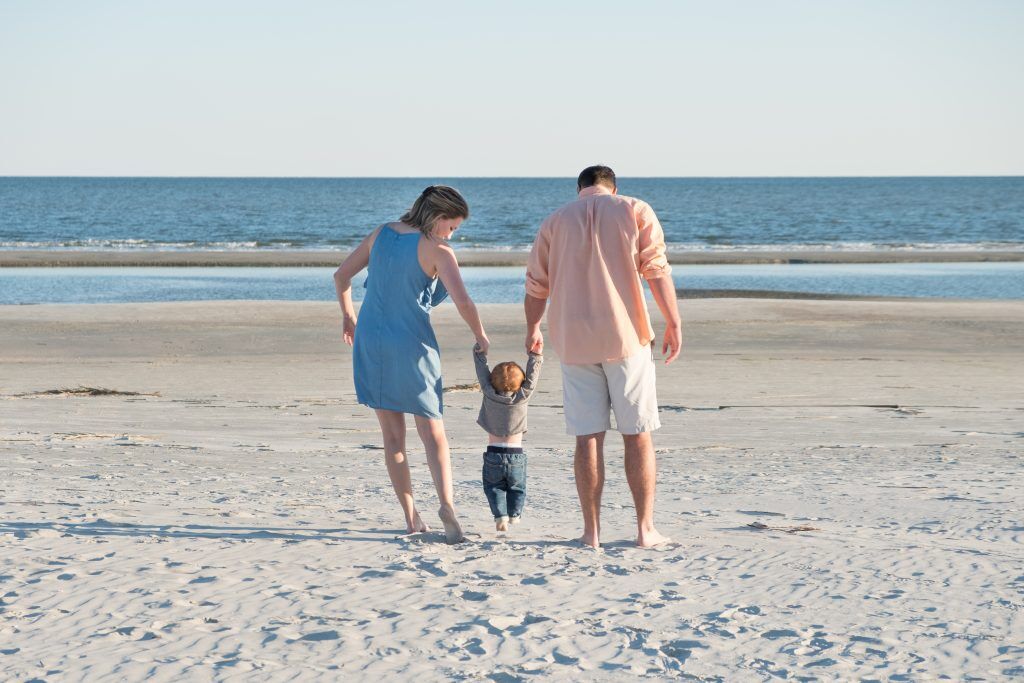 What are some of the Best Things to do in Hilton Head with Kids?
Well, obviously the beach is the biggest draw for families to Hilton Head. We are a relatively small community, so our list of attractions is small as well. Popular kid-friendly places are:
The Sandbox Children's Museum– interactive museum for hands-on play and learning. Admission for adults and children over 1 is $7.
Coastal Discovery Museum– This is a primarily outdoor museum where families can experience the history and environment of the Lowcountry. The exhibits are frequently changing, but permanent fixtures include: a Kids' Zone, butterfly enclosure, and a discovery lab.
There are guided tours, too. I am a teacher, and the second graders at my school went for a field trip every year! The entrance fee is a suggested donation of $5/person.
There are multiple mini-golf courses on the island as well!
You can take sunset dolphin-sighting tours on the water, or do charter fishing trips, too. There is something to do for everyone!
What are some FREE things for families to do in Hilton Head?
As far as free, the beach is going to be one of the best things to do in Hilton Head with kids!
Technically, the Coastal Discovery Museum is free even though a donation is suggested.
If you like to hike and explore, you can check out Pinkney Island National Wildlife Refuge. There are multiple trails of varying lengths that you and your family can venture through.
If you pay the admission fee to the Sea Pines community, ($8/car) you can go to the Lawton Stables petting zoo. If you'd like to feed the animals, animal food is available for $0.25.
The petting zoo includes: goats, sheep, miniature donkeys, miniature cows, pot-bellied pigs, alpacas, Shetland ponies and chickens. There are pony rides available for kids 7 and under.
Ready to plan your next family vacation?
Grab this 35 page printable tropical travel planner and print as many times as you need to organize all your upcoming trips!
Venturing Beyond Hilton Head
Are there any cities close to Hilton Head that are worth planning a day trip?
Savannah, Georgia
Savannah, GA is just about 45 minutes from Hilton Head.
In Savannah, you can go on historic trolley tours, view the city from horse-drawn carriage rides, visit the Juliette Gordon-Lowe birthplace with your Girl Scout, see the famous bench from Forrest Gump, or walk around the city with a white peach sangria from the Café at City Market, (adults only!)
There is a beautiful river front with restaurants and shopping. Porter enjoys watching the huge ships entering the Port of Savannah from the riverfront. There is also an outdoor children's museum and historic train museum, too.
Charleston, South Carolina
Charleston, SC is about two hours from Hilton Head. Charleston is another beautiful, historic city.
At least once a summer, we take Porter to the Charleston Aquarium. It's a smaller aquarium, but for young kids, it is perfect!
The Children's Museum of the Lowcountry is phenomenal! There is minor league baseball, The Charleston Riverdogs, as well. You can also visit the Fort Sumter National Monument, which is where the first shots of the Civil War were fired.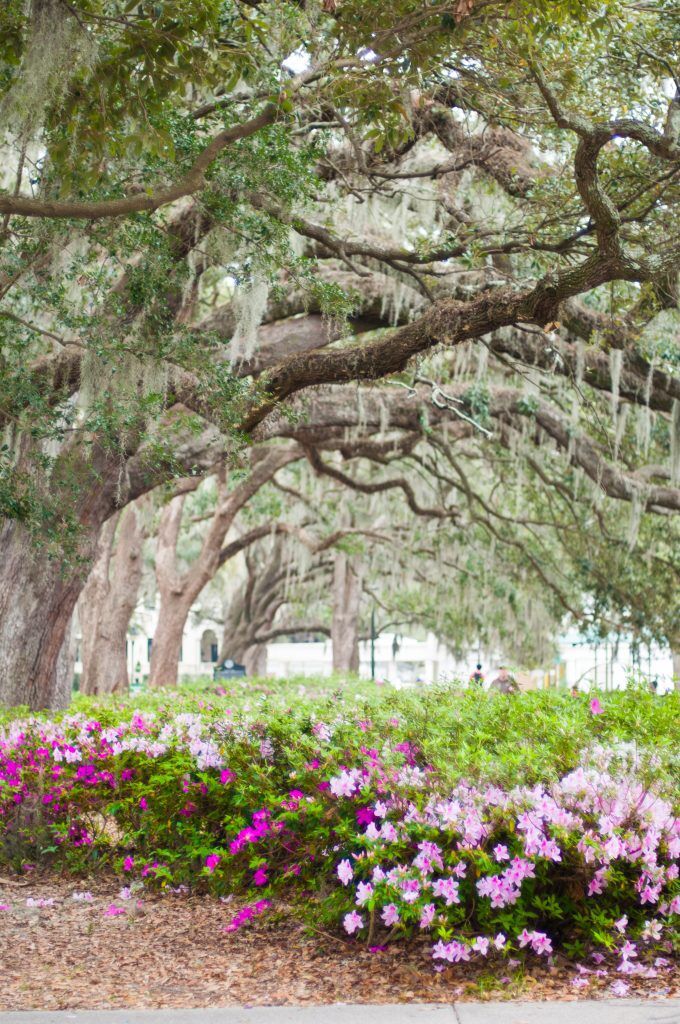 Bluffton, South Carolina
Visiting Bluffton is definitely worth the short drive. It doesn't need to be a day trip- it is about 15-20 minutes from Hilton Head! This is where the Tanger Outlets are located.
Old Town Bluffton is my favorite. It is a walkable area with parks, restaurants, art galleries, and other wonderful shopping. The flagship store of Spartina 449 – the accessory brand synonymous with the Lowcountry- is located right downtown!
On Thursday afternoons, there is a farmer's market with live music, face painting, and plenty to do for families! In Bluffton, you can also visit the beautiful Palmetto Bluff plantation that has a fun treehouse and playground for kids!
Looking for more coastal areas to visit? See 8 Awesome Family-Friendly Small Beach Towns
What is the one "can't miss" thing to do?
Many people think that you didn't actually go to Hilton Head unless you visit the Salty Dog Café in Sea Pines.
I think you can't miss the Skull Creek Boathouse for dinner on a beautiful night.
If Mom & Dad get a day or night out alone, what do you recommend they do?
The Lowcountry Backyard is a fabulous restaurant near Coligny Beach that has phenomenal authentic Lowcountry cuisine. It is a small, quiet place, so it would be much more stress-free without the little ones in tow.
The Santa-Fe Café is also a wonderful southwestern restaurant.
The Frosty Frog Café is well known for their frozen daiquiris and live music.
If it is raining and you're up for a challenge, there are multiple escape rooms in the area!
If you enjoy golfing, Hilton Head is home to many world-class golf courses. Also, Harbor Town at Sea Pines hosts the RBC Heritage PGA tournament the third week in April every year.
There is also fun nightlife in Savannah, which is not too far of a drive. My husband and I love the bars and restaurant at the Bohemian Hotel on the riverfront.
Traveling to Hilton Head Island with Babies, Toddlers and Young Kids
Local, Alissa, shared so many of her favorite Hilton Head Island things to do with kids!
If you happen to be traveling to Hilton Head with kids be sure to check out the convenience of BabyQuip rentals through a quality provider like Alissa!
BabyQuip rents quality baby and toddler items to you at your destination and delivers them directly to your hotel or vacation rental.
Save the stress of lugging around all the gear and actually relax on vacation – that's what it's all about, right?
All images in this post provided by Melinda Kozulis
---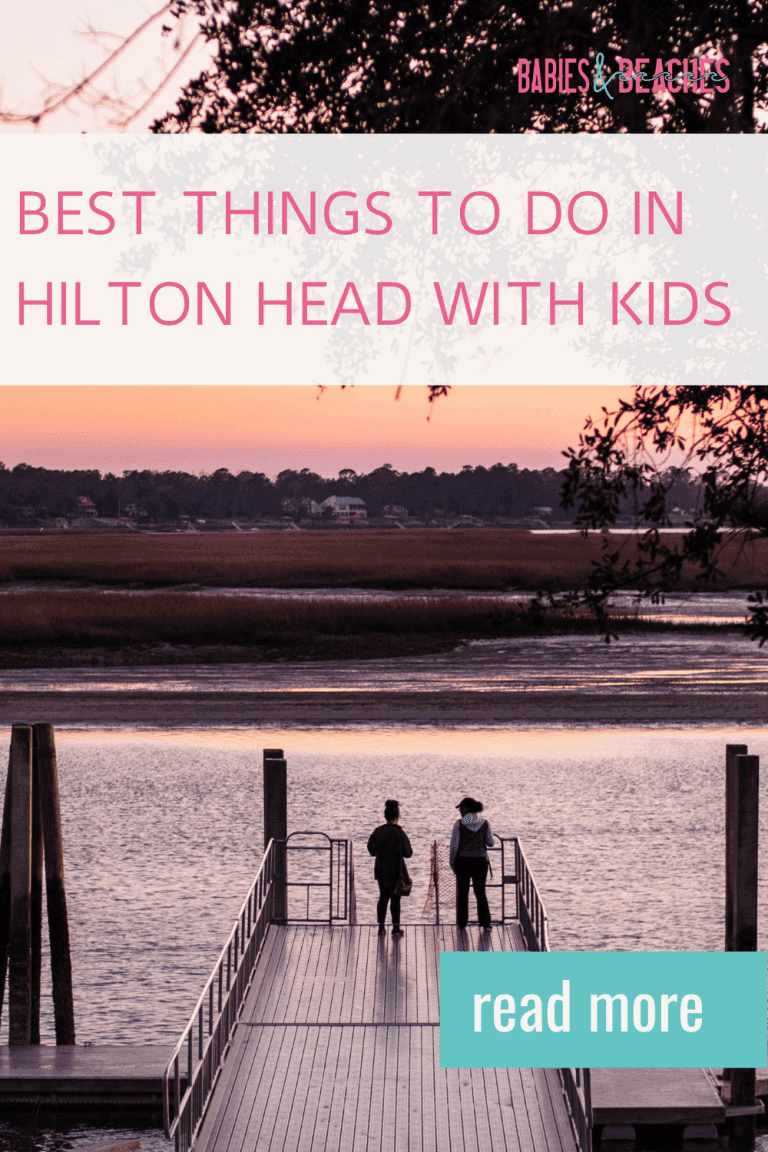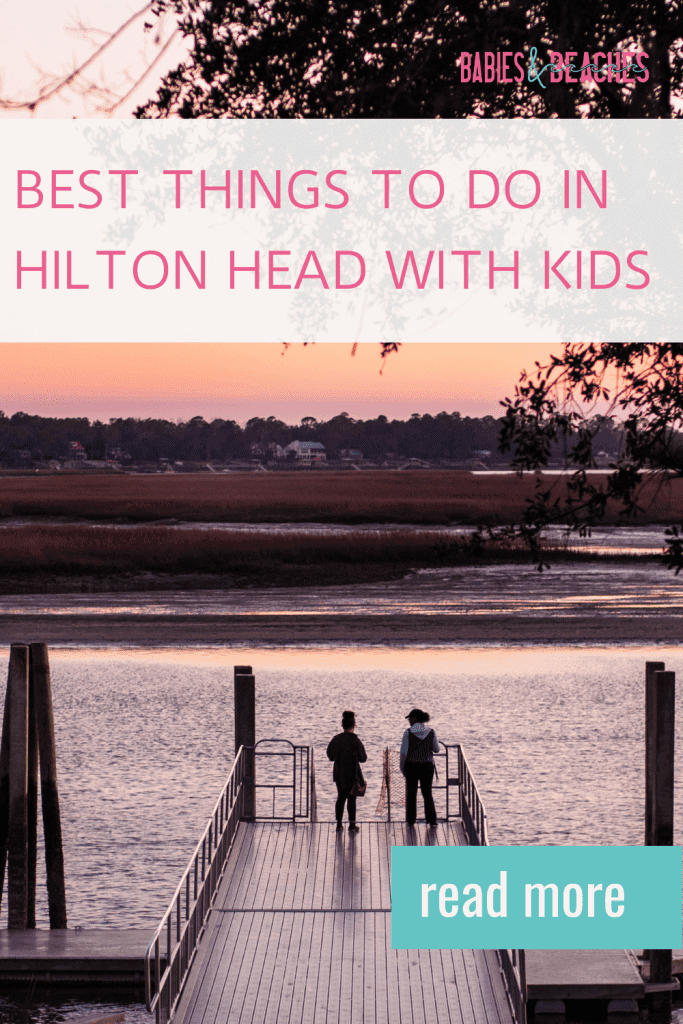 ---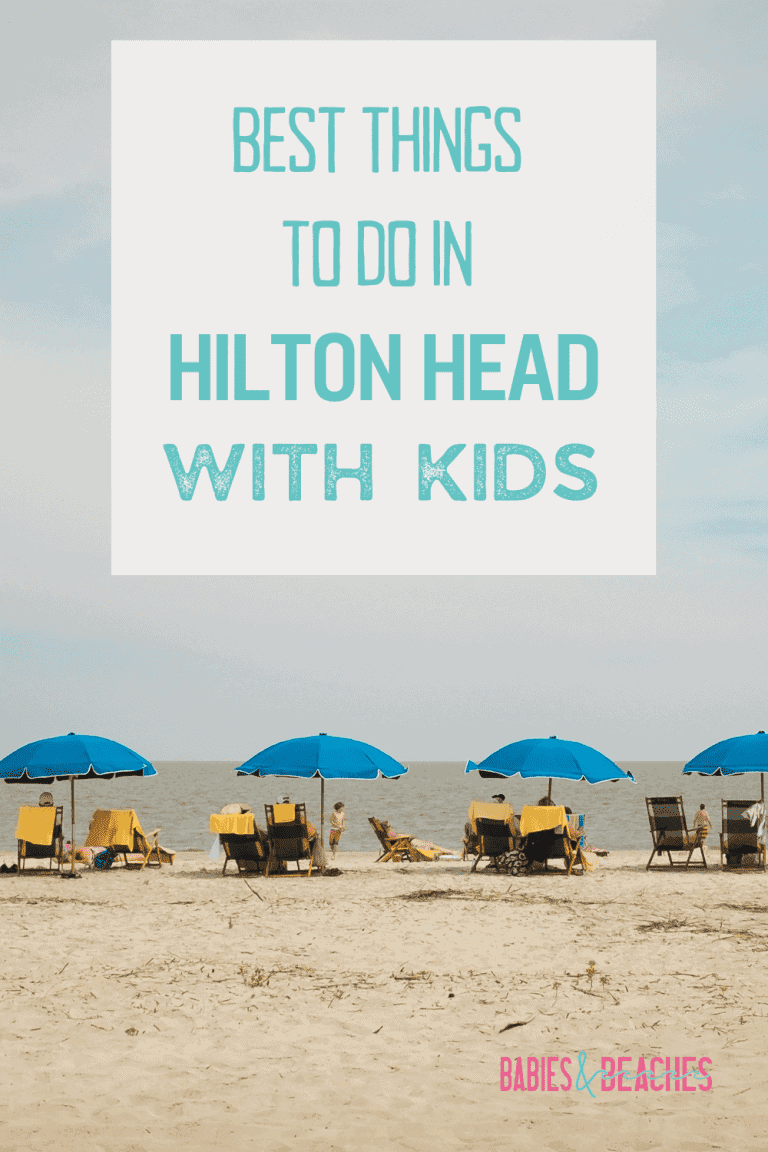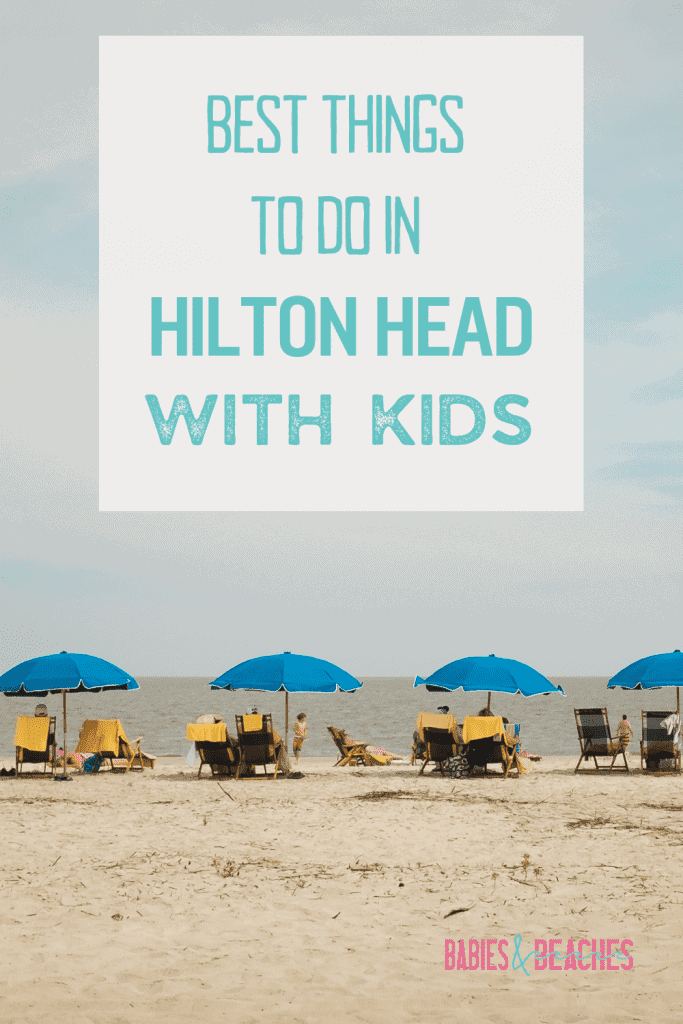 ---