This post may contain affiliate links. See the disclosure tab for more details.
If you're looking for things to do in Hershey, PA in winter, you're in luck! There are plenty of fun activities to keep kids and adults busy during the colder months. From touring chocolate factories to Indian Caverns, Hershey has something for everyone.
Today, I'm sharing a 1-day itinerary of things to do in Hershey, Pennsylvania in winter with kids. So grab your coat and gloves and get ready to enjoy all that winter has to offer in Pennsylvania's "Sweetest Place on Earth"!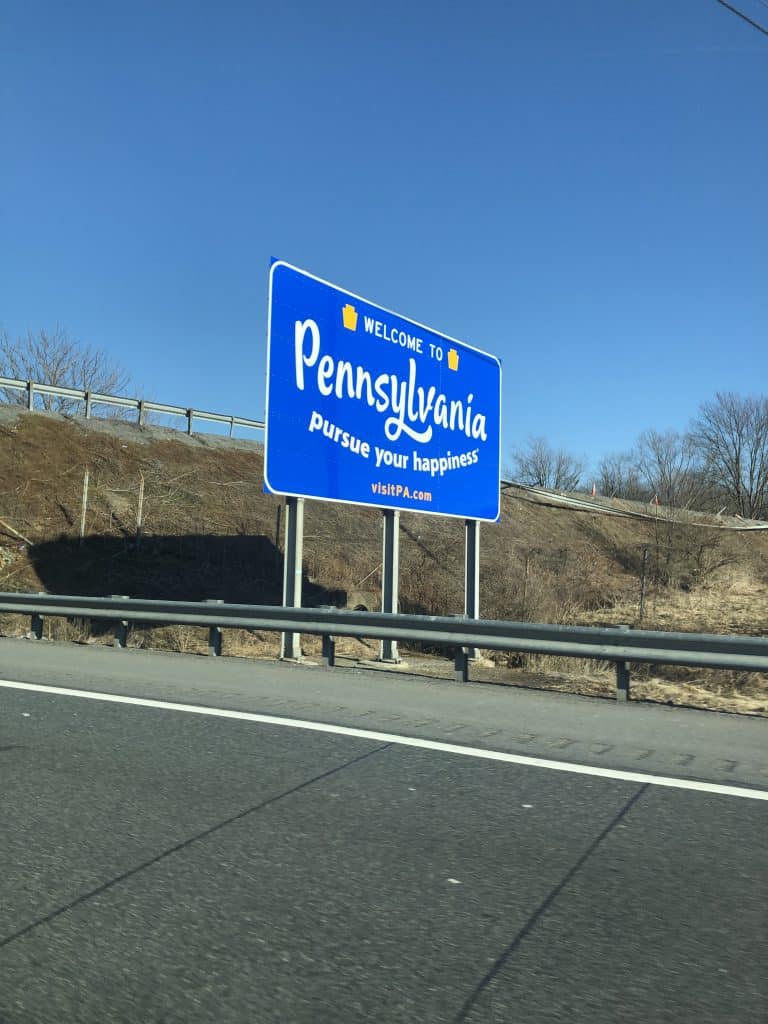 Where is Hershey, Pennsylvania ?
Hershey is located in Dauphin County, about 10 miles east of Harrisburg. The town is best known for its association with chocolate, as it is home to the Hershey Company and Hersheypark. Harrisburg International Airport is the closest airport If you're arriving by plane.
What is the Weather in Hershey, PA in Winter?
The average winter temperature in Hershey is 30 degrees Fahrenheit, with lows typically dipping into the teens. January is the coldest month, while March is typically the snowiest.
Where to Stay in Hershey, PA ?
There are a number of hotels located in Hershey, PA, many of which are affiliated with the Hershey Company or Hersheypark.
For families, the Hershey Lodge is a great option, as it offers an indoor pool, game room, and complimentary shuttle service to Hersheypark.
The Hotel Hershey is another popular choice, known for its luxurious spa and elegant dining options.
Hersheypark Camping Resort is also open year-round, if you're looking for a more rustic experience. RV sites, tent sites and cabins are available.
If you're looking for something out of the Hersheypark venue, the Hampton Inn & Suites Hershey near the park is the perfect place for families. It's in a safe, suburban area just minutes from major Hershey attractions.
On top of the great location, the hotel offers an indoor pool, free breakfast and an in-room kitchenette. The studio suite rooms sleeps up to 6 guests with a pull out couch. We found the rooms to be clean and the staff to be extremely kind and helpful.
Keep in mind there are two Hampton Inns in Hershey and this one is specifically called "near the park" with the address in Hummelstown, PA.
Now that you know a little bit about Hershey and the surrounding area, let's get to the fun stuff!
1-Day Itinerary Hershey, PA in Winter with Kids
This is the itinerary that worked best for our family when we looked for things to do in Hershey, PA in January. We traveled with 3 kids under 3 years old. I have also listed several other ideas below that you can add to this itinerary based on your family's needs.
Here is my suggested 1-day itinerary for things to do in Hershey, PA in winter with kids:
8am: Breakfast at the hotel
9am: Hershey's Chocolate World
12pm: Lunch at Hershey's Chocolate World
1pm: Indian Echo Caverns Tour
3pm: Return to Hotel for naps, swimming and hot chocolate
5pm: Dinner at Babe's
7pm: Return to Hotel for more swimming
Fun Things to do in Hershey, PA in Winter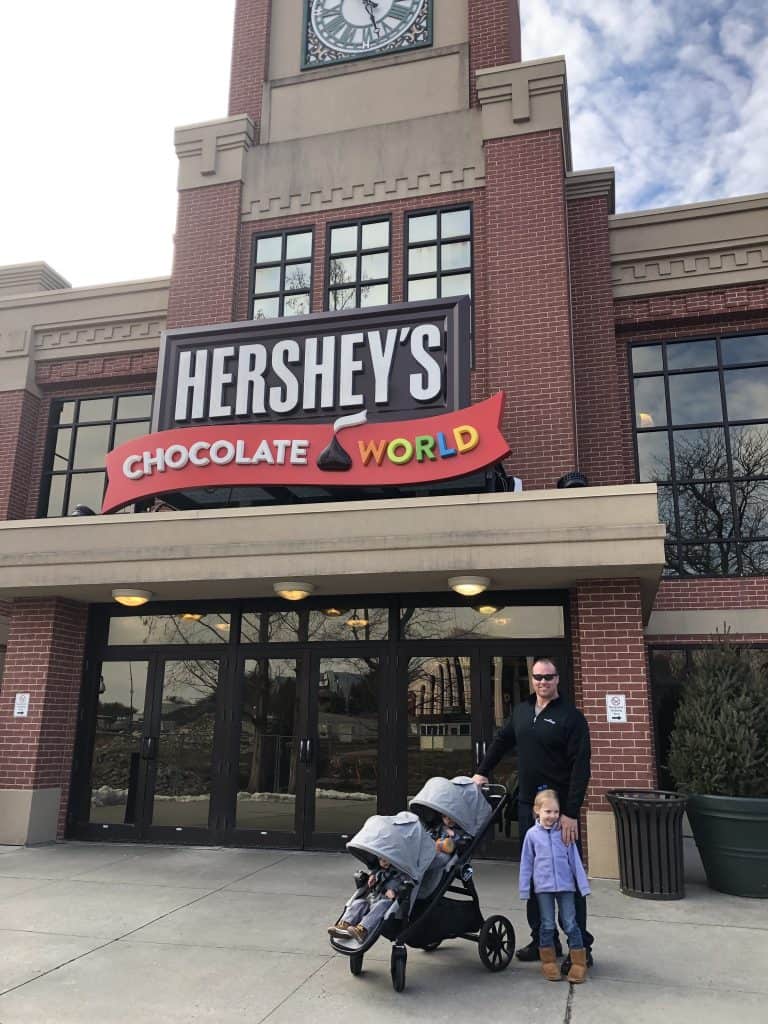 Hershey's Chocolate World
Drive Time: approximately 5-10 minutes from local hotels
Arrive: 9am or opening time
Attraction Time: 2-3 hours + 1 hour for lunch
For those who can't get enough of sugar, chocolate and all things sweet – there's no better place than Hershey's Chocolate World! This attraction was about five minutes from our hotel. We chose this attraction because it seemed to be geared toward younger children and toddlers and it did not disappoint.
Note: there is no stroller parking inside. You can push strollers around the main area, but they can't be left outside of the rides or attractions when you visit them. You must leave your stroller outside in their stroller parking area, (I'd bring a stroller lock,) or in your car.
Hershey's Chocolate World offers several paid attractions, but there are also plenty of things to do for free. There are great opportunities for photos on your way in, so be sure to leave some time to snap a few.
Our first stop was Hershey's Chocolate Tour, a free ride that shows you how the chocolate is made. This can have significant wait times, so we recommend hitting it first thing.
While the ride moves through different rooms, there are TV screens with animated talking chocolate bars giving some history of Hershey's and how chocolate is made. It was very cute and entertained the kids the whole time. Mom and Dad even learned a thing or two about the ingredients in Hershey's chocolate.
As you exit the chocolate tour ride, you are handed a Hershey bar sample for a sweet ending. You are welcomed to jump back on the ride again and again!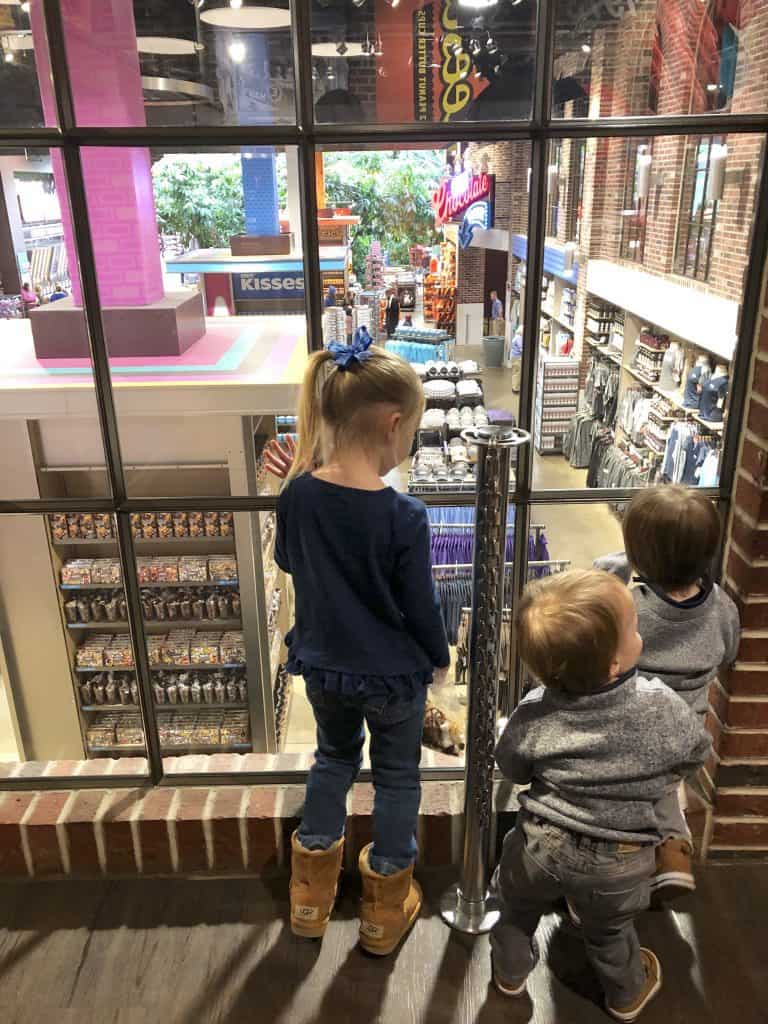 While we wandered around the gift shop, which spans most of the building, we ran into some character meet and greets – characters as in various chocolate bars! The kids also took part in a free "make your own trail mix" bar for a fun snack.
Before we left, we stopped at the food court. Along with your typical lunch, they offered some specialty items like Hershey's hot chocolate, cookies and cupcakes all made with plenty of their signature candy bars.
Hershey's Chocolate World attraction offered plenty to do for a half day with toddlers. We definitely would return when our kids are older to take part in some of the other fun experiences such as making your own chocolate bar.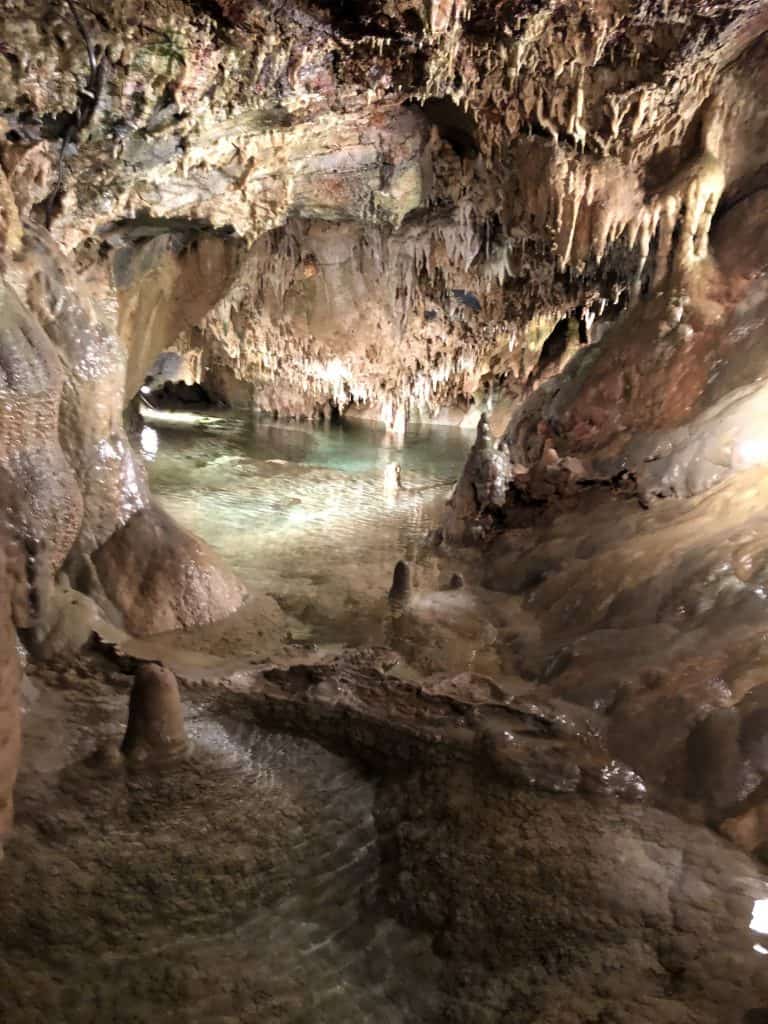 Indian Echo Caverns
Drive Time: Approximately 15 minutes from Hershey's Chocolate World
Arrive: approximately 1pm
Attraction Time: 45 minute tour; About 1.5-2 hours total waiting for tour to begin + wondering around after the tour
Indian Echo Caverns is another popular Hershey attraction. The caverns are open year round for tours, and the winter months are a great time to visit.
The tour consisted of 45-minutes inside the underground caverns. It is always 52 degrees in the caverns which was a nice change from the 30 degrees it was outside. This would also feel cool in the summer so I imagine anytime is a good time to visit!
The caverns are wet inside, with water dripping and puddles on the ground, so dress accordingly. This was also not a stroller-friendly adventure. With a large staircase down to the caverns, tight spaces and low ceilings, babywearing is ideal. If you have older toddlers, my 3 year old did just fine walking through the caverns alongside us.
Our tour guide, Daniel, was wonderful. He shared old tales of the caverns and silly stories about the rock formations. There were beautiful pools of water and a lot to admire and photograph.
Above ground, they have a discovery barnyard with several animals that could be visited on a warmer day. They also offer a playground, gemstone mining activities and a gift shop. This was a quick stop for winter but could also be a longer day in the spring or summer!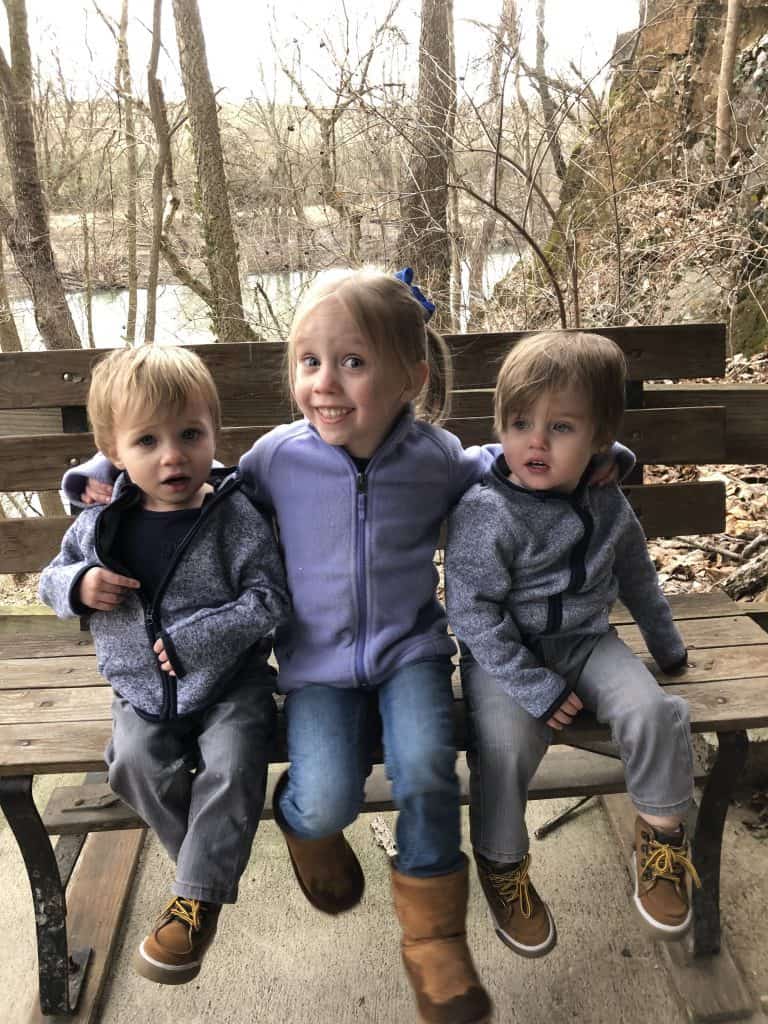 Return to Hershey, PA Hotel
Drive Time: approximately 10-20 from Indian Echo Caverns
Arrive: approximately 3pm
Attraction Time: 2-3 hours
After two attractions, the little ones will be probably be tired. We chose to return to the hotel for some down time.
We put the twins down for naps and my husband took our daughter to the pool. They enjoyed swimming and came back to the room to warm up with some complimentary hot chocolate from the hotel.
We then got showered and ready for dinner.
Babe's Grill House
Drive Time: approximately 15 minutes from area hotels
Arrive: approximately 5pm
Attraction Time: 2 hours
We stumbled upon Babe's Grill House after searching for a restaurant that was open on Sunday. Babe's is an old house converted into a restaurant so it has a very charming atmosphere. The food was all organic, tasted amazing and we had wonderful service.
It is also kid-friendly… as in, there is a playroom for kids… in the restaurant. Bringing toddlers out in public anywhere is usually a hectic experience. However, it was one of those places that you didn't feel uncomfortable with your kids because everyone understood and accommodated to make your night easier.
We were able to relax, enjoy some excellent dishes as well as the company of our crazy kids on my husband's birthday. I highly recommend stopping at Babe's Gill House if you are looking for restaurants in Hershey, PA.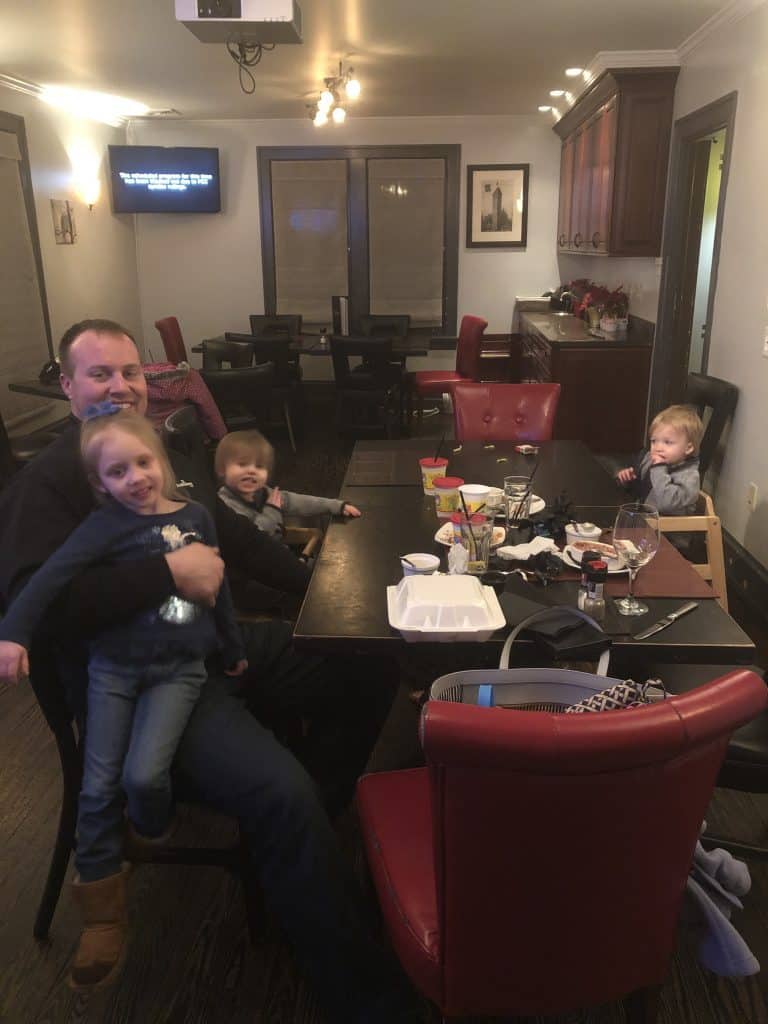 Return to Hotel in Hershey, PA
Drive Time: approximately 15 minutes
Arrive: approximately 7pm
Attraction Time: 1-2 hours (or until bedtime)
After dinner, we came back to the hotel and took all the kids down to the pool. The twins loved the water – well one of them did, and one of them just felt okay about it. We had lots of laughs and relaxed and enjoyed ourselves among the chaos of three overtired kids.
After the pool, we put the kids to bed and my husband and I had some well-deserved quiet time. It was a great end to a fun day in Hershey!
There Are So Many Family Things to do in Hershey, PA
We couldn't visit everything in one day, but we definitely planning another road trip back to Hershey soon!
Choose from these other fun things to do in Hershey, PA in winter and create your own itinerary based on your time available and your kid's ages.
The Hershey Story Museum
The Hershey Museum is a must-visit for any chocolate lover! It is the perfect place to learn all about the man behind the chocolate empire – Milton S. Hershey.
The museum tells the story of how Hershey's chocolate is made, and also features interactive exhibits about the history of chocolate. Kids will love the chocolate tastings and the hands on chocolate lab!
Hershey Gardens
The Hershey Gardens are a beautiful 23-acre public garden that features over 10,000 flowers and various theme gardens.
In the winter, you can visit the conservatory which boasts a beautiful welcome pavilion, indoor tropical butterfly atrium and the zoology zone – sure to keep the kids busy!
Ice Skating at Hershey Park Arena & Giant Center
Skating is another popular winter activity in Hershey. The Hershey Park Arena is open for public skating from October through April.
They offer skate rentals for the family so you can all enjoy a twirl on the ice! The arena also hosts other events throughout the year, so be sure to check the schedule before you go.
Snow Tubing at Roundtop Mountain Resort
One of the best things about winter in Hershey is the snow! And what better way to enjoy the snow than by tubing down a hill? Roundtop Mountain Resort is a great place to go snow tubing with the family.
They have 10 tubing lanes to choose from, including a kiddie tubing area. They also offer other downhill fun like skiing and snowboarding, so there's something for everyone to enjoy!
Ready to plan your next family vacation?
Grab this 35 page printable tropical travel planner and print as many times as you need to organize all your upcoming trips!
Things to do with Kids in Pennsylvania: Visit Hershey
There's plenty of things to do in Hershey, PA in winter with kids – you just have to know where to look! Our one day itinerary will keep your family entertained all day long. Be sure to plan your trip to Hershey soon – the chocolate Capital of the World is always a sweet treat!
Frequently Asked Questions
Is Hershey, PA worth visiting?
Yes, Hershey, PA is definitely worth visiting! The Hershey Harrisburg region is full of history and there are plenty of things to do for the whole family. If you love chocolate, then Hershey is a must-visit!
Is Hershey Park open in the winter?
No, Hershey Park is not open in the winter. However, there are plenty of other things to do in Hershey, PA during the winter months.
What is there to do in Hershey, PA besides Hershey Park?
There is plenty to do in Hershey, PA besides Hershey Park! Be sure to visit the Hershey Museum, Hershey Gardens, and go ice skating at the Hershey Park Arena. Before your trip, request this free travel guide for even more ideas!
---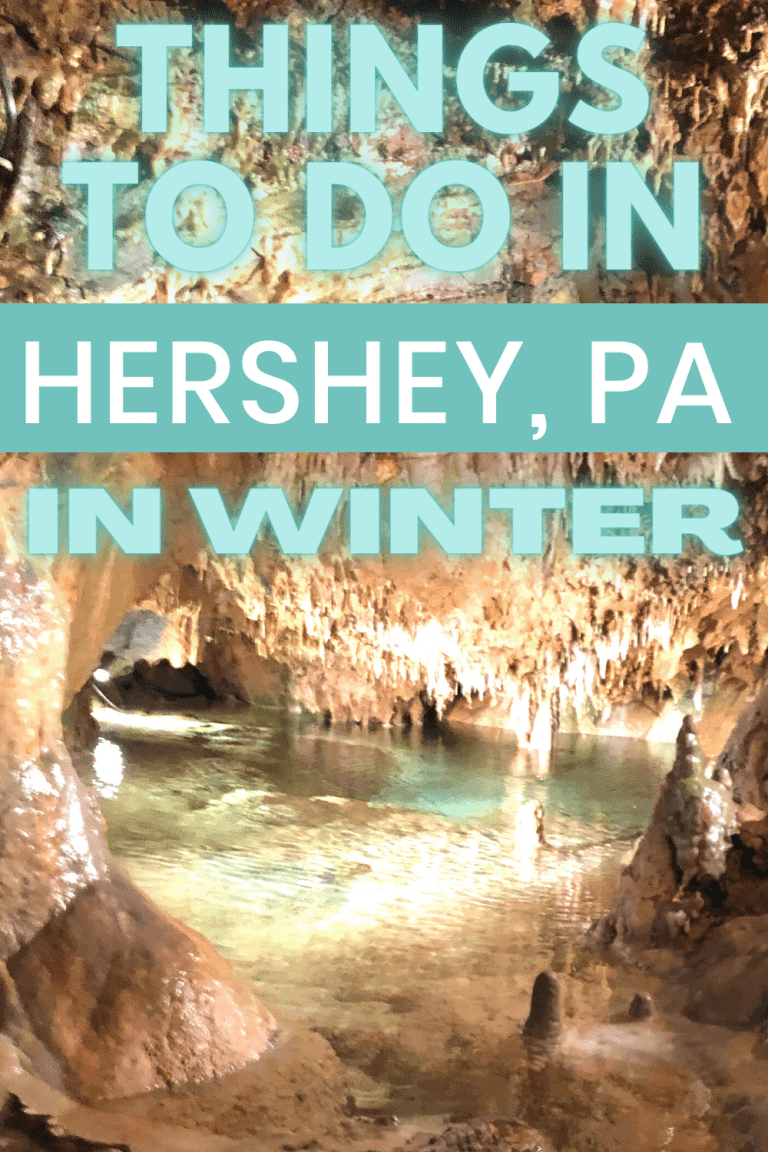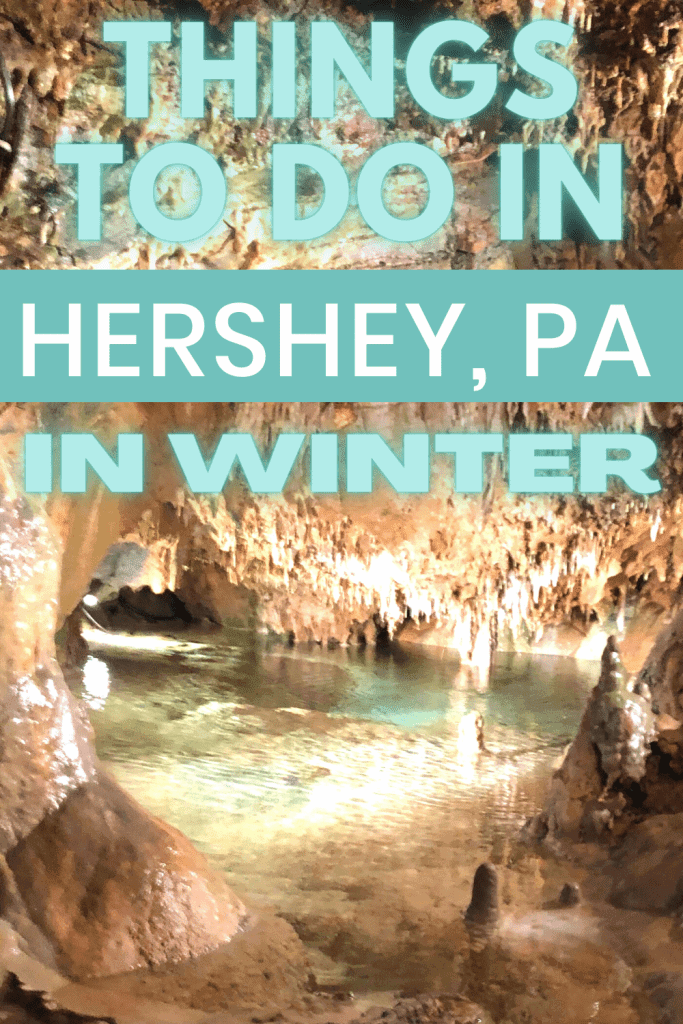 ---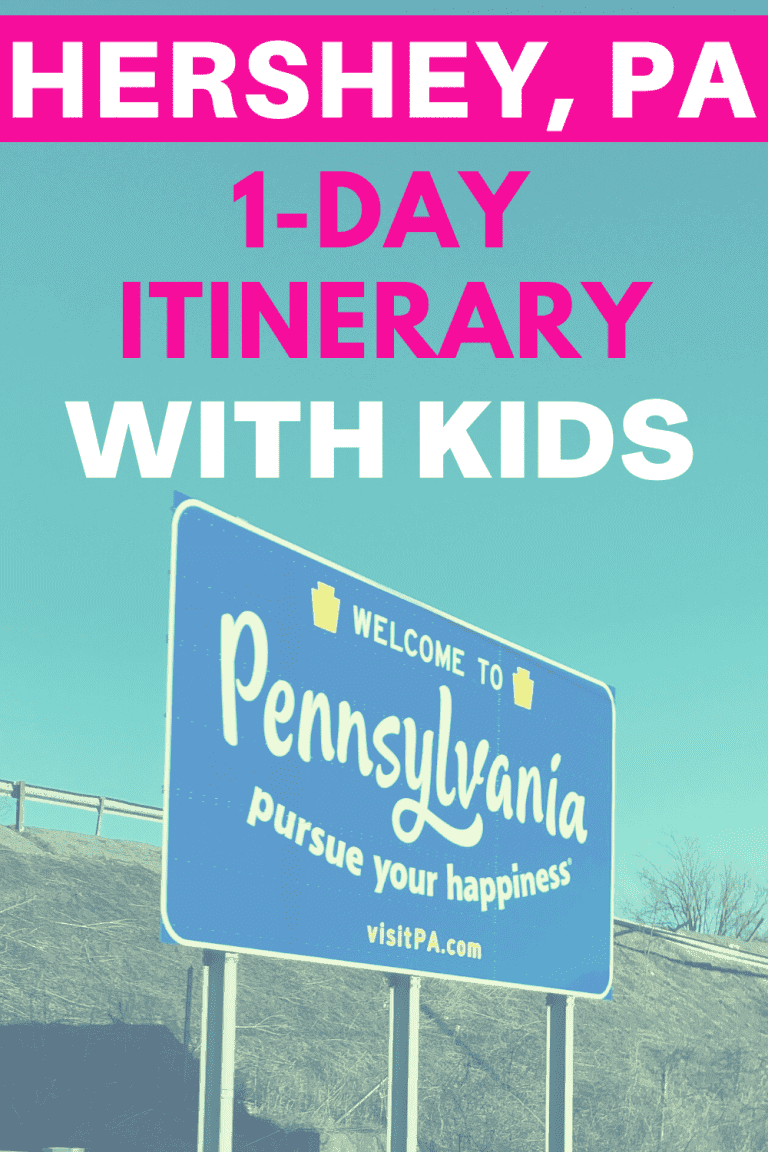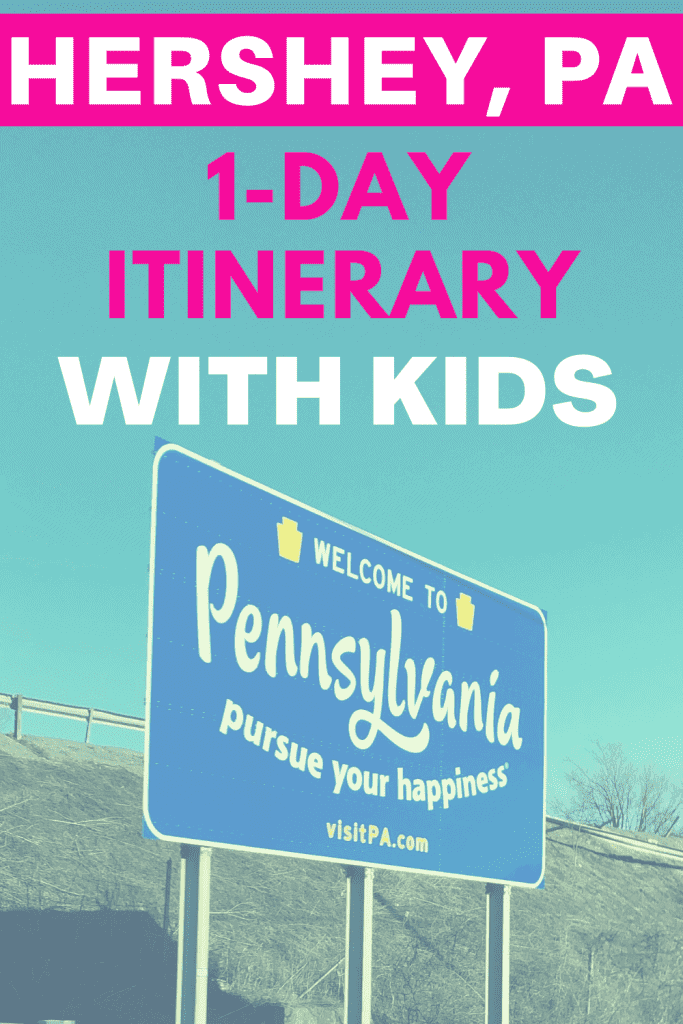 ---