This post may contain affiliate links. See the disclosure tab for more details.
Are you about to embark on a long road trip with kids?
If so, you're likely feeling a mixture of excitement and dread.
Road trips can be a lot of fun, but they can also be challenging – especially if your kids are young.
Here are some tips to help make your road trip as smooth as possible.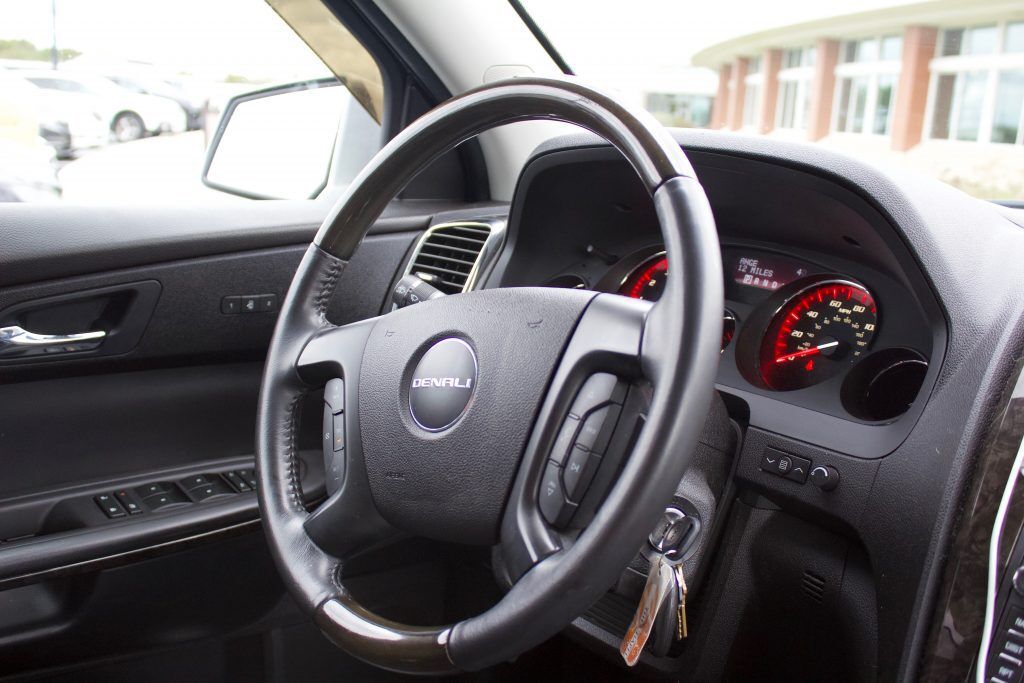 What NOT to do on a Long Road Trip with Kids
Don't Expect too Much
Keeping your expectations minimal is your best start when surviving a road trip with kids.
So many things can go wrong and you just have to roll with it.
Plan for the best and prepare for the worst!
The last few road trips we have taken I have been pleasantly surprised at how well my kids did. Practice makes perfect!
How to Prepare for a Family Road Trip
Plan Ahead
My biggest tip when planning a road trip with kids is to plan ahead.
Most of these suggestions involve preparation before you leave.
From knowing what to pack for your trip to making sure your vehicle is road ready, a little planning in advance can really help save your sanity on a road trip with kids.
Check Your Vehicle Before You Leave for a Road Trip with Kids
Fluids and Fuel
At a minimum, you should get your oil and fluids checked, changed or topped off.
Fluids include coolant, power steering, transmission, brakes and wiper fluid.
Have your tire pressure evened out and of course – fill up on fuel.
Car Seat Installation
Prior to your road trip with kids, make sure car seats are properly installed and tightened.
Refer to your car seat's manual as well as your vehicle's manual if you have any questions about adjustments or placement.
Be sure to adjust strap and head rest heights to accommodate growing kids.
Best Time to Leave for a Long Road Trip when Traveling with Kids
Is it Better to Road Trip at Night with Kids?
For a longer trip, I highly recommend driving through the night.
My young kids hate sitting still, so asking them to sit in the car seats for more than a few hours is just too much.
Breakdowns start happening and then everyone loses their patience.
On our trip to Disney with 3 toddlers, we drove well into the night because it was easier.
To do this, we "adjust" our bedtime routine so that we still do dinner, baths and pajamas, but an hour or two earlier.
After pajamas, instead of going to their beds, they go into the carseats.
That way, they know that it's close to bedtime and they are calm the first couple of hours before falling asleep.
Traveling During the Day
You know your kids and you know when their "down time" is.
If you have a shorter trip, plan to go at their nap time, or right after they go to bed.
When the kids are calm, tired or sleeping, the trip will go so much easier and faster.
We try to leave first thing in the morning or right before the baby's first nap.
Everyone seems to be calmer at this point, even though it isn't nap time.
Timing Rush Hour
Be sure to factor in rush hours while traveling through major cities.
Map it out and see what time you are passing through high traffic areas.
Hitting unexpected traffic on a road trip with kids is not fun for anyone.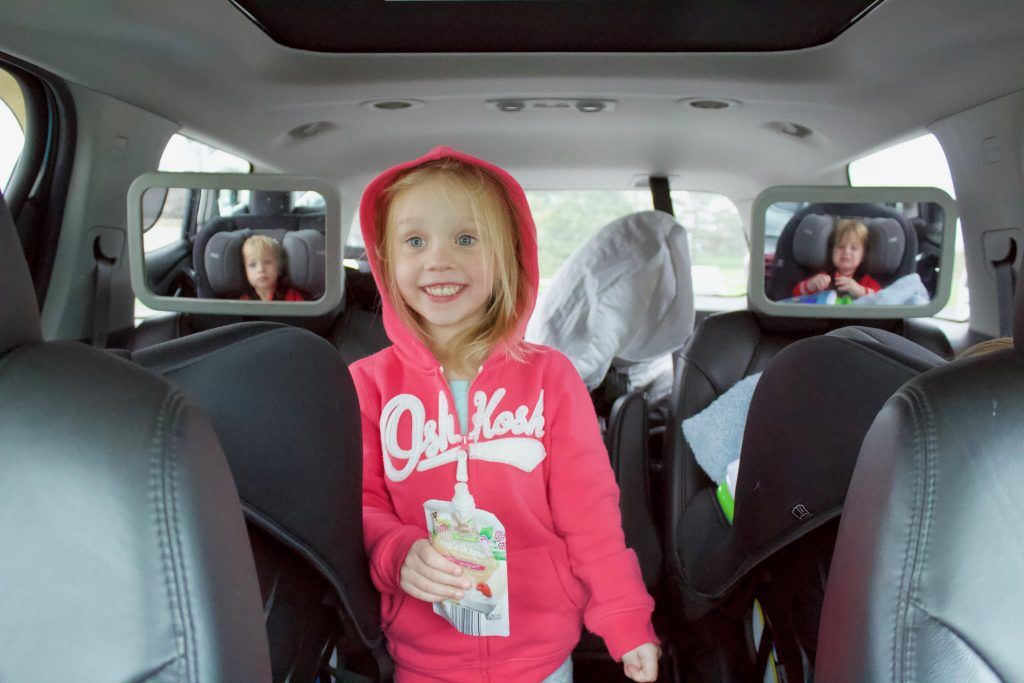 Plan on Frequently Stopping with Kids
How Often Should You Stop on a Road Trip?
Plan to stop every 2-4 hours.
When traveling with babies and toddlers it's closer to 2 hours while older kids can usually handle longer stretches.
We typically try to drive as far as possible before someone really needs to stop.
Plan Breaks and Stops
If you are passing through a large city, you could stop at an attraction to let the kids get up, walk around and get some energy out.
Places like a children's museum or the Zoo would be great stops that they can run around for a couple hours before getting back on the road.
Plan to continue your road trip with kids at their rest time so they will be ready to sit still – or sleep – for the next stretch of driving.
Dealing With Diapers and Potty Training When Traveling with Young Children
Make sure you have all of your baby travel essentials packed before you leave – this includes extra diapers and wipes!
With diapers, you're going to need to plan stops to change them about as often as you change at home.
However, we also size up a diaper so it holds a little more and won't get compression leaks from the car seat buckles.
For potty training age, I explain that we might not be able to stop when they have to go.
Pull-ups are a safety net for potential accidents.
It's much easier to change a pull up than the fabric on your car seat.
Always have potty training kids "try" to go when you make your stops.
We have never had to use it, but we have brought along a travel potty to keep in the back of our vehicle in case we have to pull over and someone needs to use it.
Road Trip Snacks for Kids (Arguably the Biggest Family Road Trip Survival Tool!)
Snacks that Travel Well
I have a whole list of snacks that travel well.
For road trips with kids, we try to have road trip snacks without crumbs that don't have to be refrigerated.
Don't forget your room temperature fruits like apples, oranges and bananas.
If you are bringing a cooler or portable mini fridge, I'd suggest string cheese, yogurt or pre-made sandwiches.
Snack Tackle Boxes
This is an idea we have not tried yet due to potential crumbs.
If you're willing to brave the mess, a tackle box full of snacks like goldfish, trail mix and cereal can keep kids entertained while on the road!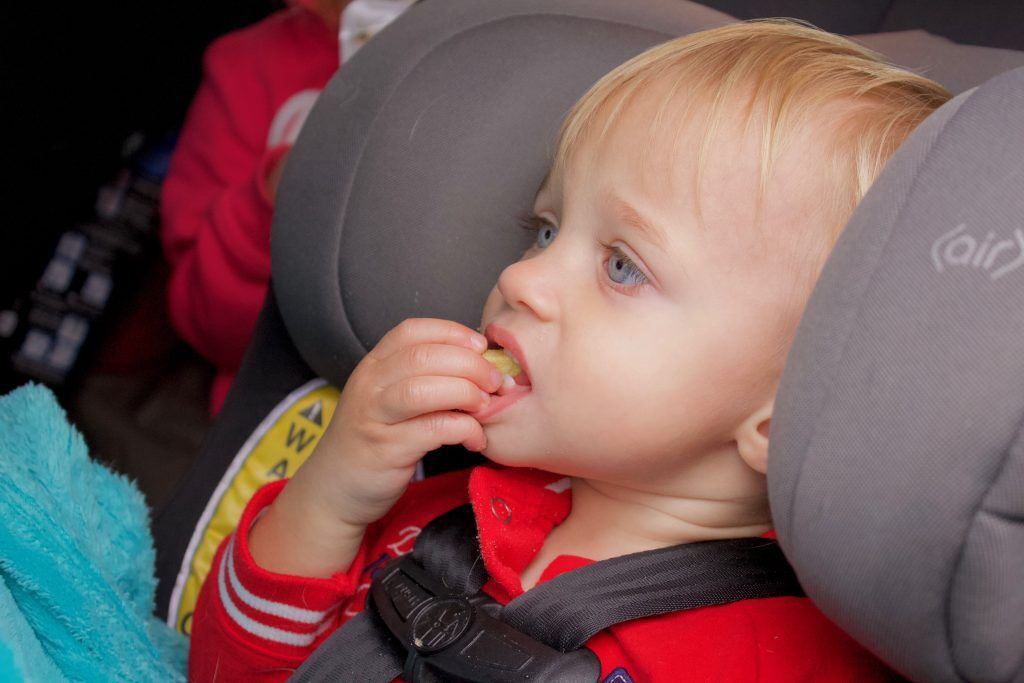 How to Organize Your Car for a Family Road Trip
Easily Access Packed Bags
Have packed bags organized well and easily accessible.
I pack things in several smaller bags. This helps you be able to just grab what you need to and they also fit behind car seats and can easily stack to save space.
Packing the Trunk
For the trunk, first, pack the stuff you will not need until you get to your destination. Think beach gear, bathing suits, and the travel bassinet.
Next, add the stuff you might need to dig out. This might be extra clothes in case of accidents.
Last, add in anything you know you'll need to grab during your trip. We have bottles of water or snacks ready to grab from the trunk at our stops.
Ready to plan your next family vacation?
Grab this 35 page printable tropical travel planner and print as many times as you need to organize all your upcoming trips!
How Do I Keep my Kids Busy on a Road Trip?
Have a Variety of Toys
There's really no secret toy or movie that is going to keep your kids completely happy the whole drive.
Our top pick is the Amazon Fire Kid's Edition.
Kids can download age appropriate content and use it without wifi.
The kid's edition also comes with a 2-year guarantee, so even if they break the screen, (which we have,) Amazon sends you a new one!
For older babies and toddlers, they just need something to hold on to and look at.
These toys usually last about five minutes so having a variety is key – see our 45 road trip activities for toddlers.
Pack small toys in an easily accessible bag so that you can give them to the kids as they start to get fussy or bored.
Bribes
The dollar store is a great place to find small surprises, (or bribes,) to get out when things are not going as planned.
These are great when you are stuck in unexpected traffic or right as everyone is breaking down.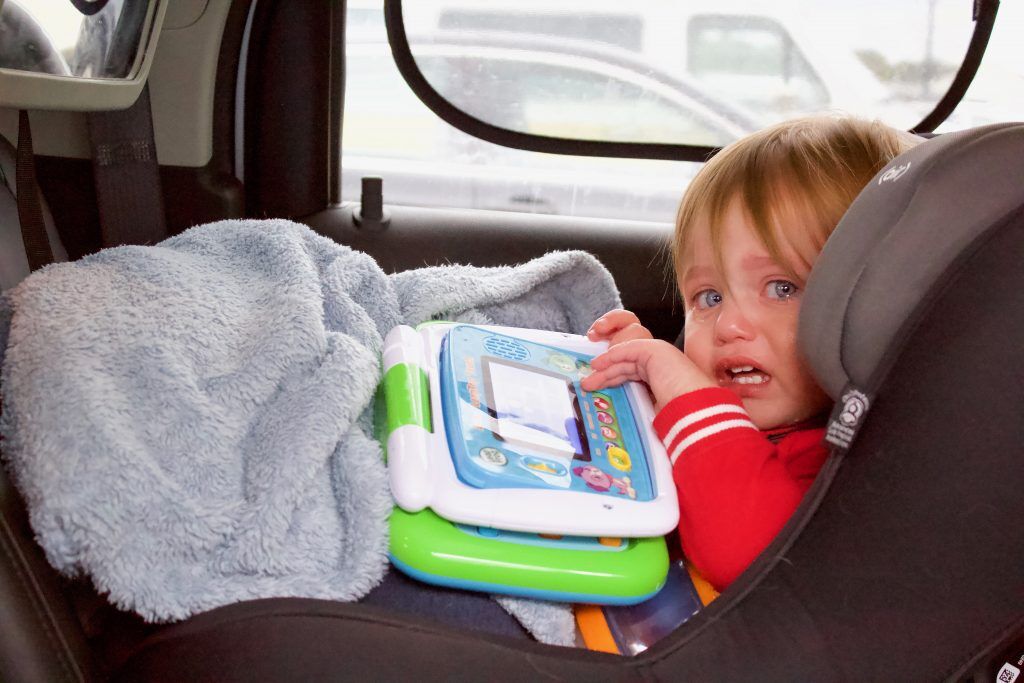 Road Trip Essentials for Babies
Blankets
I usually pack a few blankets of different weights.
A thin muslin blanket, a thin cotton receiving blanket and a heavier blanket should cover all the bases.
Pacifiers
Always pack extra pacifiers in case we lose one in the depths of the car.
I also give my older child one to hold in her seat so she can lean over and give it to the baby if needed.
Teething Toys
This pack of teething toys is easy to grab and have ready for your trip!
Obviously, everything is a teething toy at this age but my baby loves chewing these silicone stacking rings.
Another favorite is this rattle which is easy for small hands to hold.
Lovey
If your baby is old enough to have a lovey, we love these from Mary Meyers. It's crazy how soft they are.
Be sure to bring all of baby's essentials for a road trip. Make sure you are well prepared for everything they need on the road.
Road Trip Essentials for Toddlers
Little People
My twins loved to carry Little People figures around.
They study them and were able to easily hold them so these are always packed for our road trips.
Bristle Blocks
These are an open ended toy that can be played with in the car seat.
They are large enough that they don't get lost when they fall and keep kids entertained for a while.
Board Books
A few board books are great for looking at during a road trip with kids.
Books with textures or flaps are always a hit for this age!
Musical Instruments
Quiet musical instruments like maracas are great for entertainment.
They make just enough noise to keep their attention but not get annoying to parents.
Road Trip Essentials for Kids
Tablet
An Amazon Fire Tablet or iPad is always entertaining.
It's screen time, but it is a needed break.
Movies
Plan to have movies for as many hours as you are traveling.
If possible, grab a few new movies to add to your collection to better keep their attention.
Electronic Drawing Tablet
This is an awesome drawing pad that electronically erases your drawings – like a new generation magna doodle.
My kid's love these and can draw or write anything they want. They are also super light and easy to pack.
Games
This is the age for games like "I Spy" or our favorite: "I'm going to the beach and I'm bringing…" Take turns naming things with each letter of the alphabet.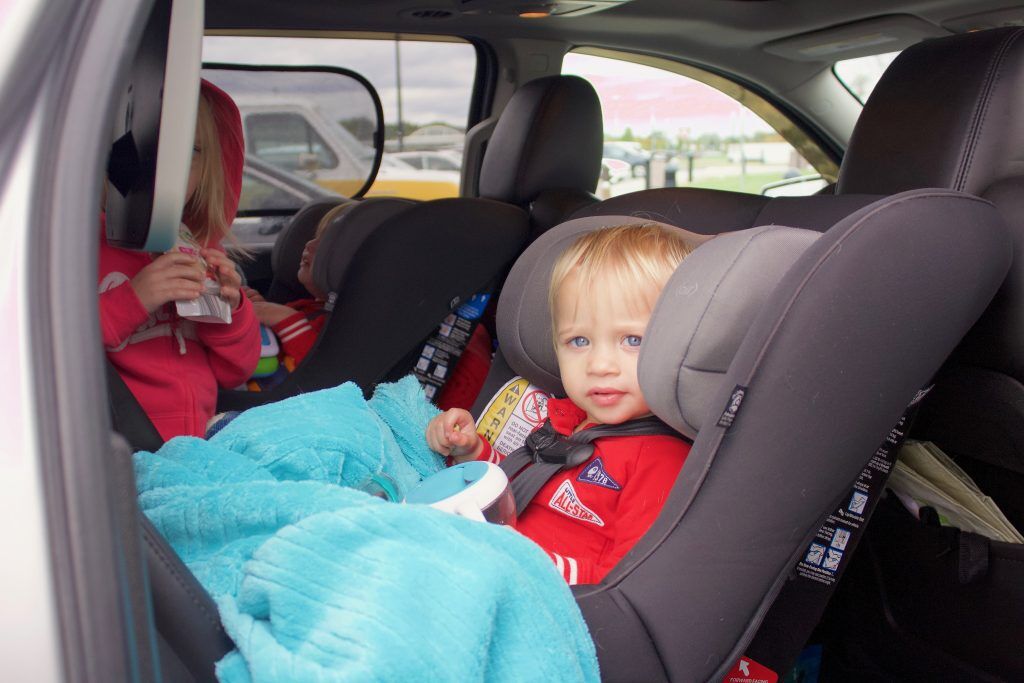 Road Trip Essentials for Teens
Phone/Tablet
Let's be honest, the parents who weighed in on this one for me said for the most part, their teens are staring at their screens!
Puzzle Books
Puzzle Books like word search, sudoku and crosswords can keep a teen's attention for a while.
Also consider a blank sketch pad for writing or drawing.
Games
Games like Heads Up, Road Trip Bingo, or the travel version of their favorite board game will hold their attention for a while!
How Can I Make a Long Road Trip More Comfortable for Kids?
Blankets and Pillows
Each of my kids have a blanket and travel pillow.
They don't always use them, but it's nice to offer and helps them feel comfortable and relaxed.
Water and Snacks
I usually hold the water bottles so they don't drink them all at once. This helps with potty stops.
Around age 4, I gave each kid a bag of non-messy snacks.
Those were the only snacks they had until we got to our destination.
I didn't care when they ate them, but they wouldn't be getting any more than what was in that bag.
This worked well and avoided the "can I have a snack?" question every 5 minutes.
Road Trips with Kids are Totally Do-able
Road trips with kids seemed very overwhelming for me in the beginning.
I have 4 little ones to take care of and keep happy all while keeping my sanity in the front seat.
It's a lot to think about, prepare for and get right.
However, with a little preparation, practice and relaxation, road trips can turn into a fun family adventure.
---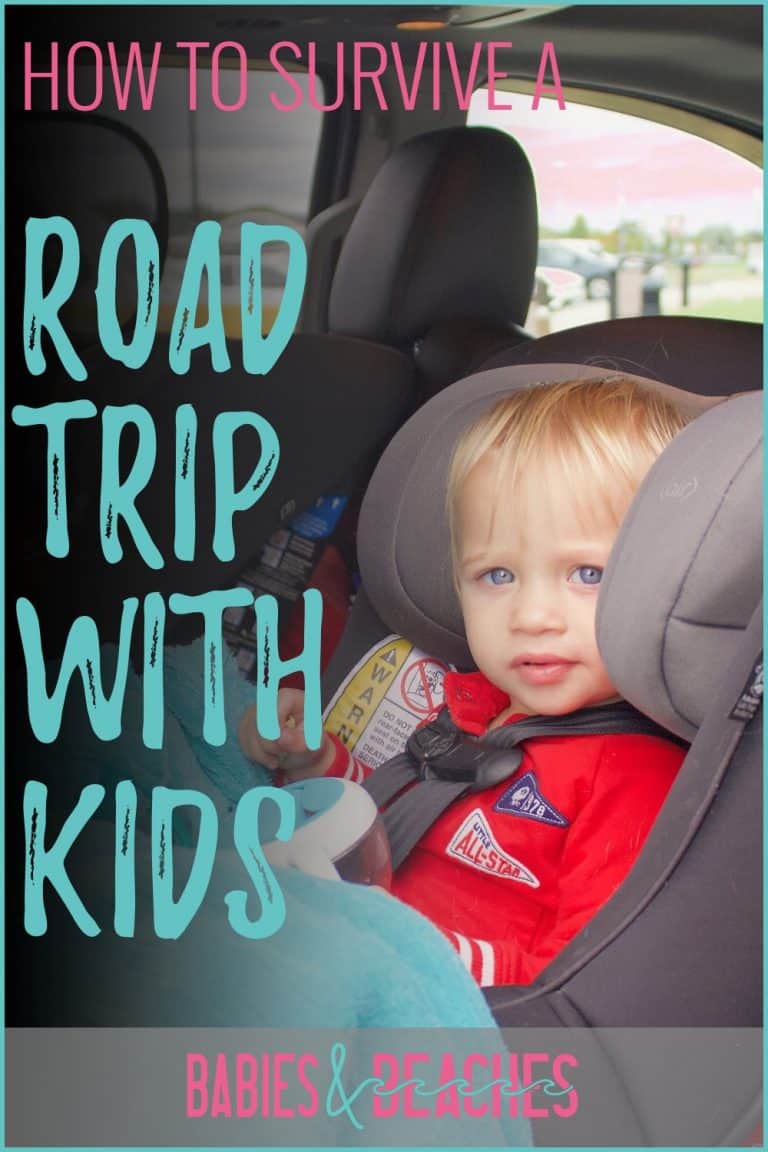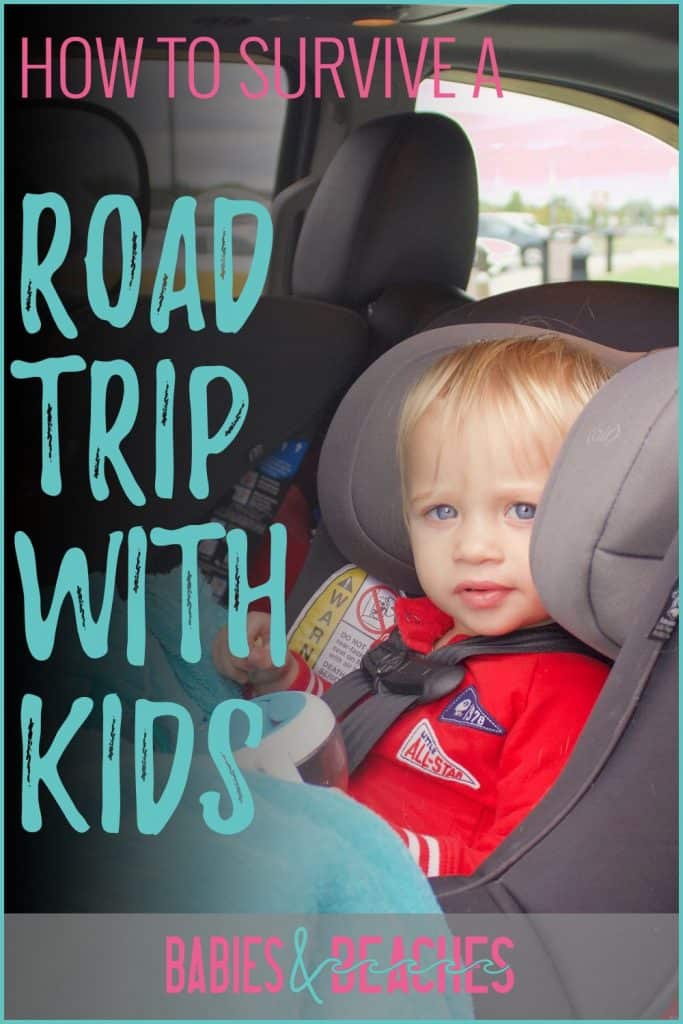 ---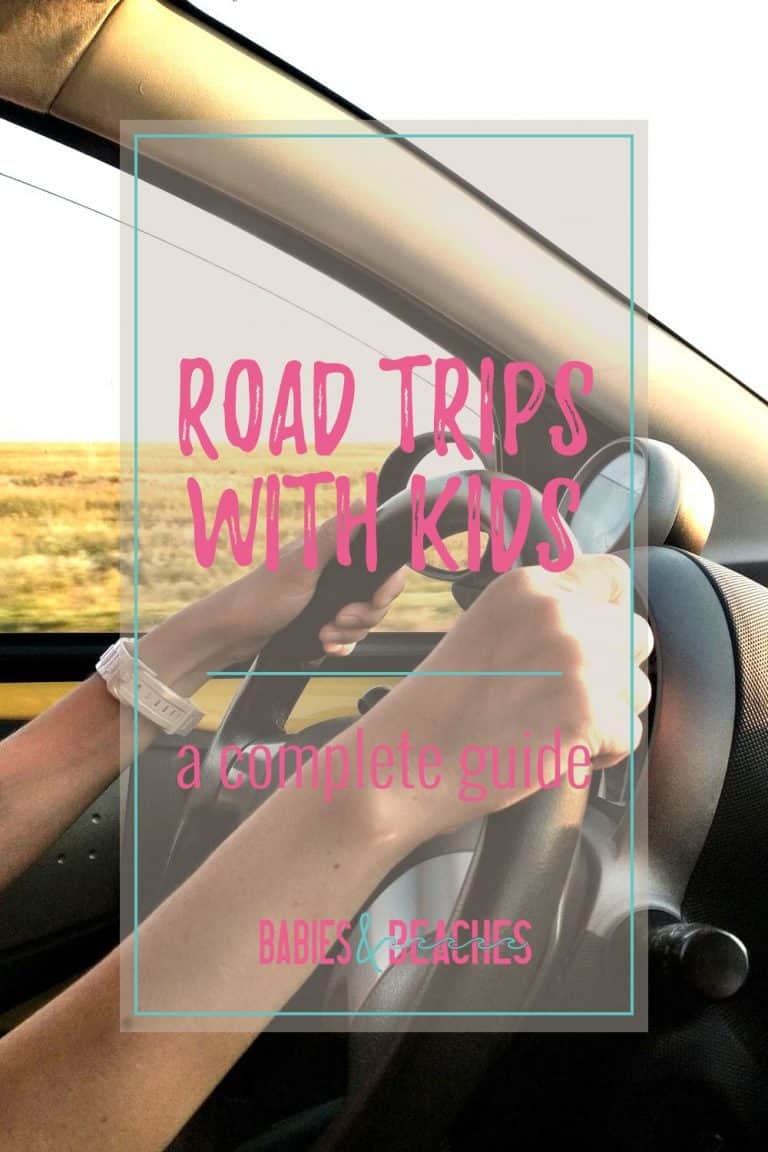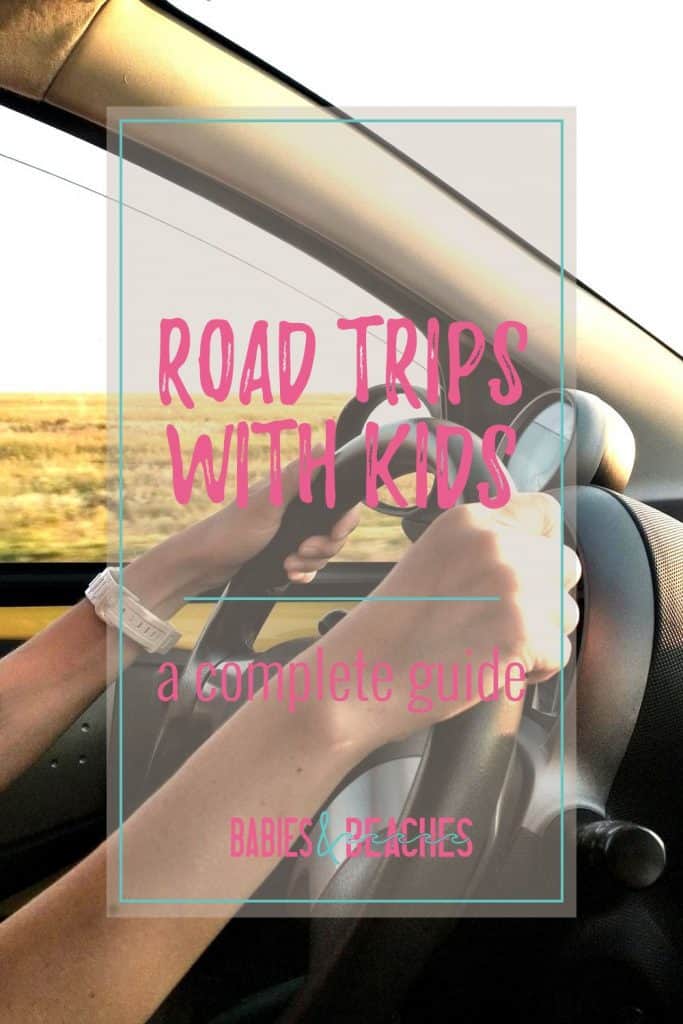 ---