This post may contain affiliate links. See the disclosure tab for more details.
Road trips are a great way to bond as a family during travel but little ones can get antsy sitting for so long.
If you're planning a road trip with your toddler, it's important to be prepared with activities to keep them occupied.
After all, a bored toddler in the backseat is a recipe for disaster!
To help you out, we've put together a list of road trip activities for toddlers that are both fun and educational.
With these 45 road trip activities for 1-year-olds and 2-year-olds, your little ones will stay busy (and happy) throughout the entire journey.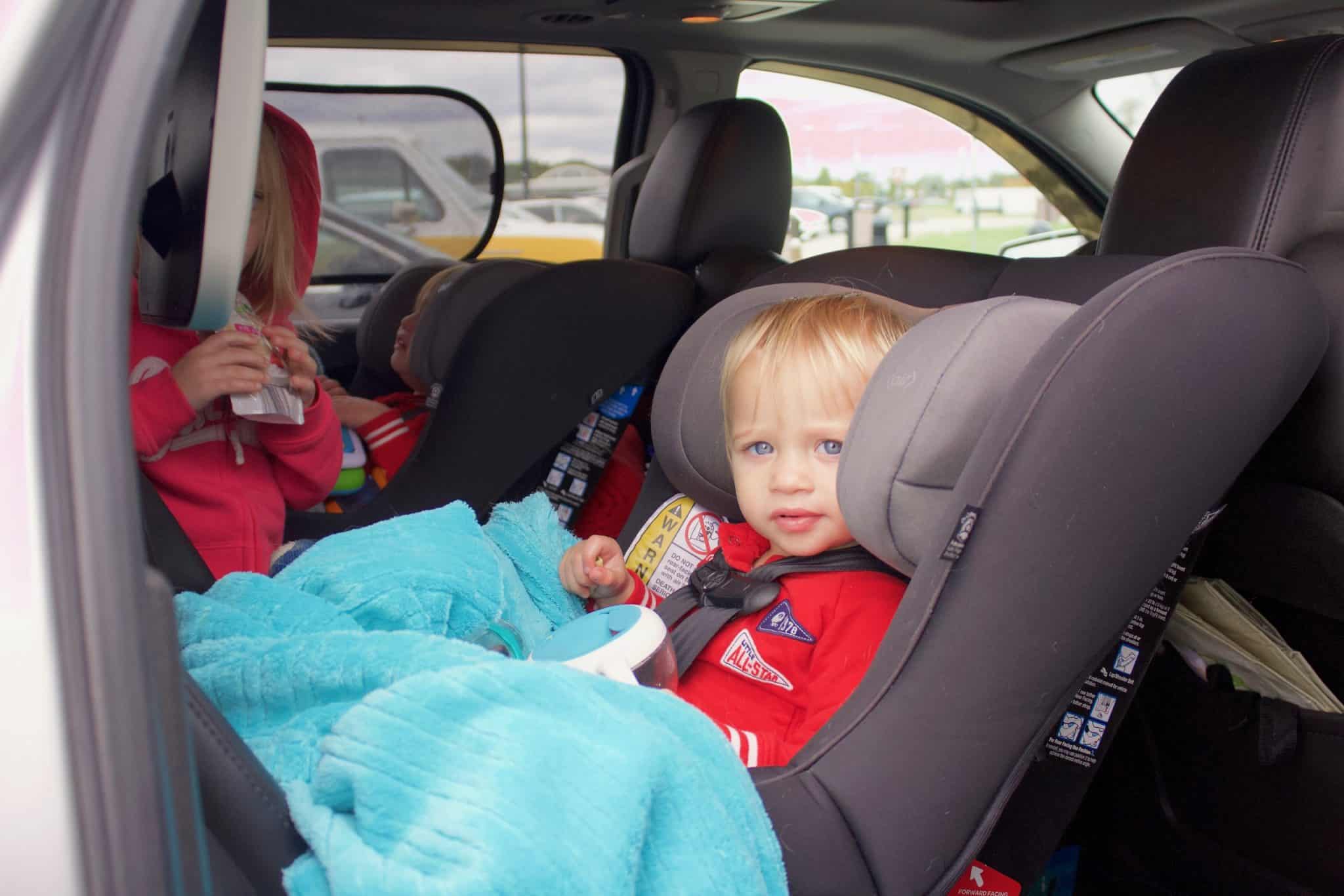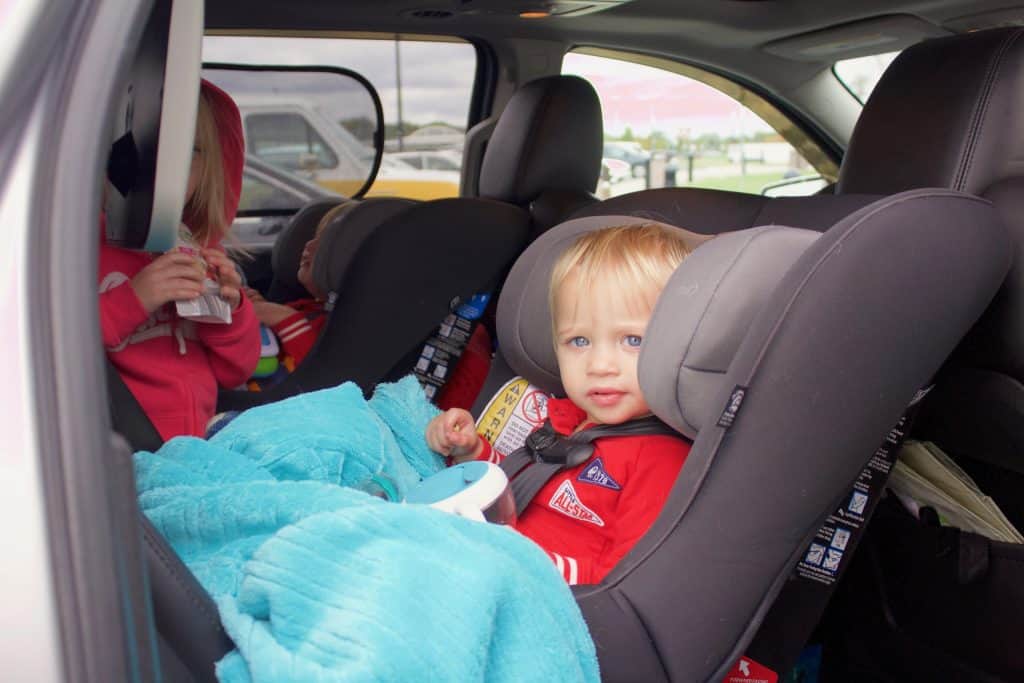 Road Trip Activities for 1-year-old Toddlers
1 Pop-It's
My 1-year old absolutely loves pop-its. They are quiet, easy to find, and light to pack – the perfect travel toy!
2 Audiobooks
Playing an engaging audiobook will help distract your toddler. Be sure to choose books with a very animated narrator to catch their attention.
3 Little People
Little People are a hit with toddlers. They love to look at them, hold them and explore them. Consider grabbing a set and offering them to your toddler on the road trip.
4 Bristle Blocks
A few bristle blocks can go a long way on a road trip. Toddlers will love building with them, and they can even teach some basic shapes and colors.
5 Fabric Books
While 1-year-olds aren't the best book handlers, they can still explore soft fabric books. Choosing one with different textures and interactions is a great way to keep them busy.
6 Finger Puppets
A finger puppet set will keep your toddler's hands busy. They'll love putting the puppets on and moving them around.
7 Vtech Remote
There's just something about the remote that is highly fascinating to 1-year-old toddlers. We love the Vtech toddler remote which is complete with functioning buttons and sounds – the perfect road trip activity for toddlers.
8 Chewbeads
If your toddler is in the chewing stage, silicone chew beads should be on your road trip list! These links are not only safe for chewing, but your toddler can bend, fold, and connect them together.
9 Magnatiles
If you're looking for a more educational road trip activity, consider packing a few Magnatiles. These tiles are great for little ones to stack and build with in the car and at home!
10 Animal Figurines
From dinosaurs to farm animals, your toddler will enjoy handling animal figures on a road trip. Look for lifelike figures with distinct features to grab their attention.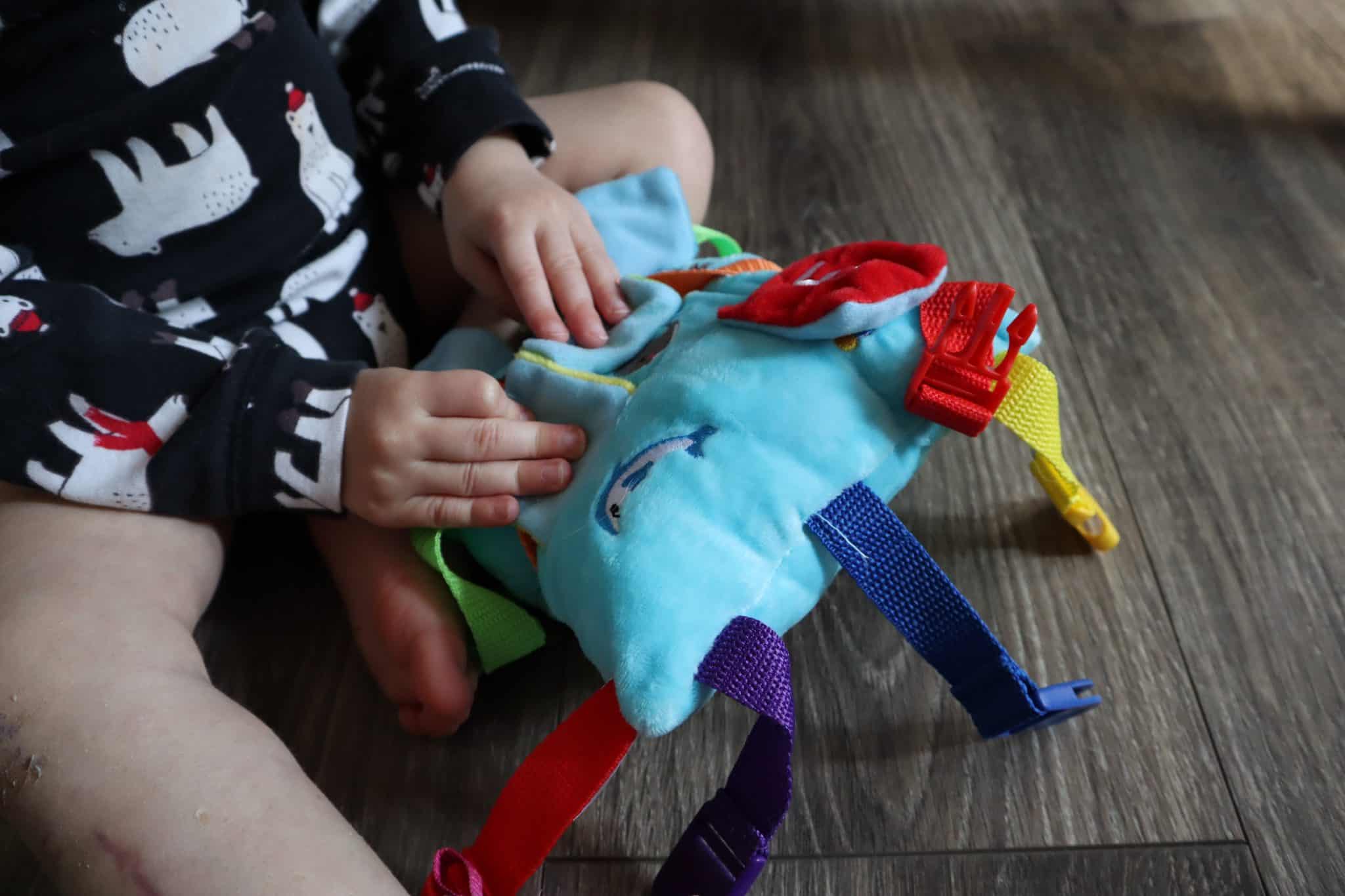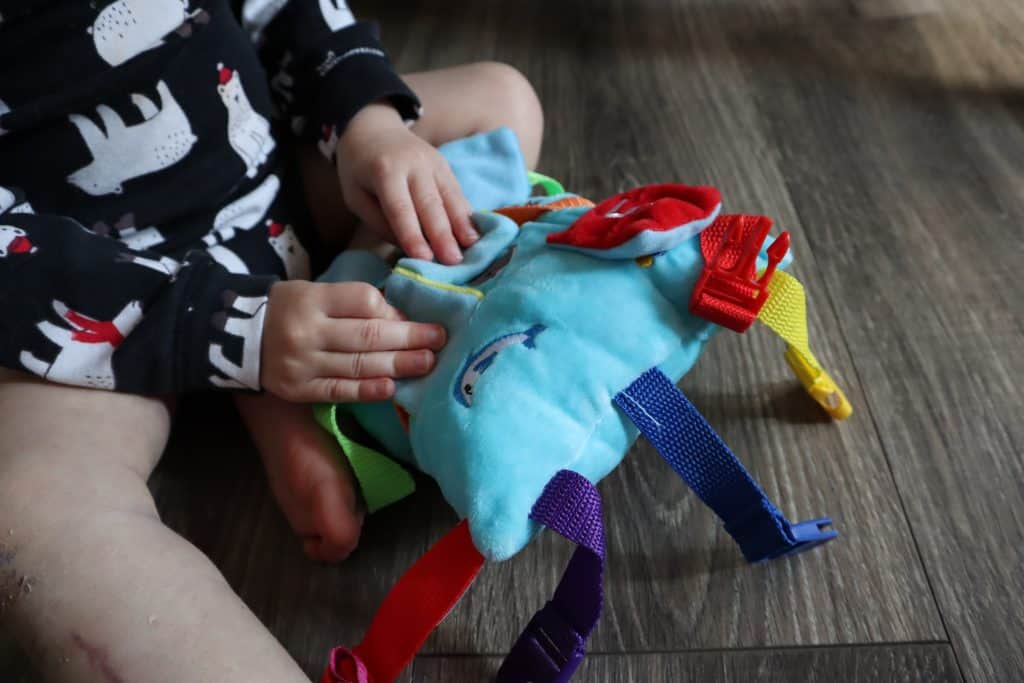 11 Cheerio Bracelet
Snacks are a hit for 1-year-olds on a road trip, but try offering something a little more creative than a snack cup. Look for some flavored cheerios and string them on yarn for a ring of snacks they can see and enjoy eating! Bonus – there's less chance of them throwing them on the floor!
12 Textured Bean Bags
Toddlers love exploring sensory items and these bean bags are one of the best road trip activities for toddlers. The toys are brightly colored and have interesting textures that will keep toddlers engaged. Come up with some sorting games or ask your toddler to hand you a certain bean bag.
13 Buckle Toy
This soft pillow buckle toy has plenty of activities to keep your toddler busy. They can zip, lift flaps, and learn to buckle.
14 Hot Wheels Cars
Hot Wheels are a fun toy for you toddlers to bring on a road trip. These are something small they can hold, and you can point to out similar cars on the road.
15 Blocks & Balls
Infantino Balls, Blocks and Buddies set is a something 1-year-olds will love for a car activity. They can touch different surfaces and even chew on them them. Divide them up by type and offer them at separate times for more variety.
16 Baby Dolls
A soft baby doll will not only be a cuddle toy but a great road trip activity for toddlers. They can dress the baby and give her a bottle.
17 Sing-Alongs
One of the best road trip activities for toddlers is music. Sing-alongs are always a hit, and there are plenty of classic kid songs to enjoy. Choose a kid's music channel on your favorite streaming service.
18 Peek-a-Boo
This simple game is one that never gets old. You can play it with a stuffed animal, blanket, or your own hands. Peek-a-boo is sure to get some giggles from your 1-year-old during your trip.
19 Snack Breaks
Snacks are essential for a fun road trip, but they're especially important when you've got little ones in tow. Hunger and thirst can lead to crankiness in even the happiest of toddlers, so make sure to pack plenty of snacks and drinks for the journey. And if you're looking for healthy snack ideas, see our list of road trip food for kids.
20 Playground Stops
It's important to take breaks often when you're on a road trip with toddlers—both for their sake and for yours! Consider making pit stops at playgrounds along the way – they'll love getting to run around and explore!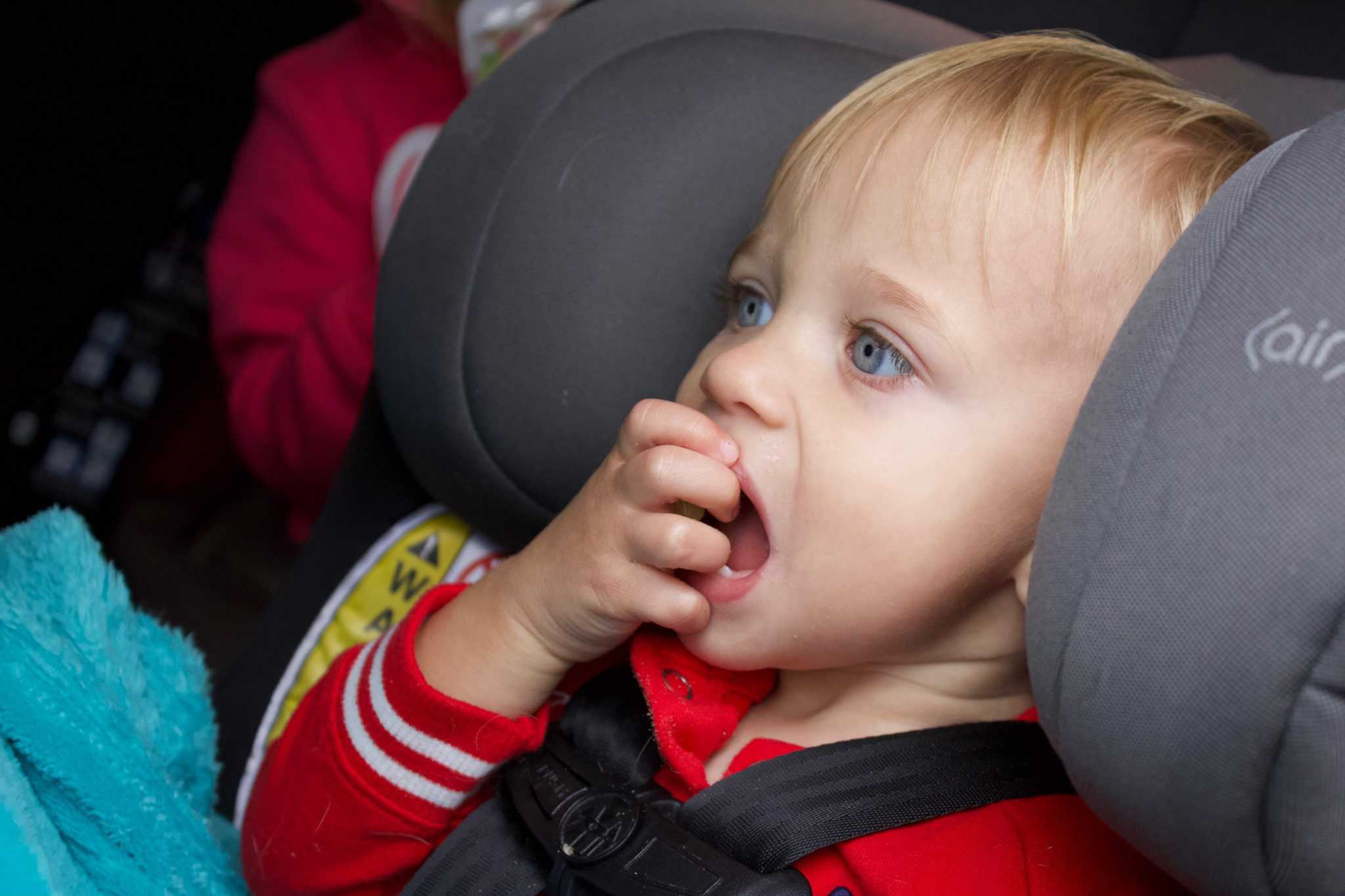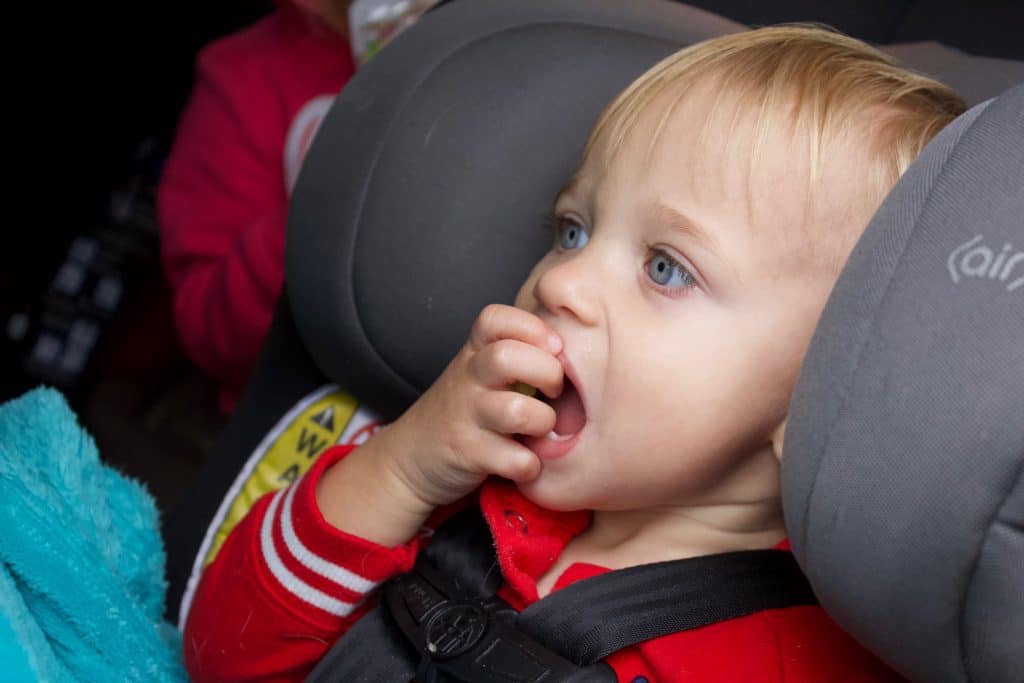 Road Trip Activities for 2-year old Toddlers
1 The Quiet Game
This is among many parent's favorite road trip activities for toddlers! If your toddler is any good at this game, you'll be enjoying plenty of relaxation on your trip! See who can be quiet the longest and that person wins a special surprise!
2 Paint with Water
Paint with water sets are the perfect toddler road trip activity. Water Wow sets from Melissa & Doug include a fillable pen that holds the water and comes out the brush. Virtually mess-free and very amusing for your little one.
3 Sticker Books
We love sticker books to keep toddlers entertained on a family road trip. They love peeling the stickers which is a great fine motor skill.
4 LCD Drawing Tablet
If your 2-year-old loves to color, LCD drawing tablets are a must. They can color whatever they want and erase it when they want a new canvas. Not only is it mess-free, the tablets are an inexpensive travel toy!
5 This or That
One of our favorite road trip games is one we made up. I played this with my oldest when she needed to be distracted in the car. Say two things and ask which is their favorite. You can use animals, food, or toys for example. It's a great activity to avoid meltdowns when things are going south.
6 Counting Things They See
Keep your toddler learning by counting the things you see. Look out the window and see 3 birds – 1, 2, 3! This is a great activity to help keep them occupied while on a road trip.
7 Squigz Suction Toys
These suction toys are a great road trip activity for toddlers because they will keep them entertained with building and creating new designs. Additionally, the suction cups on the toys will stick to windows and other surfaces, providing an extra level of fun.
8 Magnetic Puzzles
Magnetic puzzles can keep toddlers entertained for hours while on a road trip. The puzzles are easy to carry and keep toddlers busy as they try to move the pieces with the magnetic pen!
9 What Do You See Out the Window
Practice object recognition, colors, and shapes with your 2-year-old by asking them what they see out the window. If they see a tree, ask what color is the tree? Continue the conversation with questions for them to answer.
10 Connectable Fidget Tubes
Fidget tubes can be connected together to create a chain, and your toddler can twist and turn them to their heart's desire. This will keep them occupied and happy, which is essential on long road trips.
11 Lacing Cards
The repetitive motion of lacing and un-lacing helps to develop hand-eye coordination and fine motor skills. We love these small lacing cards as they are portable and offer just enough practice for a 2-year-old.
12 Lego Duplo Blocks
Let their creativity run wild with Lego Duplo Blocks. They can build towers, cars, and other structures with the blocks that come in various size kits.
13 Memory Game Cards
While 2-year-olds may be a little young to play Memory, they will certainly enjoy looking at the picture cards. Memory cards are durable and the perfect small, learning toy to bring along on a road trip.
14 Vtech Laptop
The Vtech laptop is a fun learning game for toddlers. It's not quite screen time, but it is interactive with songs and games that will keep them engaged.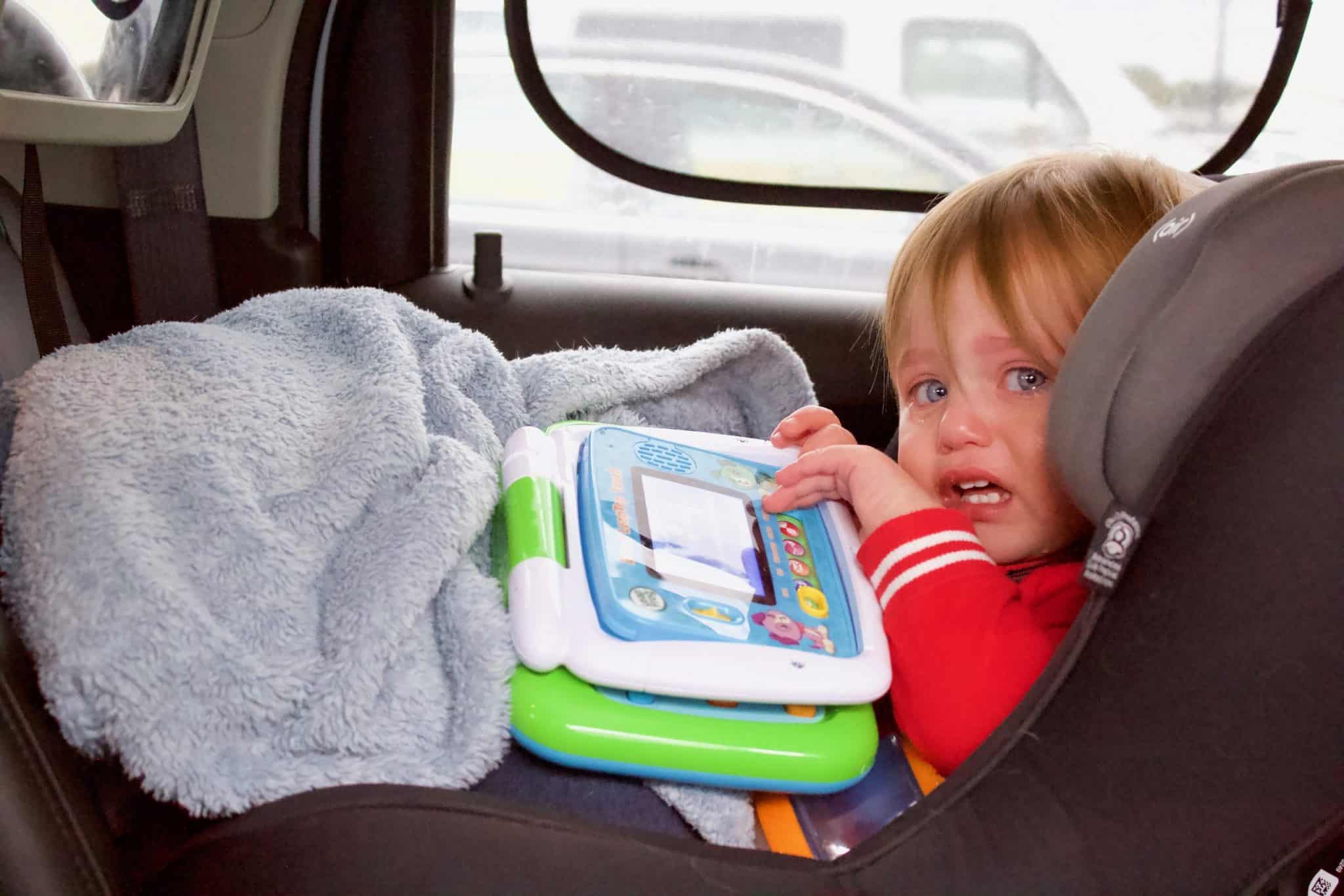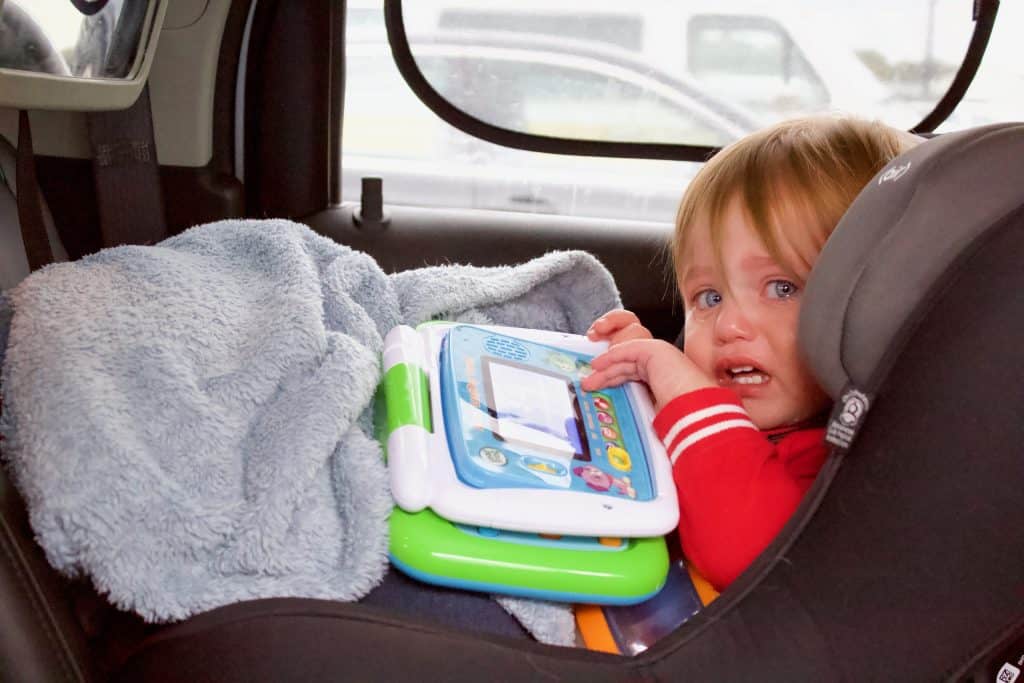 15 Glow Sticks
Road trip activities for toddlers don't have to be limited to just watching movies or looking out the window. A great way to keep them entertained is by bringing out some glow sticks. If you're traveling in the dark these are an ideal way to have some fun when you're almost to your destination.
16 Reusable Sticker Scenes
Reusable stickers are a great car activity because they can easily be moved and manipulated by your toddler. They will enjoy creating stories and using their imagination. Just ask them what they made!
17 I Spy
This classic road trip game is perfect for toddlers because it's easy to adapt to their limited attention span. Keep it simple by spying something that's a certain color or shape. Keep the "spied" objects inside the car to give time for your toddler to find them!
18 Masking Tape
Toddlers love playing with random objects, and masking tape can be used to your advantage. They will enjoy peeling it, balling it up, and making designs on the windows. This is a great way to keep them entertained in exchange for a little cleanup.
19 Mess-Free Coloring
Coloring is a great way to keep toddlers occupied, plus it's a quiet activity that won't disturb other passengers in the car. Crayola Color Wonder is an amazing gift to parents. The markers only draw on the special paper and leave no other mess. They come in cute sets and are sure to keep your toddler busy.
20 Road Trip Scavenger Hunt
Make a scavenger hunt list of things they can look for outside the car window. Include things like different colors, shapes, and animals.
21 Seek and Find Books
Seek and Find books are excellent road trip activities for toddlers because they can keep them busy and engaged. Bring along a few beginner seek and find books to look at together when they need a break from looking out the window.
22 Apps
Limiting screen time is one thing, but you may need a little more of it on a road trip with toddlers. Download some age-appropriate apps on your phone or tablet for them to play during the drive.
23 Story Time
Reading stories is always a hit with toddlers. Bring along some of their favorite books or download some digital ones before you hit the road.
24 Pack Some Surprises
Save some of your toddler's favorite snacks or toys as "surprises" for later in the trip. This will help break up the monotony and give them something to look forward to. These are also great to take out when things aren't going well (i.e. traffic.)
25 Movies
A portable DVD player will give your toddler the comfort of their favorite movie. Use movies to wind down before rest time on your road trip.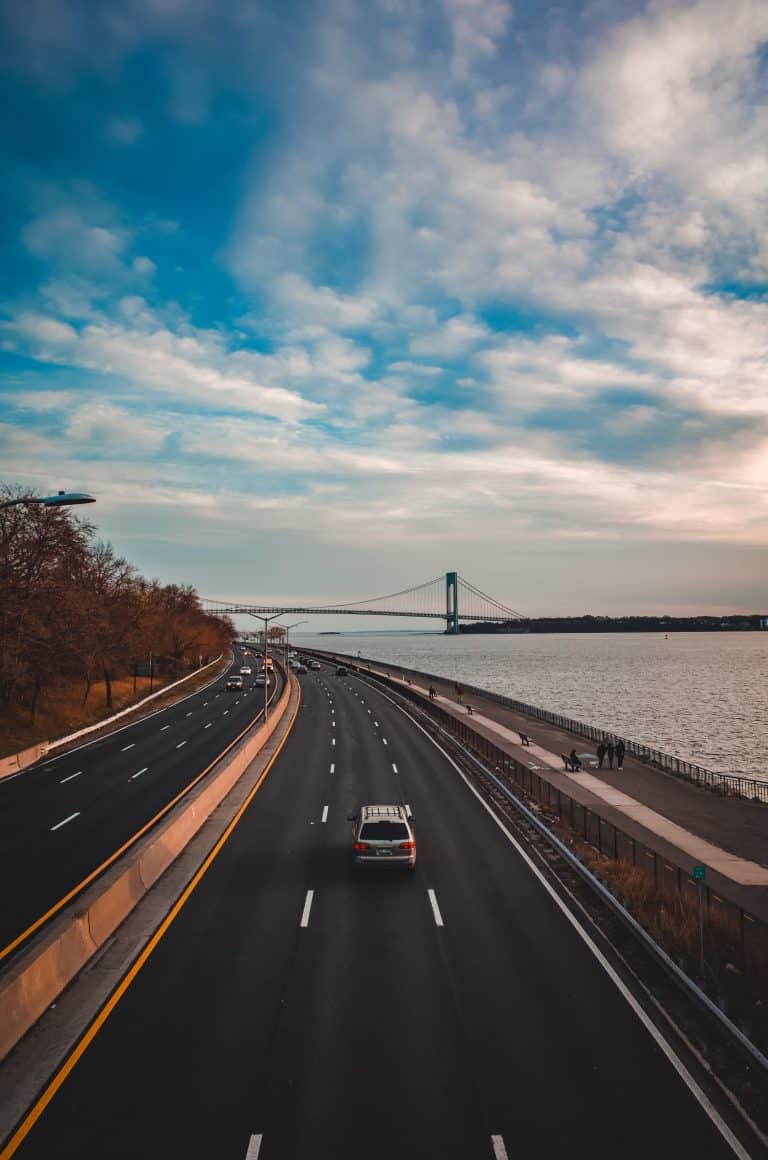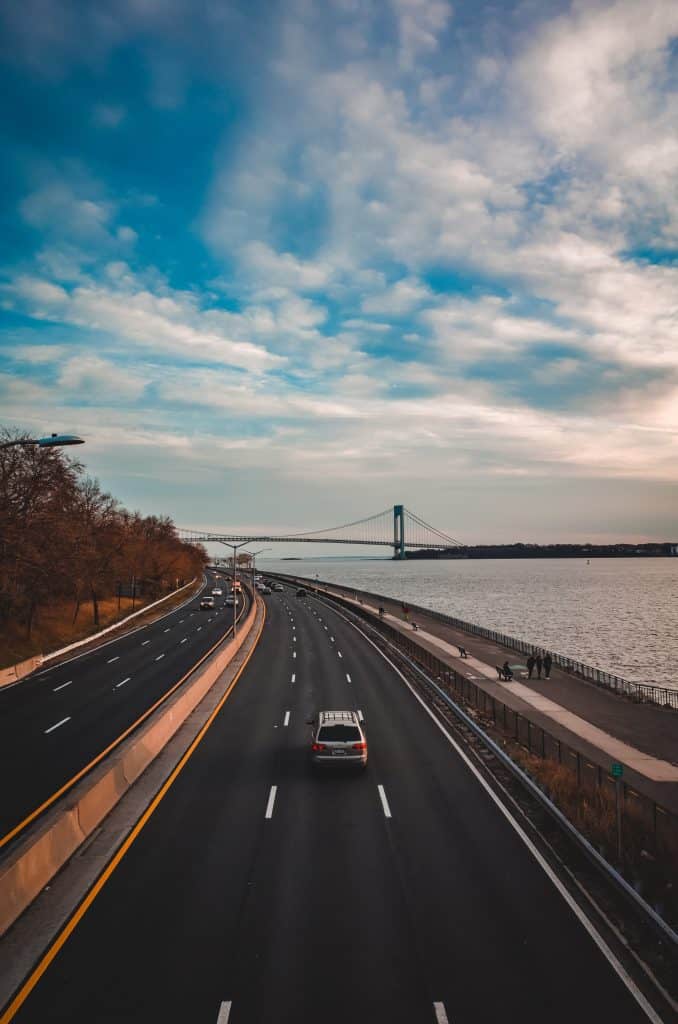 Road Trip Activities for Toddlers
A road trip with toddlers doesn't have to be stressful—as long as you know how to survive a road trip with kids!
1-year-olds and 2-year-olds have unique needs when it comes to car activities.
They have a shorter attention span and need a larger variety of things to keep them occupied.
However, with these 45 road trip activities for toddlers, you can rest assured that your little ones will stay entertained the whole way!
And who knows, you might even have some fun yourself in the process!