This post may contain affiliate links. See the disclosure tab for more details.
You may have heard of the Pop n Go Playpen by California Beach Co. but is it worth the price tag?
Is there anything else on the market that compares?
While there may be similar playpen styles, I don't think any come close to the convenience of this product.
Overall, the California Beach Co Playpen is a great option for busy parents who are always on the go.
It's lightweight, easy to transport, and sets up in seconds. Plus, it provides your little one with a safe and secure area to explore and relax.
I will be sharing my own experience with the Pop N Go Playpen and the features that made it a staple for our baby travel essentials.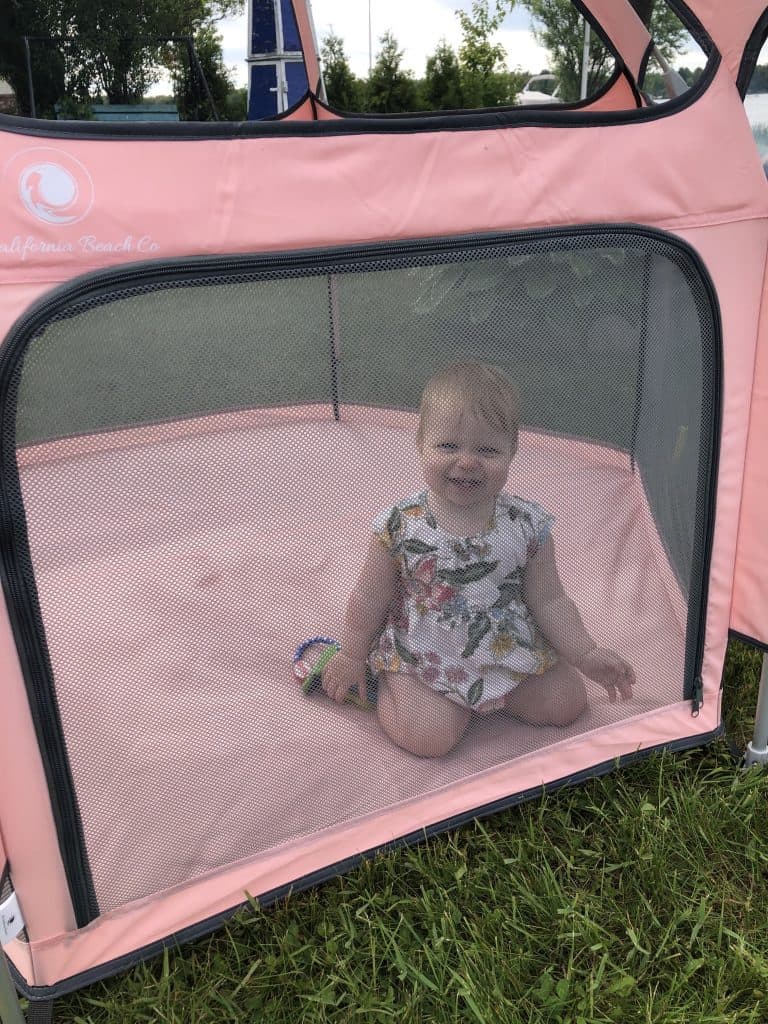 What is the Pop N Go Playpen?
The California Beach Co Playpen is a lightweight playpen designed to be set up in a matter of seconds.
It's made from durable, breathable polyester mesh that is both comfortable for your child and easy to clean.
The Pop N Go folds quickly and conveniently into a carrying bag, making it easy to store or take with you when traveling with a baby or toddler.
What Makes the Pop N Go Playpen Stand Out from Other Playpens?
One of the most attractive features of this playpen is how easy it is to set up and take down – It literally pops open!
There may be products that look similar to the Pop N Go, but this product can be opened and closed with one hand.
Someone who had a baby was truly thinking it through when they designed this!
It is extremely portable and we love that it is all one piece – no need to assemble bars together.
The Pop N Go Playpen also has a low center of gravity, so it won't tip over easily when your little one starts to stand and hold onto the sides.
Features of the Pop and Go Playpen
Durable fabric and mesh sides
The Pop N Go Playpen is made from durable materials that are easy to keep clean. The mesh panels can be wiped down with a damp cloth or spray bottle if needed.
You can set up or take down the Pop and Go Playpen in seconds
It's lightweight and foldable and features a carrying bag for easy transport. The Pop N Go is perfect for trips to the beach, park, or even grandma's house!
It will provide peace of mind knowing your little one is safe and secure
Your child will be safely contained while still being able to view the action through all sides of the playpen.
Its generous size allows for more movement than a Pack N Play
The playpen is spacious enough for your child to move around and explore while providing a comfortable area to relax and nap.
If you're looking for convenience, portability, and safety in a playpen, the Pop n Go Playpen by California Beach Co. is an ideal choice for busy families who are always on the go.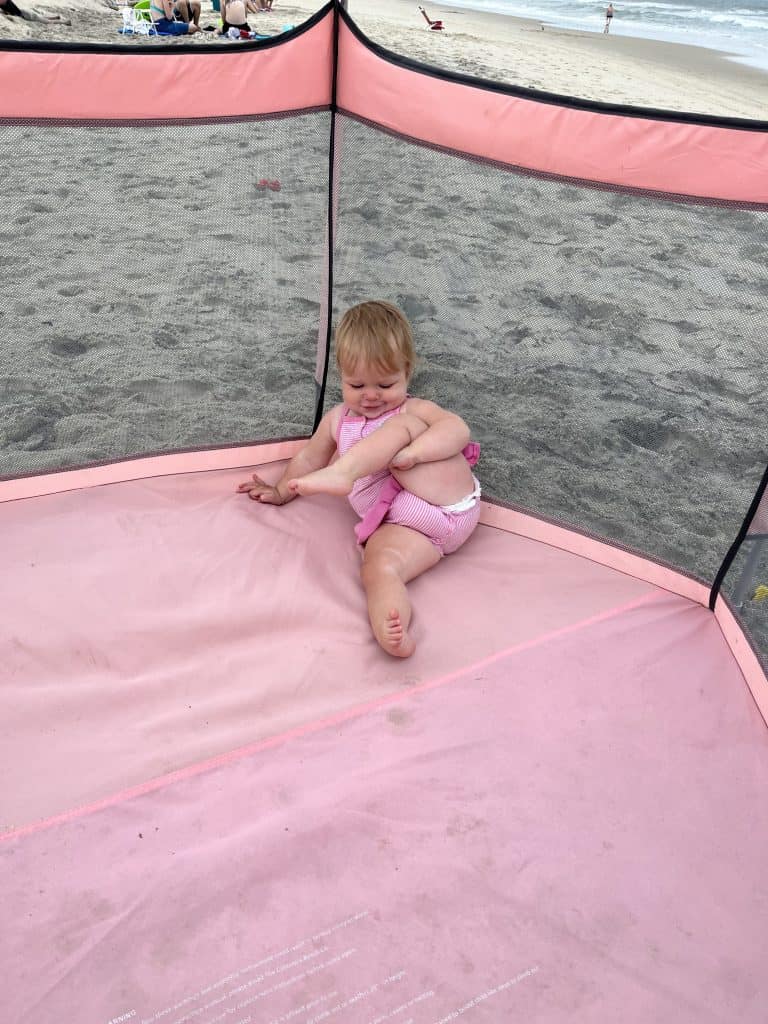 Accessories for the California Beach Co Playpen
Included Accessories
Carrying Bag
Beach Stakes
Ground Stakes
UV Protective canopy
The Pop N Go Playpen does not have a built-in shade canopy but rather an attachment that can be used when needed.
The California Beach Co. Canopy is designed to fit perfectly onto the top of the tent and provides UV protection from the sun.
When using the canopy, the only access to get your child in and out is through the zip-up door.
We regularly use both sets of stakes – the thin metal stakes work great in the sand while the larger plastic stakes are perfect for grassy areas.
All of the included accessories fit well in the playpen bag.
We usually put the canopy in the bottom of the bag, the folded playpen next, and then slide the stakes down the sides.
Available Accessories
Self Inflating Mattress
Mattress Cover
We have not yet invested in the mattress for the Pop N go because we mainly use it at the beach or grassy surfaces. Enough cushion is provided.
If you plan to primarily use it on hard surfaces like concrete or hard floors in your home, the mattress and cover would be a great addition.
Pop N Go Playpen Instructions
How Do You Setup a Pop N' Go Playpen?
This playpen can be set up and taken down in seconds, without any tools required.
I have done it many times while holding my baby so it can be done with one hand – I am also 5'1″ so I don't have height on my side.
Remove the Pop N Go from the bag while the tent is standing. Hold the bag with your feet and pull the tent out.
Unclip the side clip while the tent leans against you. The bottom will unfold.
Pull up on one of the top sidebars – the whole thing should pop open at this point.
Step one foot into the playpen and push firmly down on the top until the Pop and Go clicks into place. You do have to press pretty hard, especially if you're short and doing it one-handed!
Finally, affix the clip to the center pole under the top to lock the tent in place. This is important so that tent doesn't unfold during use.
Once your California Beach Co Playpen is set up, you can easily move it to your desired place before staking it down.
Although it is large and can't fit through small spaces, it's very light and we move it around while fully set up.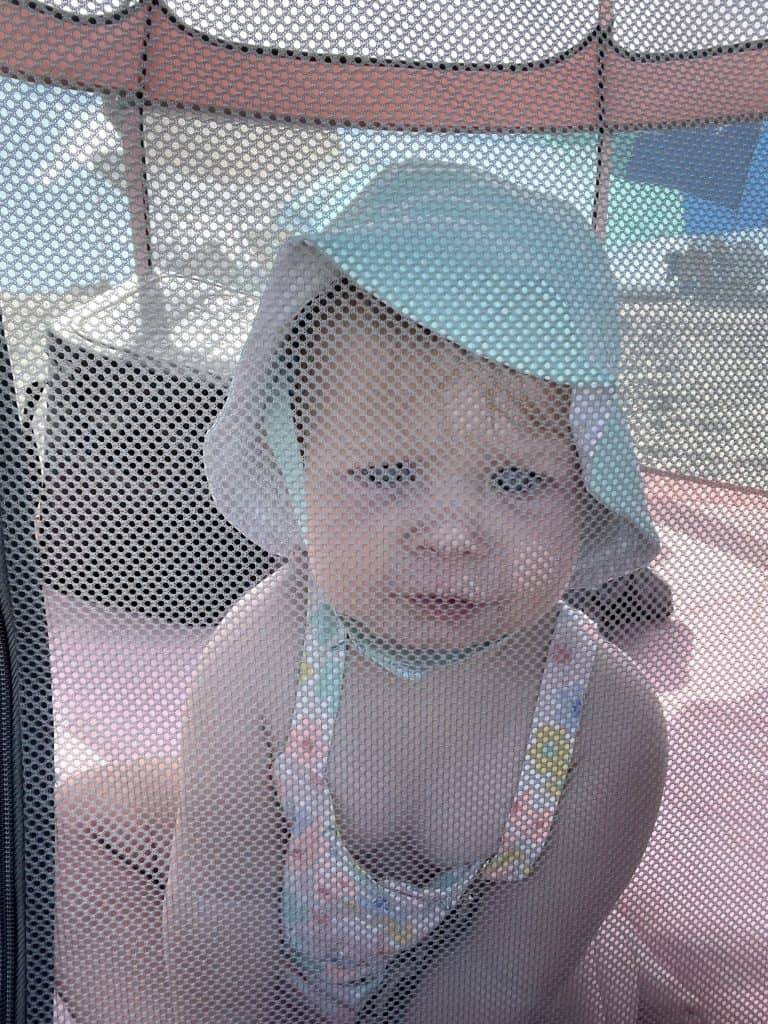 Pop up Playpen for Toddlers
Toddlers are unique creatures who like to test all their limits. For this reason, it is nice to have a safe space for them to play in when you're in unfamiliar areas.
The Pop N Go provides a confined space for your toddler while also giving them some freedom to explore and play.
The mesh sides provide good visibility so you can keep an eye on them, plus the walls are tall enough that they won't be able to climb out.
The Pop N Go Tent can easily be stored in your car so it is always with you if your toddler needs to play and move around in an area that isn't toddler-proofed.
Places to use the California Beach Co. Playpen
California Beach Co Playpen Recall
You may have heard that the Pop N Go playpen was recalled in June of 2022.
This voluntary recall happened only in Canada.
You can read more about it here.
Rest assured that the Pop N Go meets all US safety standards.
California Beach Co Coupon
If you're wondering if the Pop N Go tent ever goes on sale, the answer is yes!
You will find them on sale for holidays, but you can also use a coupon code to save when you're ready to order.
Use code: BABIESANDBEACHES to save on your Pop N Go Playpen at the California Beach Co website. This code will typically save you 10% but occasionally the company increases the discount!
The California Beach Co Playpen is also available on Amazon, but you're likely to get a better deal buying it directly from the company.
Is the Pop N Go Playpen Right For Me?
The Pop N Go Playpen by California Beach Co. is an ideal choice for busy families on the go.
It's lightweight, easy to set up, and adds a sense of security to any unfamiliar area.
With accessories like the canopy and self-inflating mattress, it is sure to keep your baby or toddler comfortable while they explore their environment!
So if you're looking for convenience, portability, and safety in a travel playpen – the Pop N Go Playpen will be a great purchase for your family.