This post may contain affiliate links. See the disclosure tab for more details.
When traveling with young children, one of the many things you have to worry about is how to fly with a car seat.
Do you bring it on the plane with you? What are your options if you don't want to check it as baggage?
How do you make sure your child is safe during the flight?
This post will help answer all those questions and more.
So read on for everything you need to know about flying with a car seat.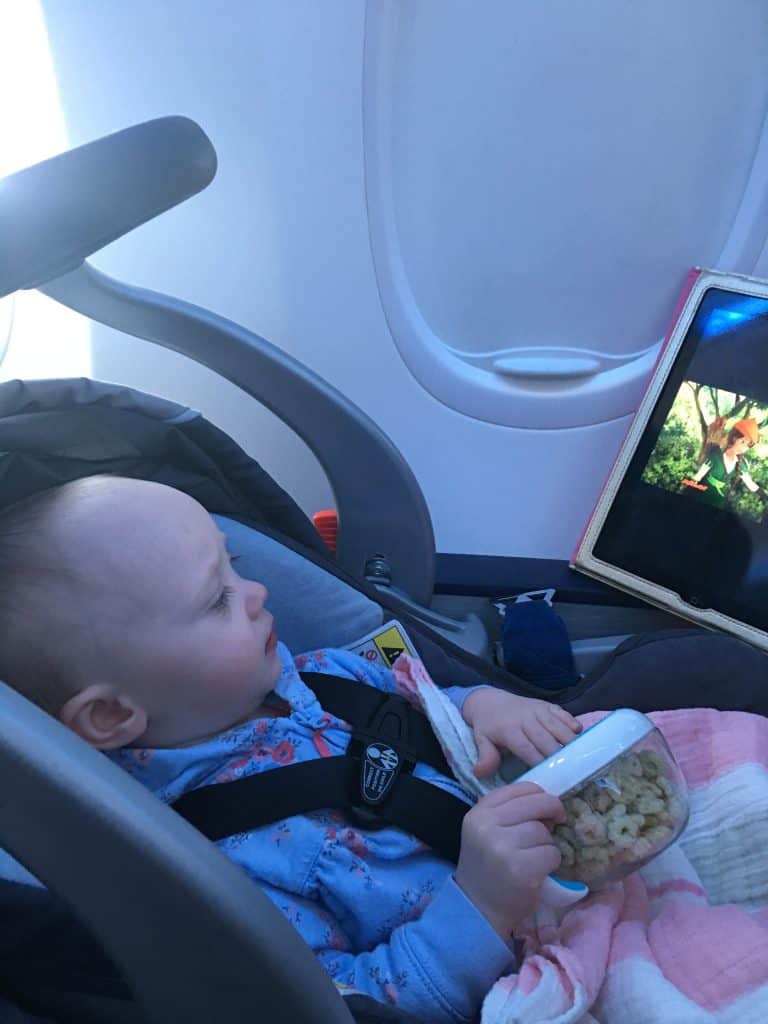 Do You Need a Car Seat on a Plane?
This is a simple and complex answer. The short answer is yes.
The Federal Aviation Administration recommends flying with car seats and feels that the safest place for a baby, toddler or child to be is safely strapped into an approved child restraint system.
With minor accidents involving unexpected turbulence, weather or runway incidents, your child is much safer in a child safety seat.
I find my children act better when flying with a car seat as well. They think that they are in the car so they just sit back and enjoy the ride.
Lap children tend to embrace their freedom a little more and can get carried away with crazy behavior. I have experienced both!
If you've decided you want to take a car seat on the plane – nice job, mama! Let's move on to the next questions you may have about how to fly with a car seat.
Do I Have to Buy an Extra Ticket for my Child's Car Seat?
Yes. Your child will be a ticketed passenger with their own seat to place their car seat on.
Do your research for the airline you are traveling on. Print out their rules if necessary.
Having the airline and FAA guidelines printed and on hand in case anyone questions what you're doing.
Taking a Chance Flying with a Car Seat…
We usually fly Southwest which offers child fares to save on tickets.
If a flight is not completely full, they allow you to bring your car seat and install it in one of the empty seats for no charge.
Just ask at the gate if the flight is full and if it would be okay to bring your car seat on.
If we are flying on weekdays or times that are not super busy.
I think 3 out of 4 times we were able to take advantage of having that extra seat without paying for it.
Installing a Car Seat on the Plane
Install your car seat as you normally would in your car.
Airplanes don't have latch connecters, so be familiar with the seat belt install if you are not already. Bring your car seat's manual if needed.
Rear facing seats will obviously take up a little more room and will block the aisle. You may need to adjust the recline as well.
As a safety concern for other passengers, most of the time car seats need to be installed on a window seat and not in an exit row.
Forward facing seats are a little less hassle. Just be sure to watch for kicking feet!
Booster seats are not allowed on planes as they require a shoulder belt.
If you want your booster age child to have a seat, get a lightweight forward facing seat and use the 5-point harness.
Lightweight Convertible Car Seats for Travel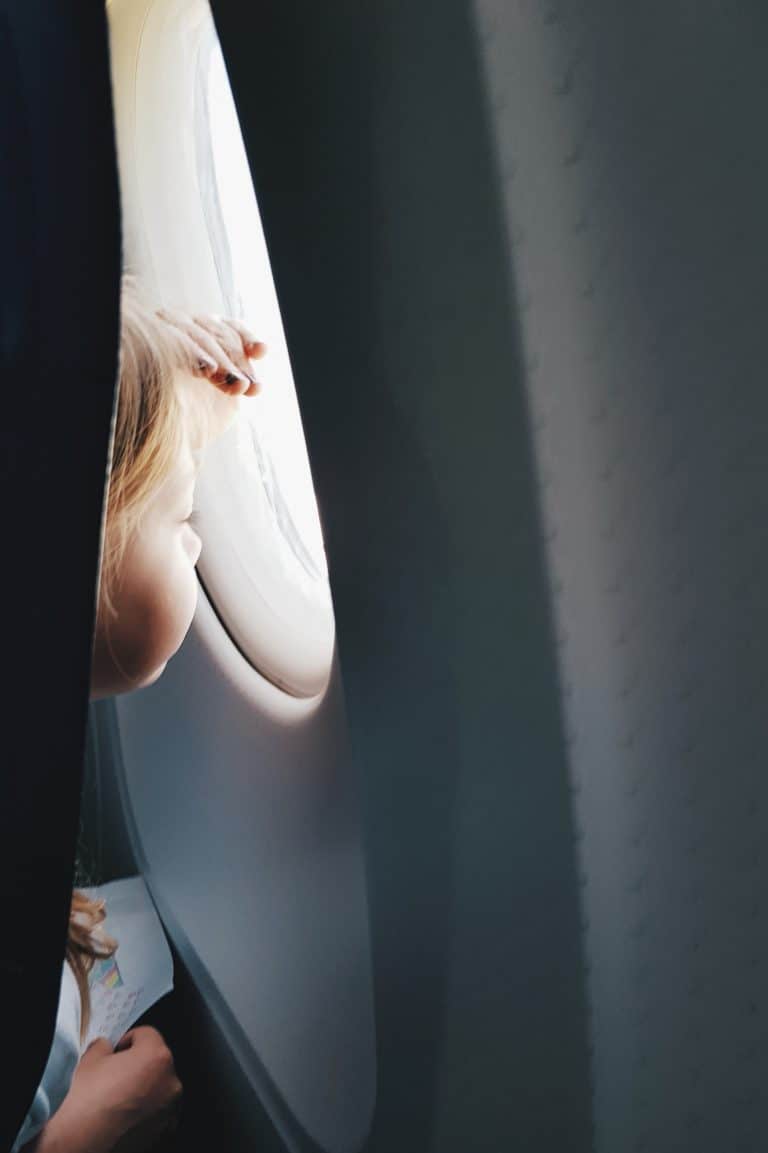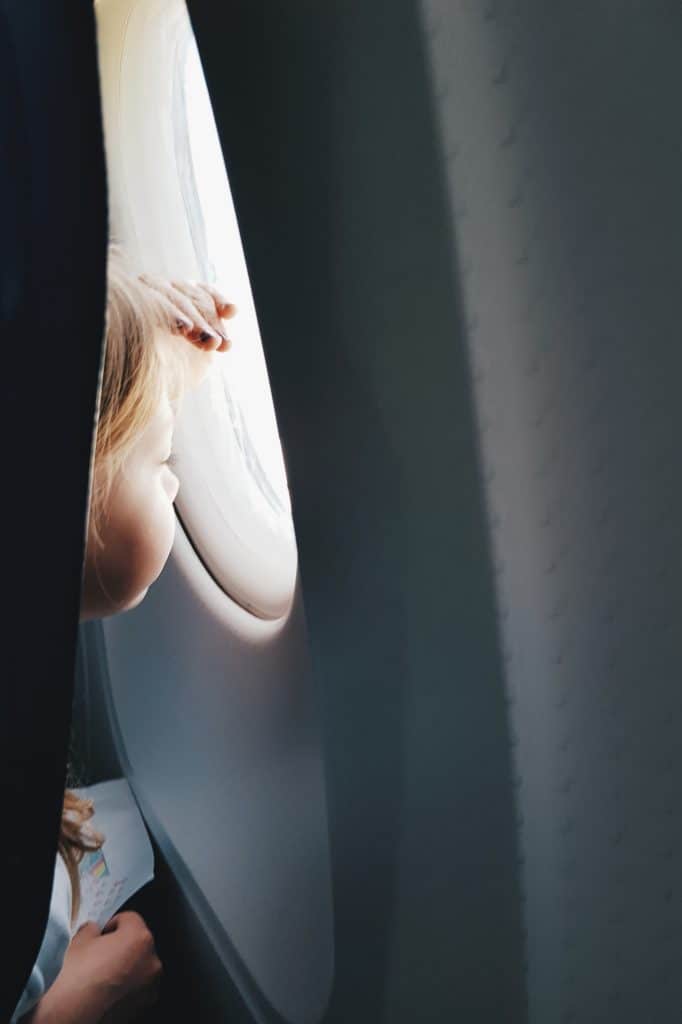 My regular use car seats were expensive, heavy and bulky. They are not ideal for taking on flights.
If you are able to, try to take a smaller seat such as an infant carrier.
If your child is right in between needing an infant carrier and convertible car seat, the carrier is much easier to fly with.
Of course make sure that they still fit the height and weight limit of the seat.
Should I Purchase a Car Seat Specifically for Travel?
There are several popular convertible car seats recommended for flying if your child has outgrown their infant seat or you are looking for a car seat specifically for travel.
Please note that I am not a car seat safety specialist and you should do your own research.
I have researched these for myself and like these because they are lightweight and FAA approved car seats.
Best Car Seat for Airplanes
Cosco Scenera Next
The Cosco Scenera Next is widely available at Walmart, and occasionally through Amazon.
It is a top pick for travel as it's an extremely lightweight convertible car seat at under 7 pounds. It's very compact, simple and most importantly: cheap.
The only downside is the weight limit. The rear facing weight limit is 40 pounds – which is great – but the forward facing weight limit is also 40 pounds.
It's more of an extended rear-facing seat than a convertible seat you could use until they are ready for a booster.
While it's not a very long-lasting seat, the Cosco Scenera Next will be helpful if you have a toddler or a preschooler on the smaller side.
If you are just buying a seat for one-time travel and don't want to spend a lot, this is a great choice.
Cosco Finale
Although this is a booster, The Cosco Finale is also a harnessed forward facing seat. It can therefore be used in harness mode only during a flight.
It is a very similar weight at 8 pounds so still very easy to carry through the airport.
The seat can be used in harness mode for children who are at least 1 year old, 30-65 pounds and 32-49″ tall. All of these criteria must be met to safely use this seat.
It is a great price for a longer lasting seat that can also be used as a booster in a car.
Safety 1st Guide 65
The Safety 1st Guide 65 is another lightweight convertible car seat that is recommended for travel.
It's a bit heavier than the Coscos at almost 12 pounds but still compact and has more padding for comfort.
The price is reasonable at under $100 and it can always be used as a backup or secondary seat in another car.
The weight limits go up to 65 pounds forward facing which makes it much more long lasting than the Cosco Scenera Next.
If you need a seat to travel with on a consistent basis, or can only buy one seat for your car and travel, the Safety 1st Guide 65 would be a good purchase.
How Do I Carry a Car Seat Through the Airport?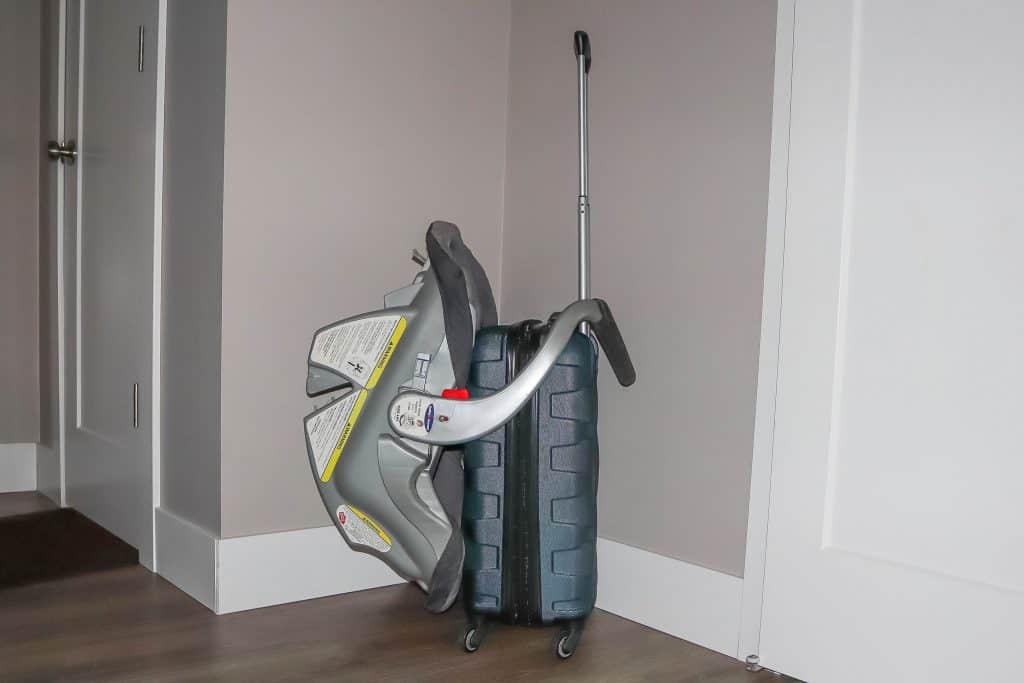 Chances are you're going to have a lot gear if traveling with children.
Car seats are usually not the lightest items. If you own a steel frame seat, it's going to be even heavier to lug around.
There's no way I'm carrying that, diaper bags, a breast pump, other luggage, kids and car seats around!
Maybe pushing a compact stroller will help, but you're going to have your hands full.
If you grabbed one of the lightweight convertible car seats above, you could simply lay it on top of your stroller or strap it to your wheeling luggage.
They also make car seat bags with backpack straps which would work nicely with a lightweight convertible car seat.
Grab a car seat cart and not only will it carry the car seat, but you can strap your child into the seat, (for short distances,) and pull them around in it!
Whatever option you decide, be sure to try your setup at home first so you are prepared when you have to load everyone up and go!
What If I Decide Not To Bring a Car Seat on the Plane?
This is a perfectly acceptable decision. There is no law saying you need a car seat on a plane. It is your right to choose what is best for your child and family.
Gate Check Car Seat
If you decide to go with the above wheely cart option, you can check your seat at the gate.
With the car seat being out of your hands, it will be susceptible to damage being thrown around or shoved wherever they need it to fit.
I would highly recommend a padded gate check bag not only for keeping your car seat clean, but to avoid any hits or broken plastic parts.
Keep in mind, damage could still occur and that the airlines are usually not liable for any damage.
Checking Your Car Seat
On most airlines, any baby gear should be checked for free. Again, you will have to be aware of the potential damage checking your car seat could cause.
My best advice would be to save the box and pack it up and check it in there.
I have done this with a pack 'n play and it turned out well.
Perhaps they are a little easier on things that are more convenient to pick up.
Can I Rent a Car Seat When I Get to My Destination?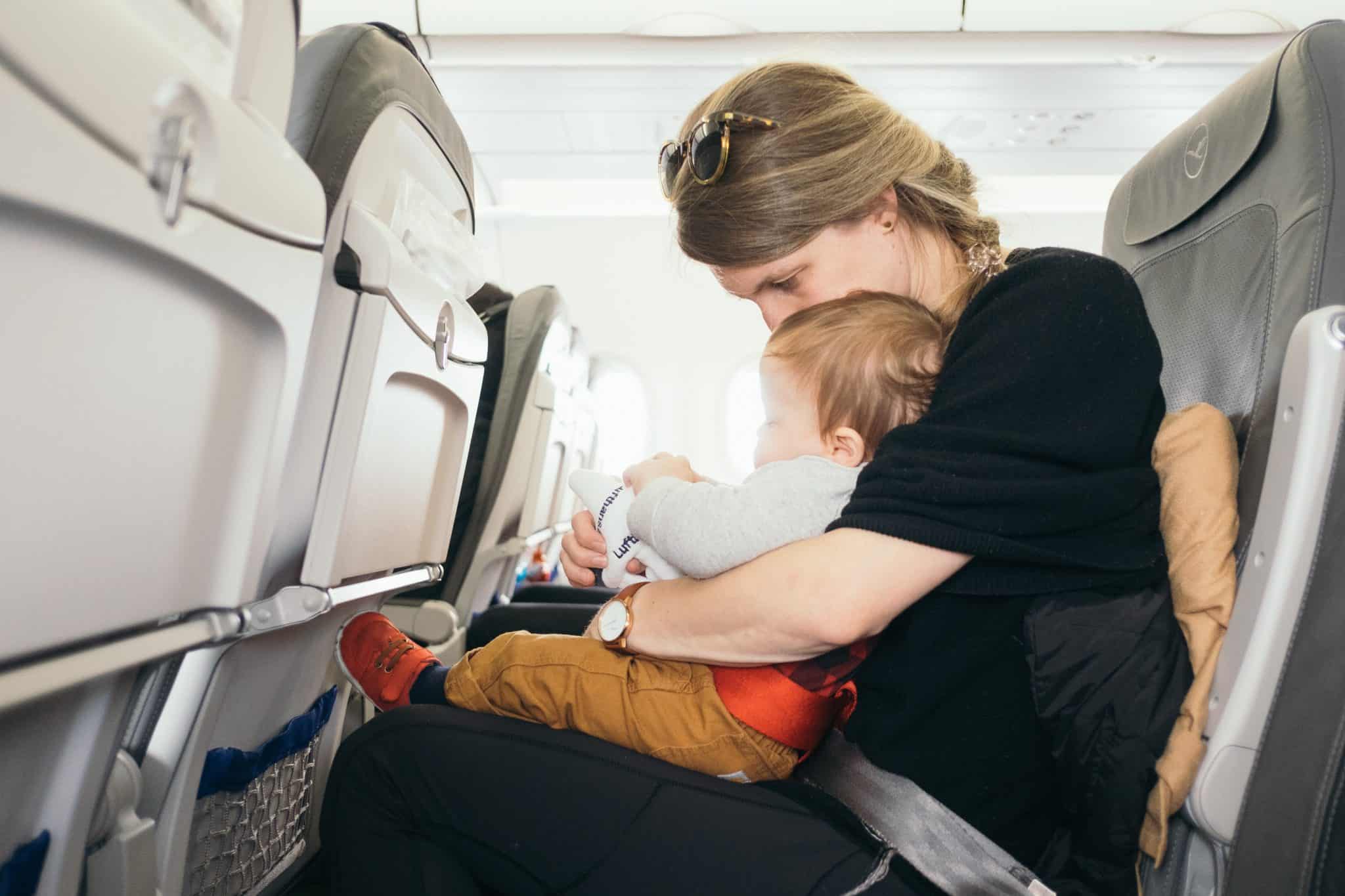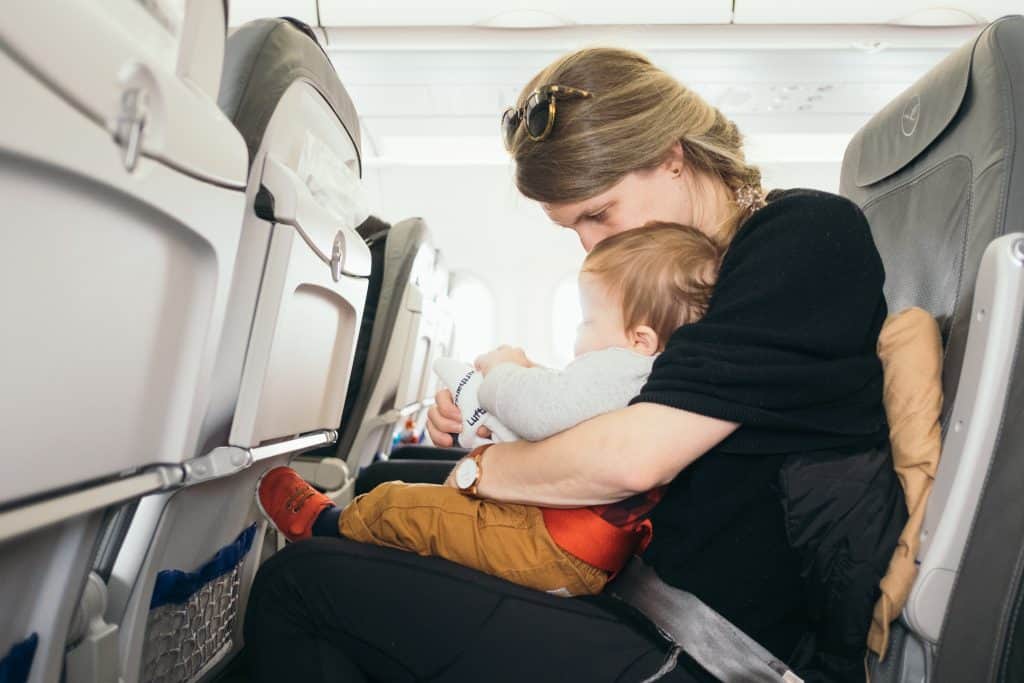 This is another option if you don't want to deal with any sort of car seat hassle through the airport. Here are a few options for getting a car seat at your destination.
Request a Car Seat through Uber, Taxi or Rental Car
Most Ubers, taxis and rental cars have car seats available upon request – sometimes for an extra fee.
Ubers are usually an Uber X while taxis you usually just have to ask.
Having a car seat in your rental car can be arranged at the time of your reservation and is usually an additional fee.
The questions are: Are they safe? Have they been in an accident? Are they clean, (enough?)
My experience when I've taken the gamble a couple times is that the seats were not as bad as I thought. The Uber seat was much nicer than the taxi.
My personal opinion is that it seemed safe enough to get us from point A to point B. These were short commutes and I did inspect that car seat was installed well and my child had a good fit.
Rent a Car Seat from a BabyQuip Provider
Another option is renting a car seat from a BabyQuip provider. This is a network of parents who rent out their baby gear to other parents traveling to their area.
Many providers offer car seats and I would trust one of these providers over a taxi
When booking your equipment with BabyQuip, make sure the provider will be able to meet you at the airport or wherever you will need the car seat.
BabyQuip is a great option for not only car seats but any other baby gear you don't want to haul on the plane.
See if there is a BabyQuip provider in the area you are traveling to.
How to Fly with a Car Seat – or Not…
The nice thing about flying is you have an option to fly with your car seat or not. For some, it might be more convenient not to lug it around and for others, they won't fly without it.
Start with weighing your options as far as the most important factor to you. Ask yourself these questions:
Is having your child strapped safely into a car seat the most important factor to you or are you okay holding them on your lap?
Are you on a tight budget or could you afford to grab a lightweight convertible car seat to travel with?
Is it going to drive you crazy lugging a car seat through the airport with all of your stuff and children?
Do you care if your car seat is out of your sight and potentially thrown around in the baggage area?
With the many factors that come into play including budget, safety and convenience, I hope this helps you make the best decision for your family.
Remember there is no correct choice so do what works best for you.
If I missed any other choices when traveling with your car seat, feel free to leave a comment below and let me know!