This post may contain affiliate links. See the disclosure tab for more details.
If you are an active parent, you know that a travel stroller is a must-have. But not all strollers are created equal. There are a lot of compromises when deciding which compact stroller fits your needs best.
If you are looking for the best travel umbrella stroller you can use from birth, look no further than the Ergobaby Metro Plus Compact City Stroller! This stroller is lightweight and easy to maneuver, with plenty of storage space for your belongings.
It also comes with a rain cover and sun canopy to keep your child safe and comfortable in any weather conditions. Read my Ergobaby Metro Plus Stroller Review to see why this stroller is the perfect compact travel stroller!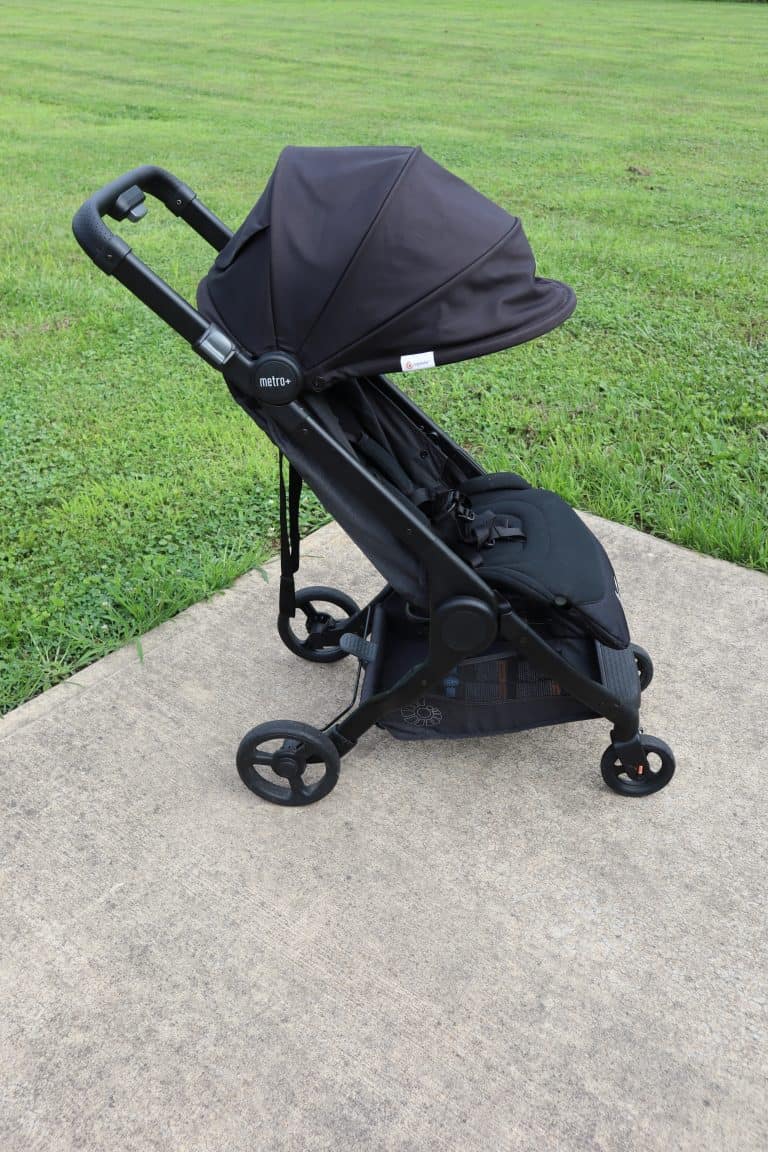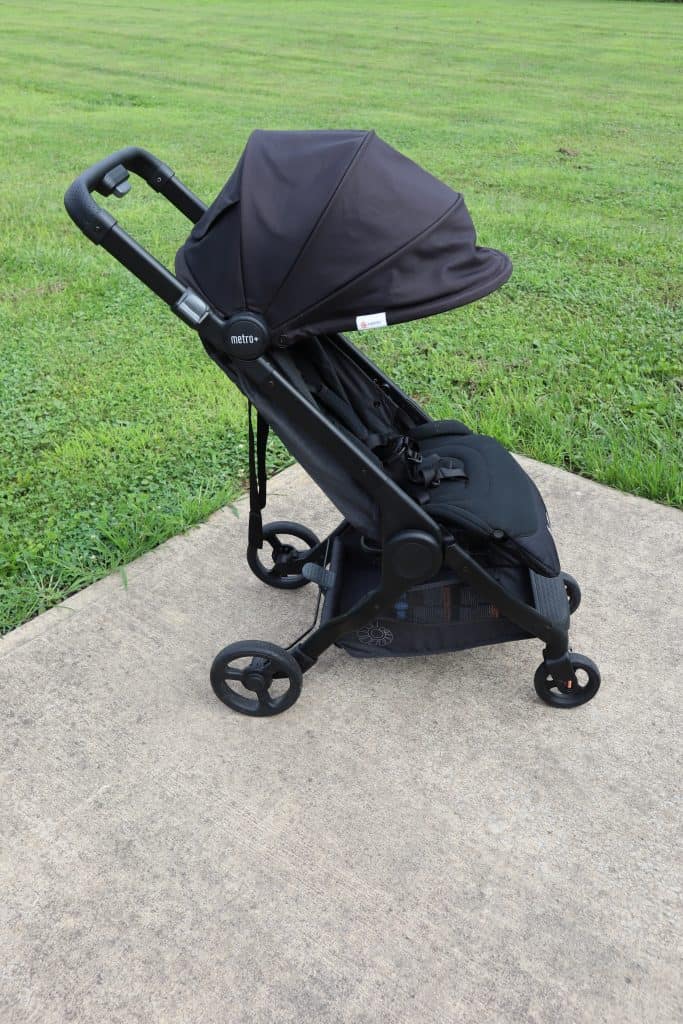 Semi-Lightweight, Definitely Compact
Looking for a stroller that's easy to carry, but still has all the features you need? Look no further than the Ergobaby Metro Plus Stroller.
This compact stroller weighs just 17 pounds, making it easy to carry with you when needed. Although it's a little heavier than other lightweight strollers, its features make up for it.
One-hand fold action makes it easy to hold a baby while loading this stroller in the car. With a single button on the handlebar, push to collapse the stroller and grab the handle to lift it. Lock the sidebar in place and you're ready to go.
It does take a couple of times to figure out the fold and do it well one-handed, but it is certainly attainable.
While this stroller is folded, you can store it right behind your driver's seat freeing up precious trunk space for road trips!
The Ergobaby Metro Plus Compact City Stroller also fits into most overhead compartments when flying. You will have control of your stroller from take-off to landing and won't have to worry about any damage.
If you do want to check the Metro+, or just store it with extra protection, I'd recommend purchasing a carry bag. The best stroller travel bag for the Ergobaby Metro Plus is made by the company itself.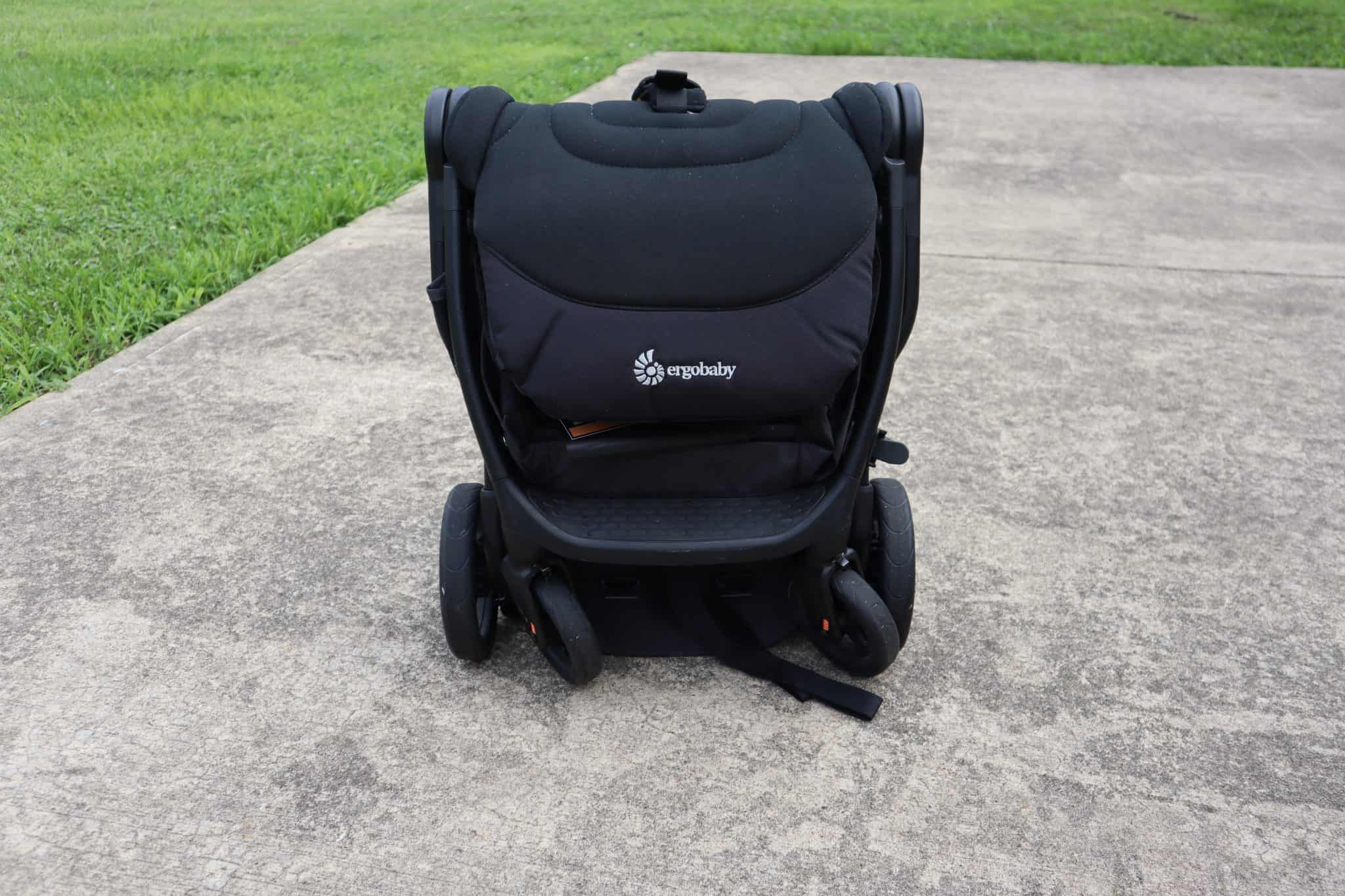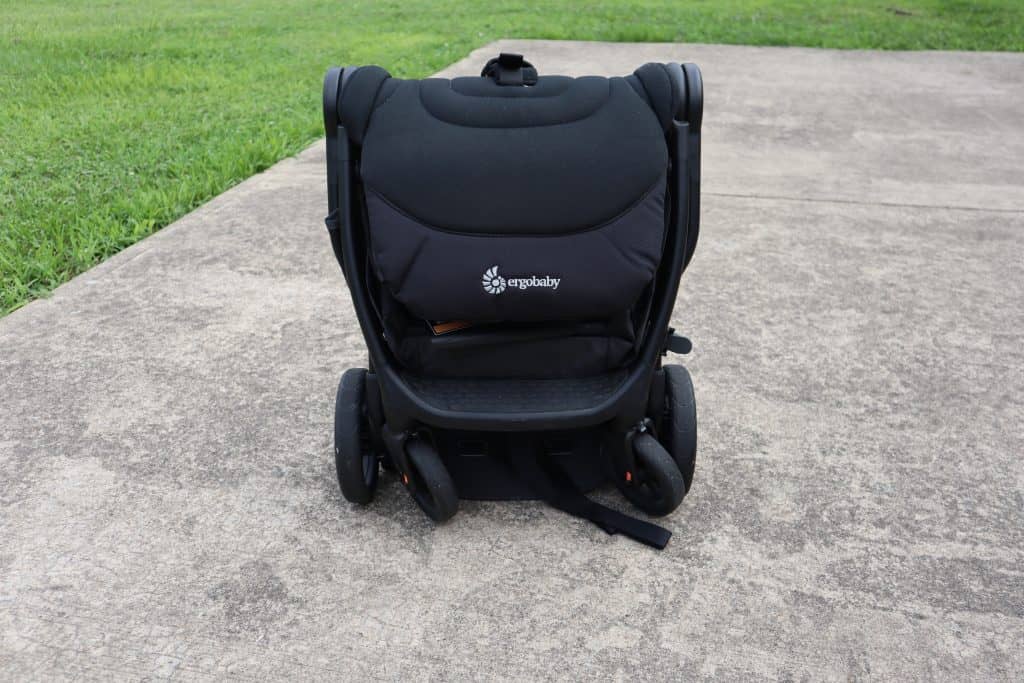 Comfort First
The Ergobaby Metro Plus Compact City Stroller has all the features you need to keep your little one comfortable on the go.
Let's start with the padded seat – The Metro+ has got to be the most comfortable stroller seat I've encountered. Both the backrest and seat cushion are very plush, so you won't get any complaints from little ones about the seat being uncomfortable.
The back rest has a multi-position recline controlled by pulling and loosening two straps at the back. It reclines flat so your child always has a place to nap. A small, adjustable leg rest flips up to various levels so your child can find just the right angle to get comfortable.
If you're outside, flip down the Ergobaby Metro Plus' large UPF-50 canopy to protect your child from the sun. It has great coverage for a smaller stroller where canopies often do not offer much shade.
Canopies are also available in other colors so you can accessorize your stroller to fit your mood.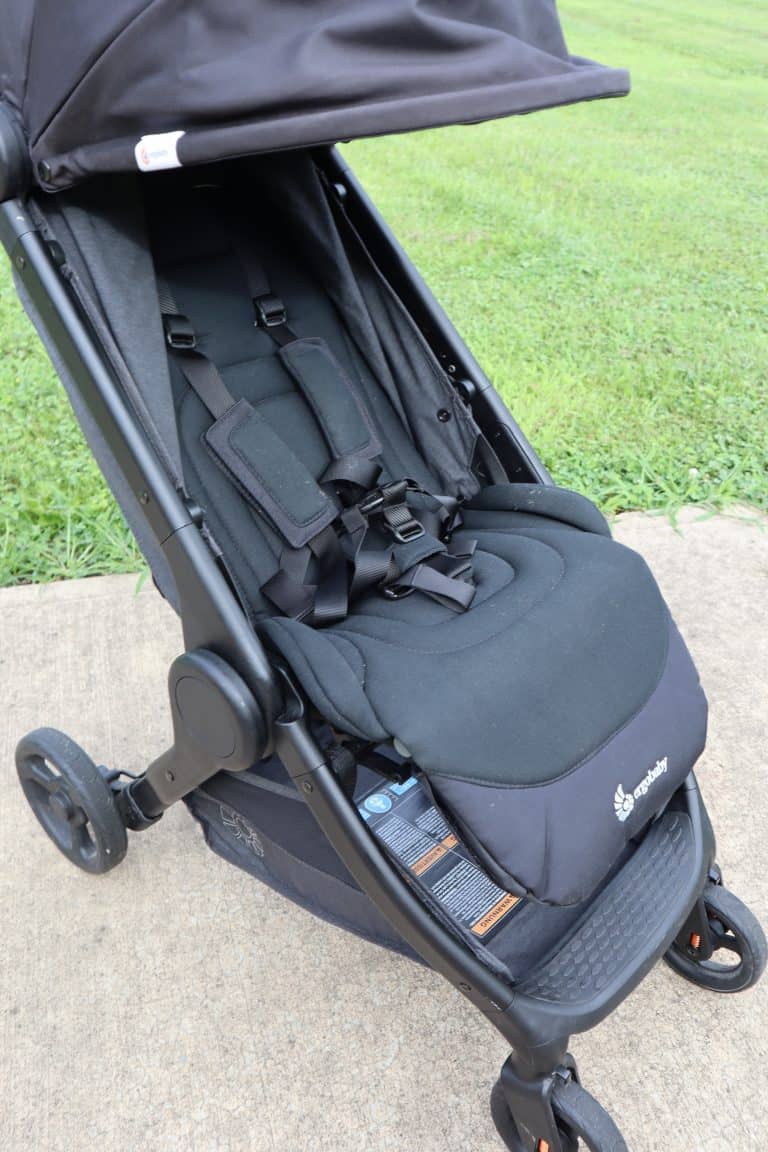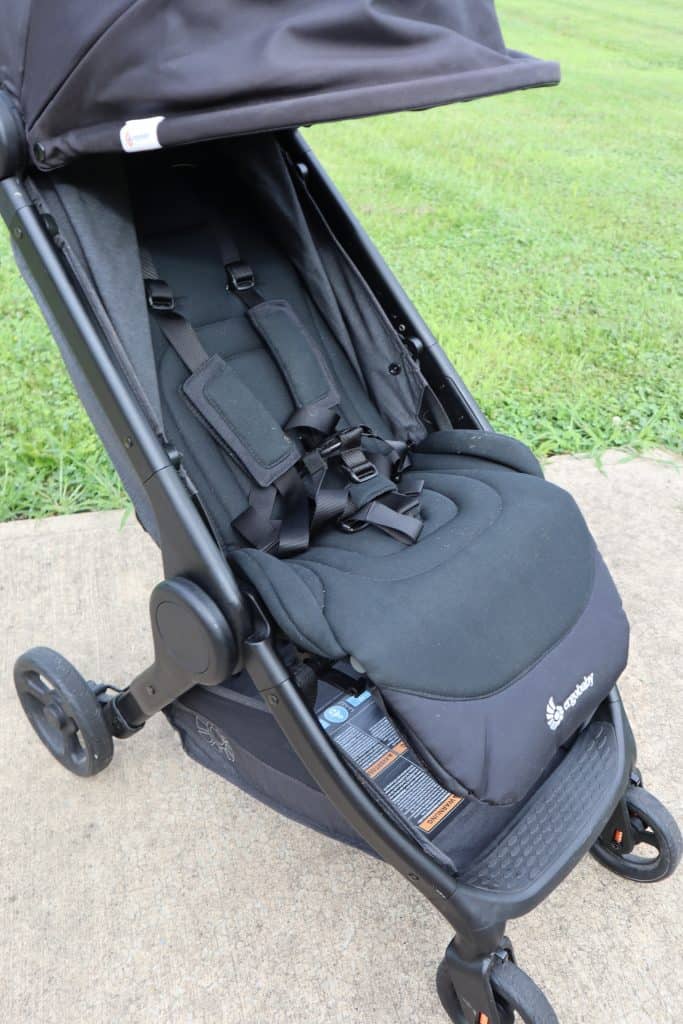 Erogbaby Metro Plus Wheels, Suspension, and Maneuverability
The Ergobaby Metro Plus Compact City Stroller is so easy to maneuver, that you can push it with one hand if needed! While most travel strollers have tiny wheels, the Ergobaby Metro+ has fairly large wheels, making it a great choice for city dwellers or those who need to take their stroller off-road.
I was surprised to find a compact stroller that boasts a spring suspension system making for a smooth ride even over bumpy terrain. Having owned other high-end strollers, I am accustomed to having great suspension and the Ergobaby Metro Plus does not disappoint.
Although I wouldn't necessarily recommend it for crossing gravel, it can be done in a pinch and it fares far better than some of its competitors. The ride over most surfaces is great and you don't feel like you're pushing an umbrella stroller at all.
Extendable Leather Wrapped Handle
The Ergobaby Metro Plus Compact City stroller has a faux leather wrapped handle which gives a lux feel to this not-so-expensive stroller.
The handlebar is also extendable to three heights to fit parents of varying sizes. Just unclick from both sides pull or push to one of the 3 heights and snap the locks closed. I am 5'1″ and my husband is 6'1″ and we both love the handlebar height when adjusted.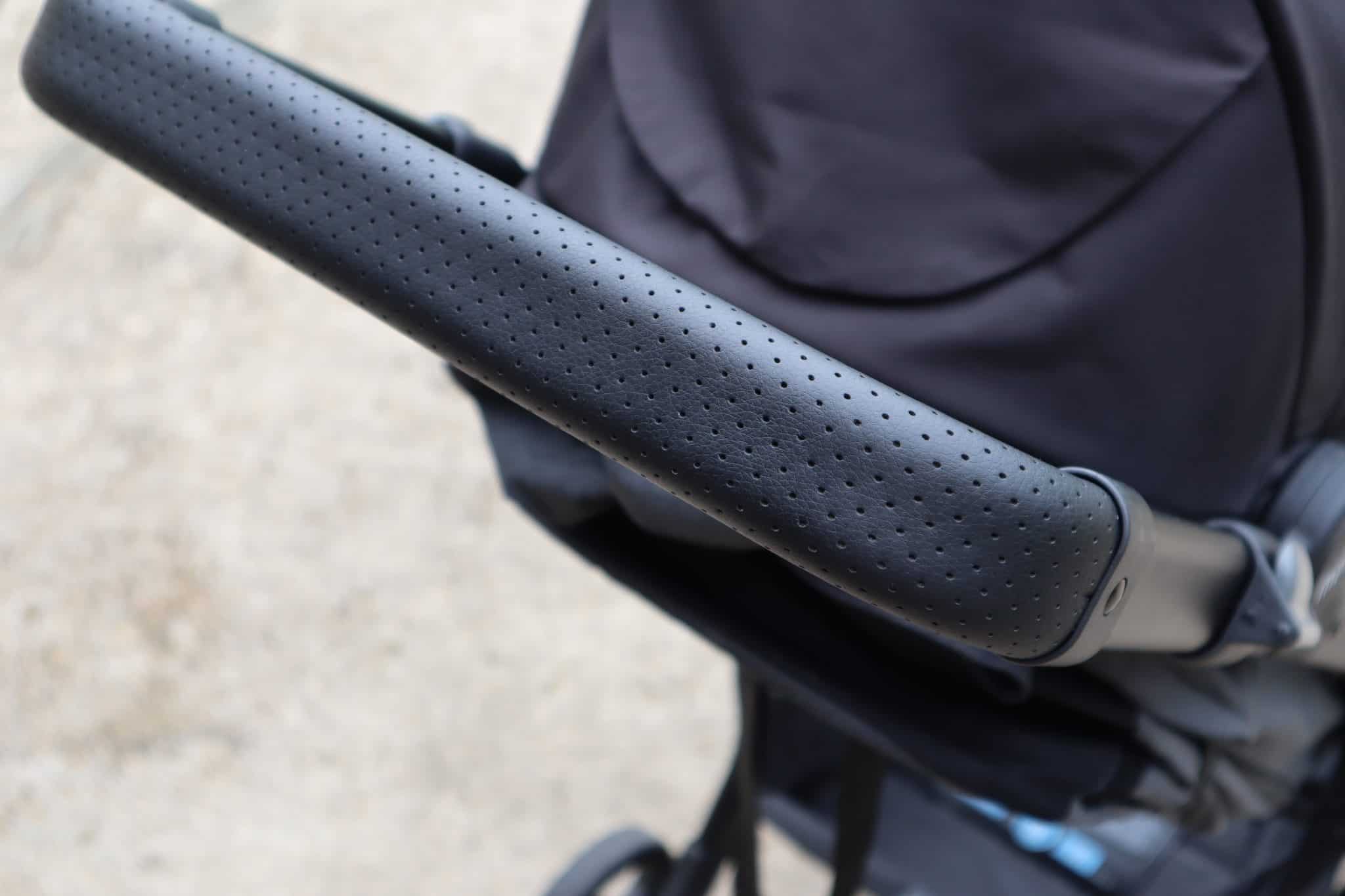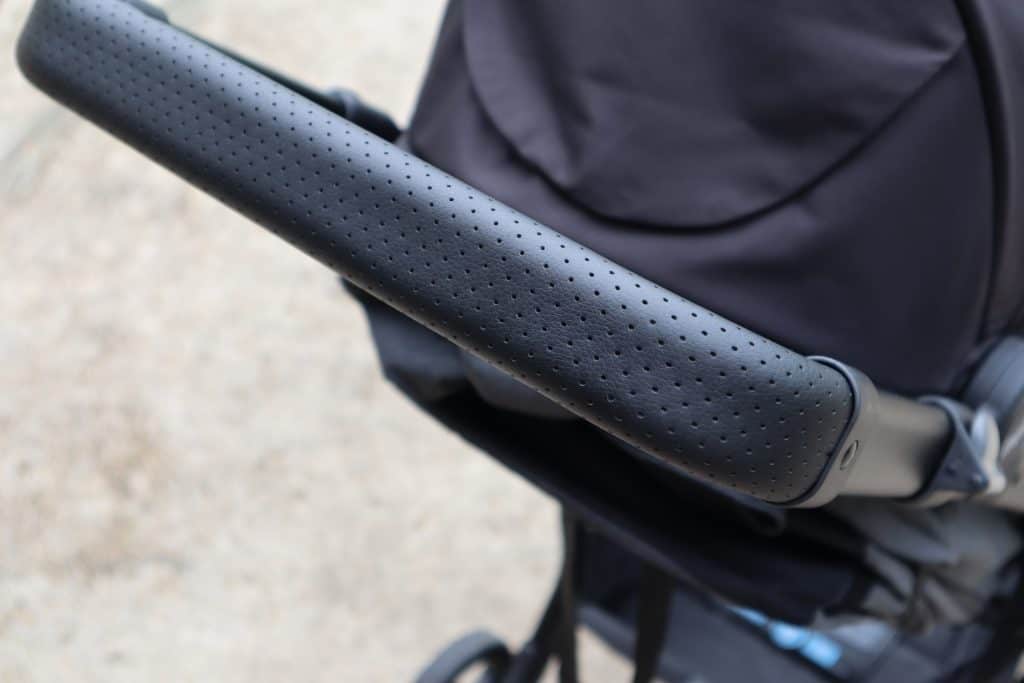 Ergobaby Metro+ Storage Basket Size
Another great feature of the Metro Plus stroller is the storage basket. It is a great size for a compact stroller! You can easily fit a small to medium size diaper bag or purse underneath. The storage basket is accessible from the front and the back and is made of sturdy material.
There is an additional mesh pocket on the back of the stroller seat to slip your phone or Disney World map in. If you need more storage or organization, grab a handlebar organizer or stroller cup holder.
Ergobaby Metro Plus Air Vents and Windows
While reclined flat, the back mesh vents ensure that your child stays cool and comfortable on hot days.
Plus, the peek-a-boo window with magnetic closure is perfect for keeping an eye on your little one while they nap.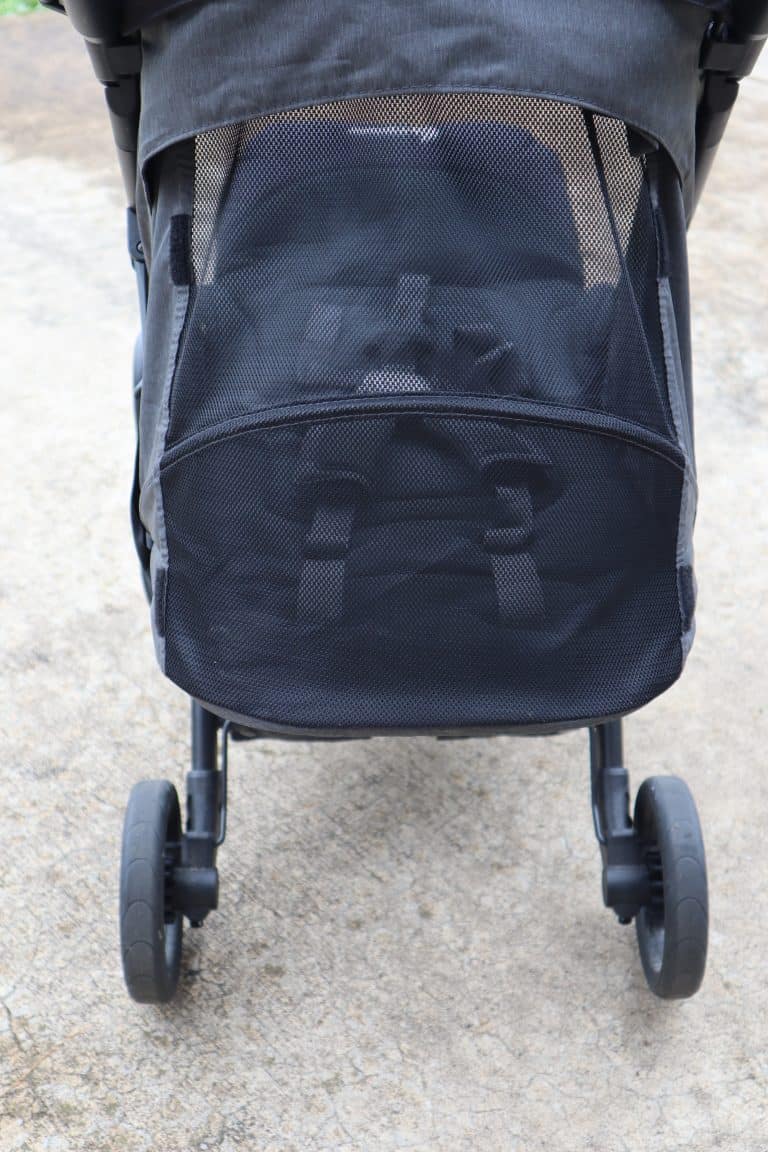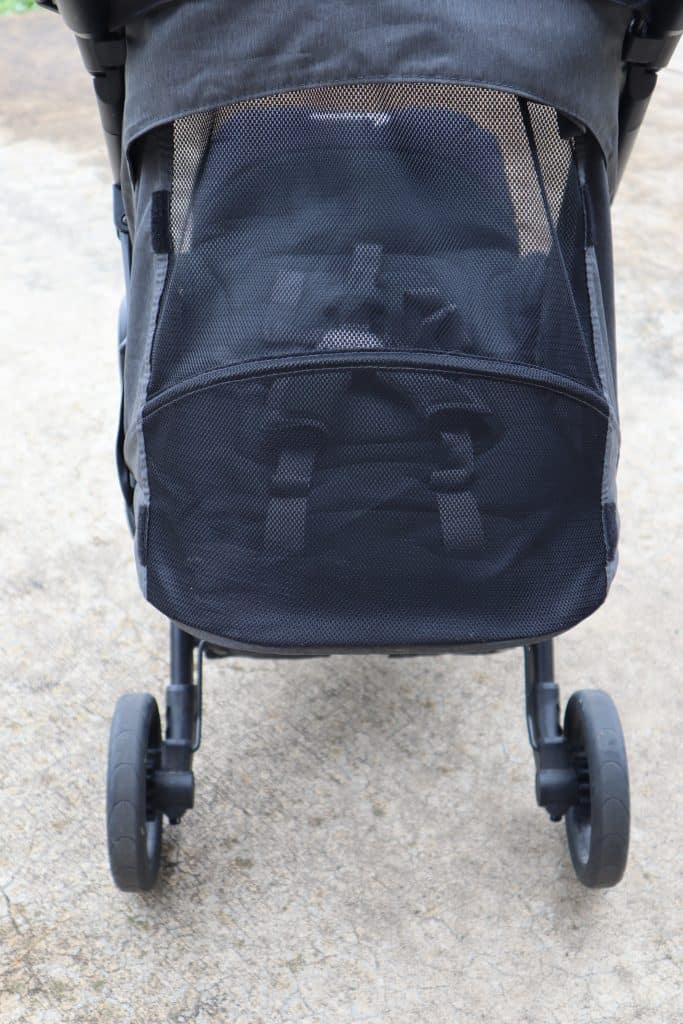 Compact Stroller from Birth: 2 Options with the Ergobaby Metro+
The Ergobaby Metro Plus stroller is the ideal choice for parents who want an umbrella stroller that can do it all. You can use this stroller like a travel system as it is car seat compatible. Car seat adapters are available for purchase for most major brands of car seats.
However, there is no need to purchase a newborn kit or tote along a separate bassinet because this stroller has one built-in.
Flip up the adjustable footrest and open the velcro pockets. Sides will come out and snap together to create a safe space for tiny babies to lay completely flat.
With a built-in newborn nest, this stroller can be used from birth to 50 pounds, making the Ergobaby Metro Plus Compact City stroller a great investment for active families.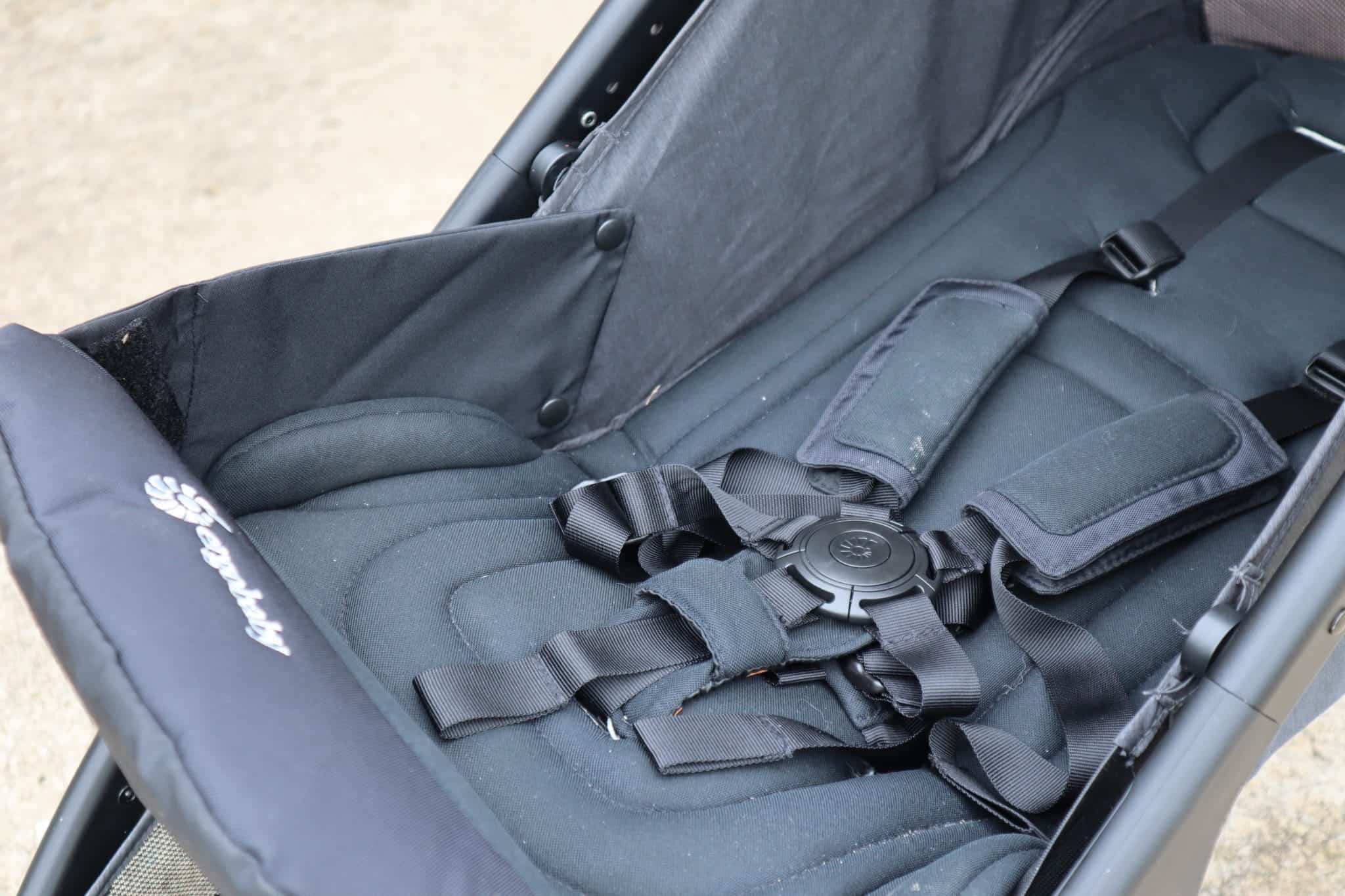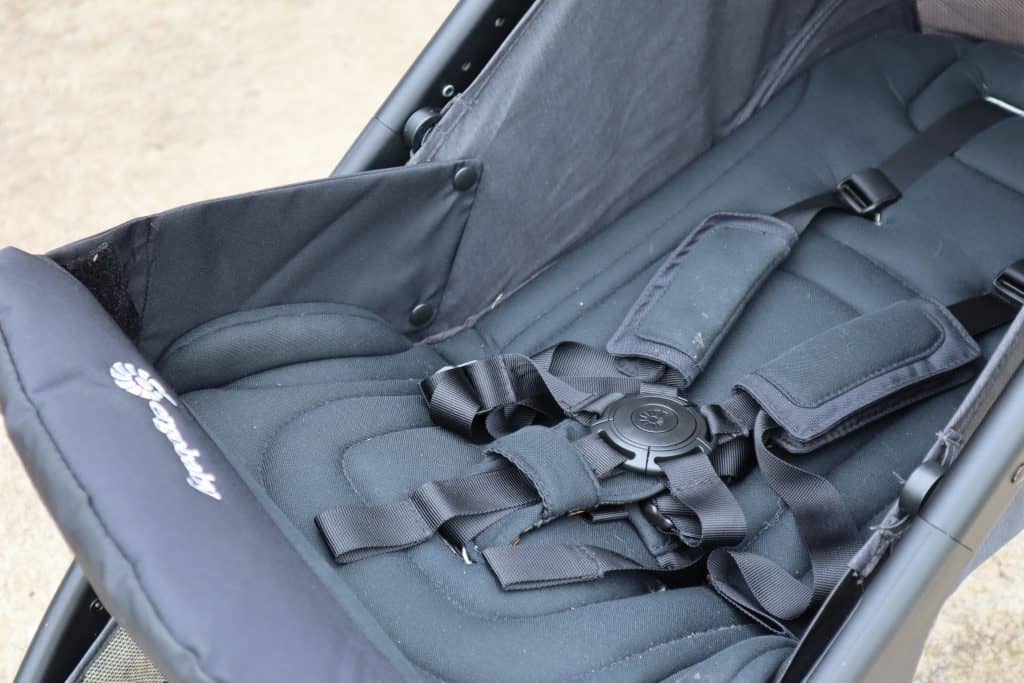 The Ergobaby Metro Plus Stroller is Competitively Priced
The price point is also very reasonable compared to other compact umbrella strollers on the market. With a suggested retail price of $299, this stroller is priced slightly below other higher-end compact travel strollers.
You'll have to decide which features are worth the most to you – Here are the things that stand out the most when comparing other strollers to the Ergobaby Metro+ Compact City Stroller:
-Decent size storage basket
-Super compact fold
-Suspension over bumpy surfaces
-Fold-flat recline and adjustable footrest
-Adjustable handlebar
-From birth option included
-Rain cover included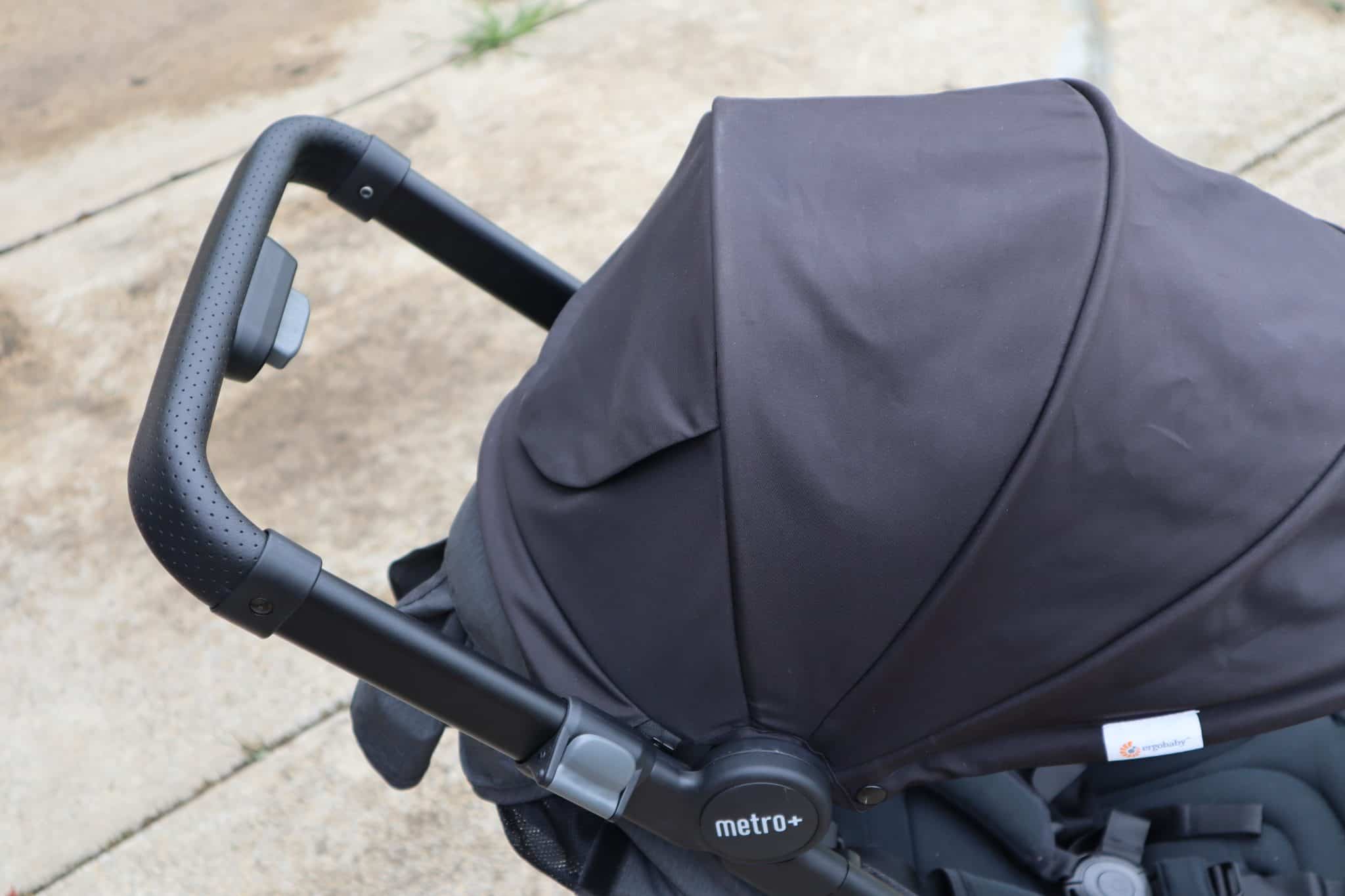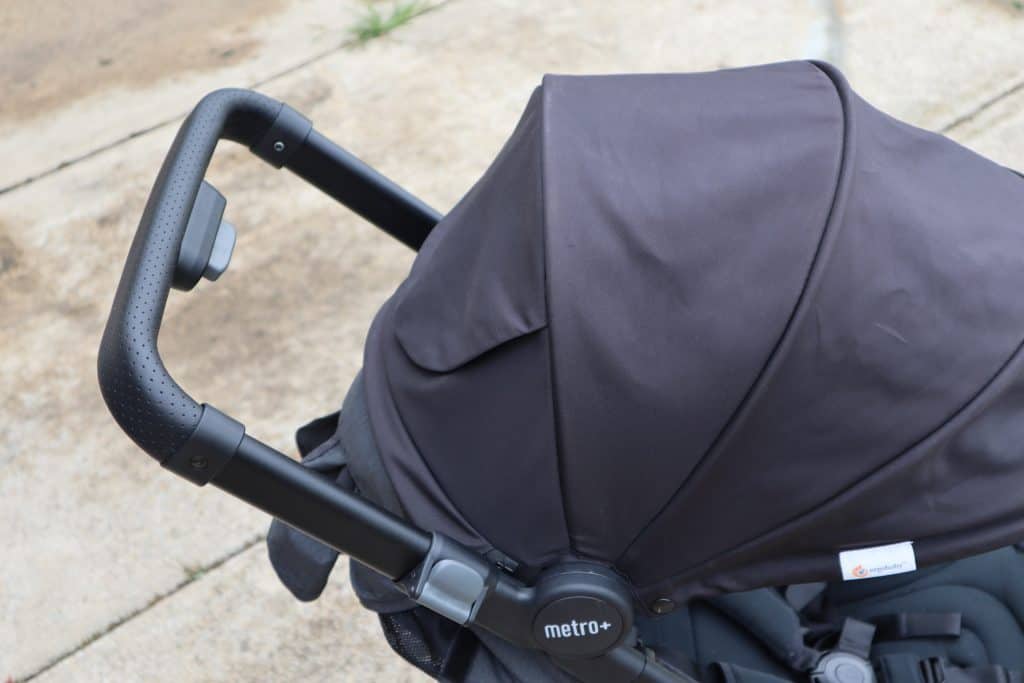 Ergobaby Metro+ vs. Uppabbay Minu
We know Ergobaby makes excellent baby carriers and Uppababy is known for strollers. So why choose the Ergobaby Metro Plus stroller?
Having previously owned an Uppababy, I loved the quality and the huge basket. When it came time to choose a compact stroller, I specifically went out to look at the Uppababy Minu.
While it's very nice, it just didn't give me everything I wanted for the price. For $150 less, The Ergobaby Metro Plus gives me a nice size basket, an extra plush seat, and an included bassinet and rain cover.
Overall, I liked the look of the Ergobaby frame better as well. I still feel like I am pushing a very high-end stroller around with the Ergobaby Metro+.
Ergobaby Metro Plus Stroller Review
Overall, the Ergobaby Metro Plus Compact City Stroller is an excellent choice for parents who want a stroller that's both practical and stylish. It's a great investment that will make your life as a parent much easier!
If you're in the market for a new umbrella stroller and want one that is lightweight, durable and has all the bells and whistles, then we highly recommend checking out the Ergobaby Metro Plus.
The Ergobaby Metro+ is also available on Amazon.
Frequently Asked Questions
When was the Ergobaby Metro Plus stoller released?
The Ergobaby Metro+ stroller was most recently released in 2021, upgrading from a 2019 design.
How much does the Ergobaby Metro Plus Compact City Stoller weigh?
The Ergobaby Metro Plus stroller weighs in at 17 pounds – although not super lightweight, its compact footprint makes up for it.
Can you use Ergobaby Metro Plus from birth?
Yes! You can use Ergobaby Metro Plus from birth as it comes with a built-in bassinet, (no additional purchase required!) You can purchase car seat adaptors if you wish to use it as a travel system.
---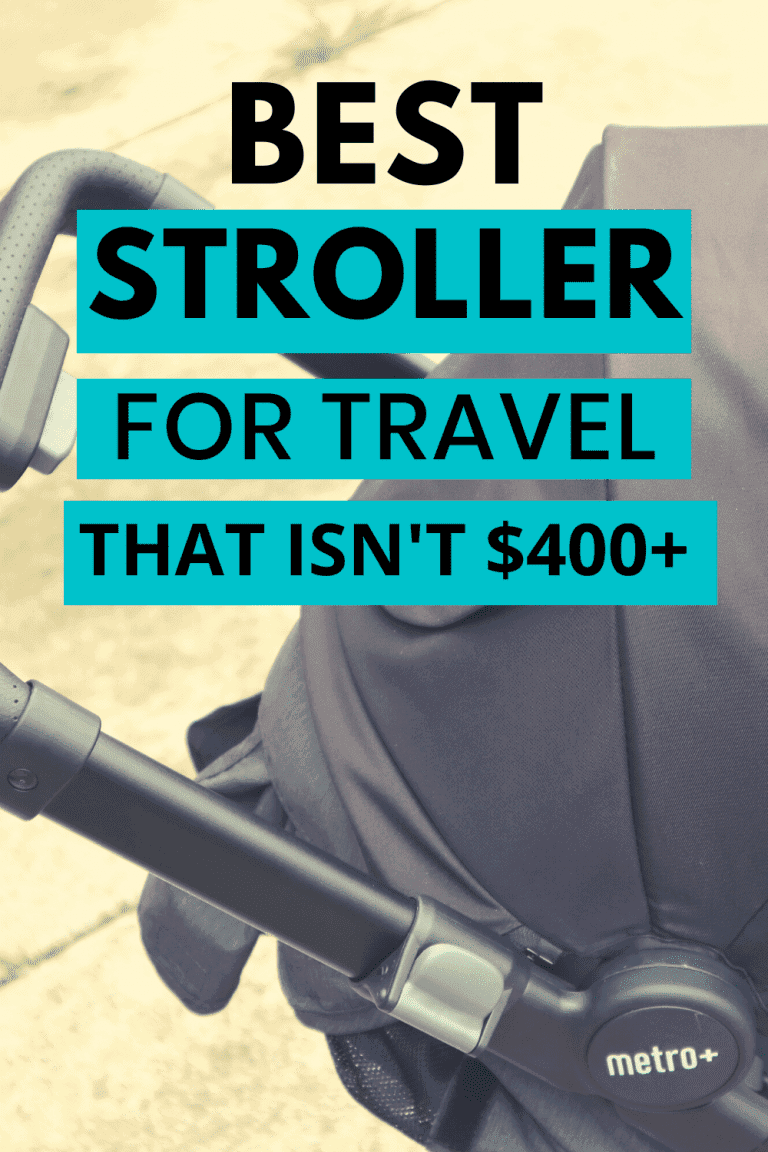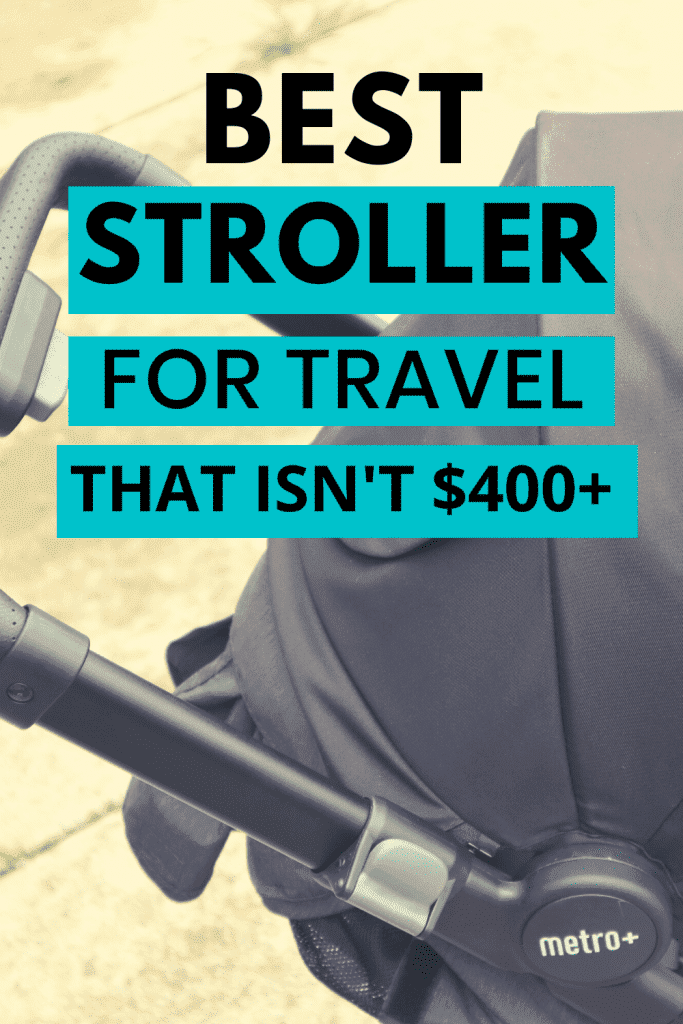 ---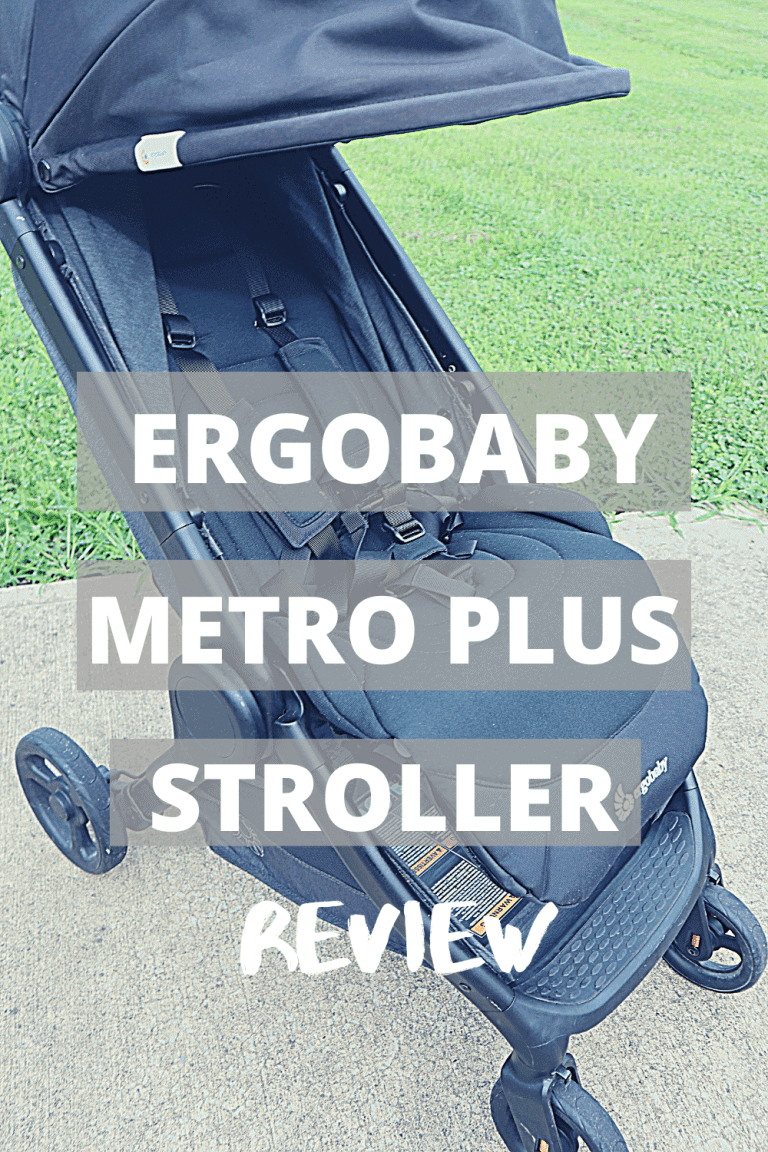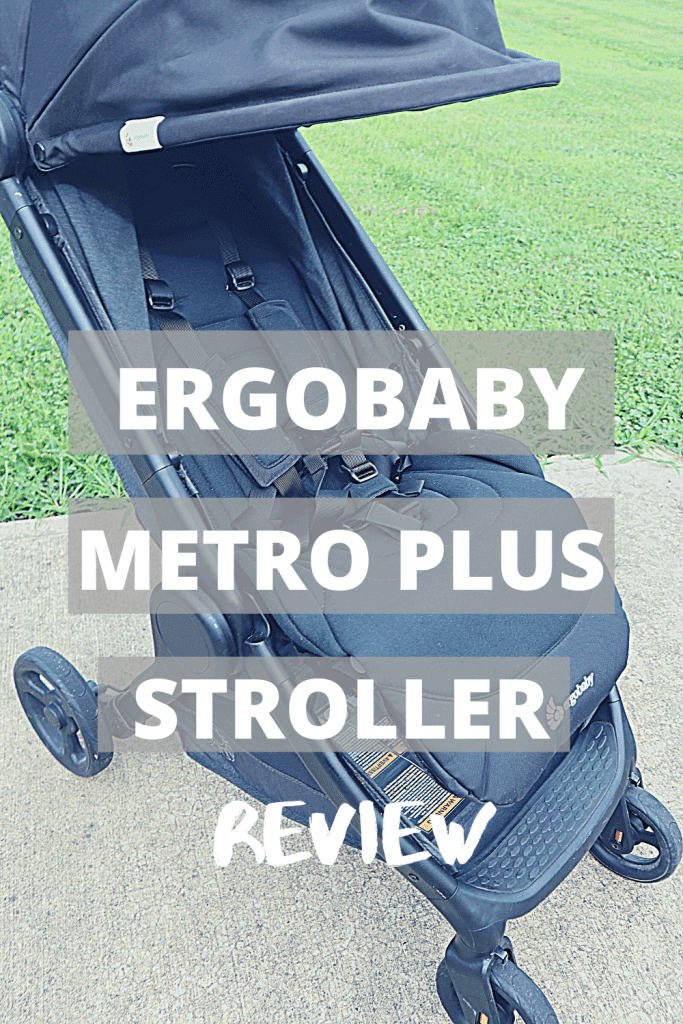 ---