This post may contain affiliate links. See the disclosure tab for more details.
From its rocky shoreline to its sandy white beaches, the Carolina coast is a stunningly beautiful region with plenty of variety.
While Charleston and Myrtle Beach may be two popular cities for tourism, you will experience very different vacations while visiting each town.
We will compare and contrast Charleston vs Myrtle Beach – what makes them different, what makes them similar, and why it may be worth visiting both!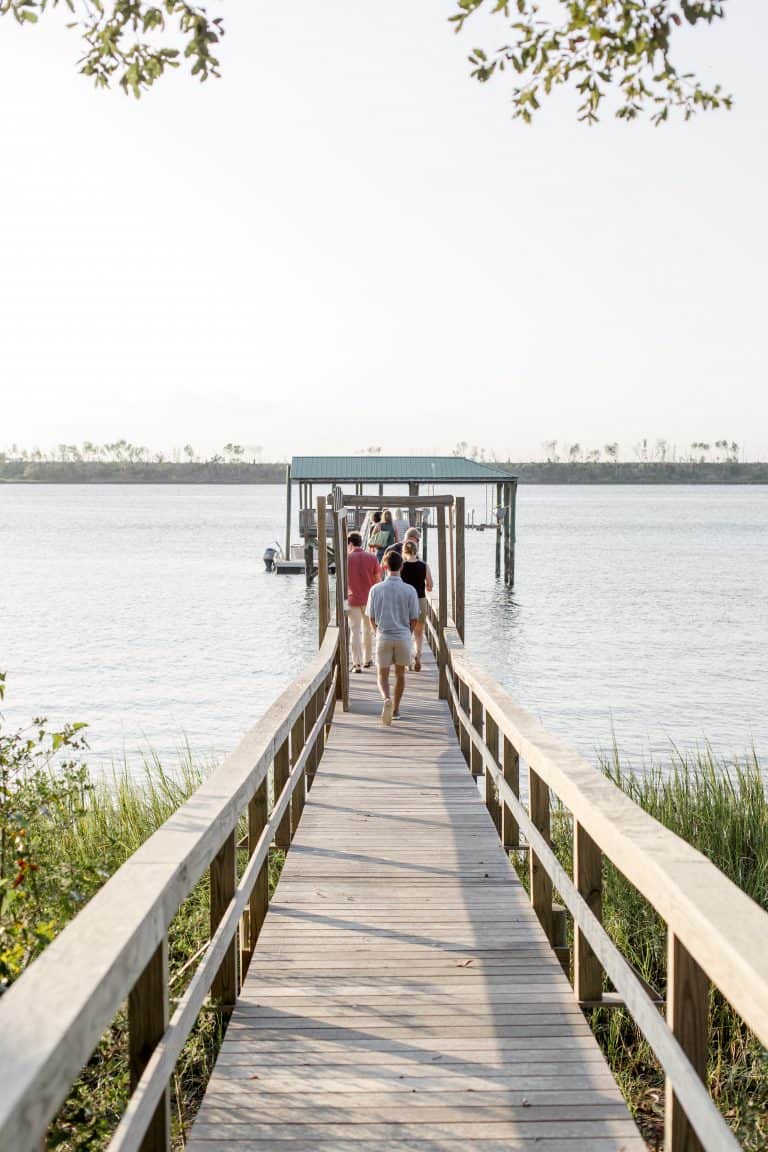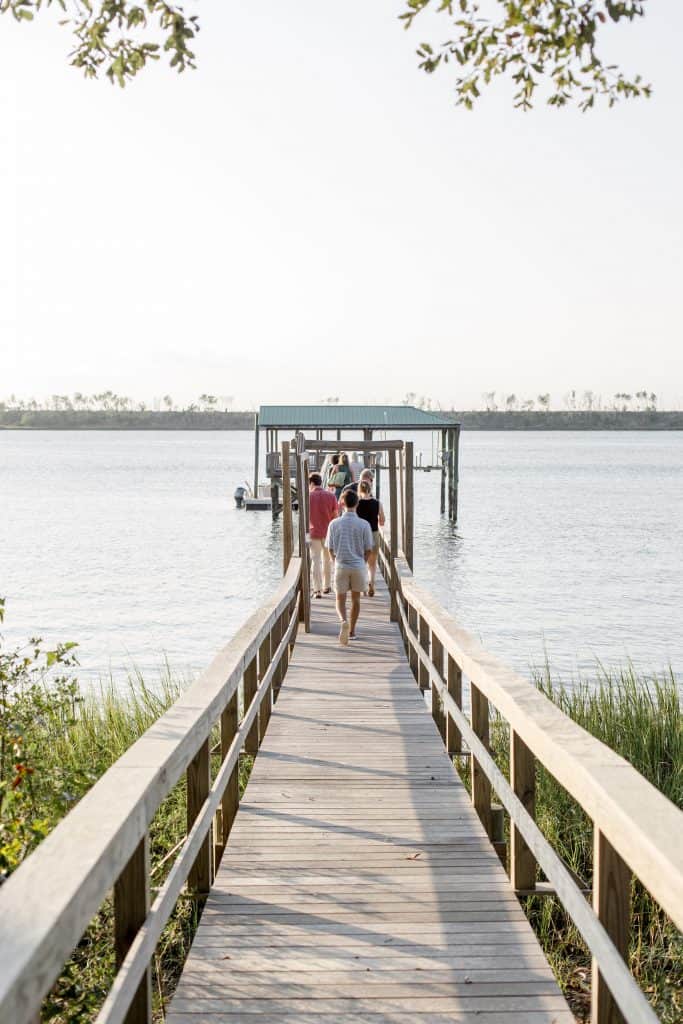 Charleston vs. Myrtle Beach
Comparing Charleston and Myrtle Beach can be a great way for families to decide what type of vacation experience is best for them.
Both cities offer plenty of activities, attractions, and dining options, but each has its own unique characteristics.
Overall, Charleston is known for its culture-rich attractions and walking tours while Myrtle Beach stands out with its sandy beaches and boardwalks.
Let's look into both cities so your family can make an informed decision on which destination is better suited for their specific needs.
Charleston Overview
From its cobblestone streets and culture-rich attractions and activities, Charleston is a dynamic coastal city for all ages.
Known as the "Holy City" for its numerous churches, this charming destination offers many sites for families who love to explore.
Check out iconic attractions such as the Battery, enjoy guided tours of all kinds, or take advantage of locally produced treats from the many farmer's markets around town.
All in all, there's no shortage of things to do when visiting Charleston with your family – it truly is a great place to build memories!
Myrtle Beach Overview
Myrtle Beach is a vibrant coastal city on South Carolina's Grand Strand that offers plenty of family-friendly activities.
With its beautiful beaches, sunny weather, and exciting attractions, it's no surprise that Myrtle Beach is a popular tourist destination – especially because it's one of the closest ocean beaches to Ohio.
Families can enjoy a variety of activities along the beach and boardwalk or try their luck at the arcade or mini-golf course.
Shopping, dining, and nightlife are all conveniently located near the beach for an ultimate seaside experience.
So whatever your family needs during vacation time – whether it's fun in the sun or rest and relaxation – Myrtle Beach has it all!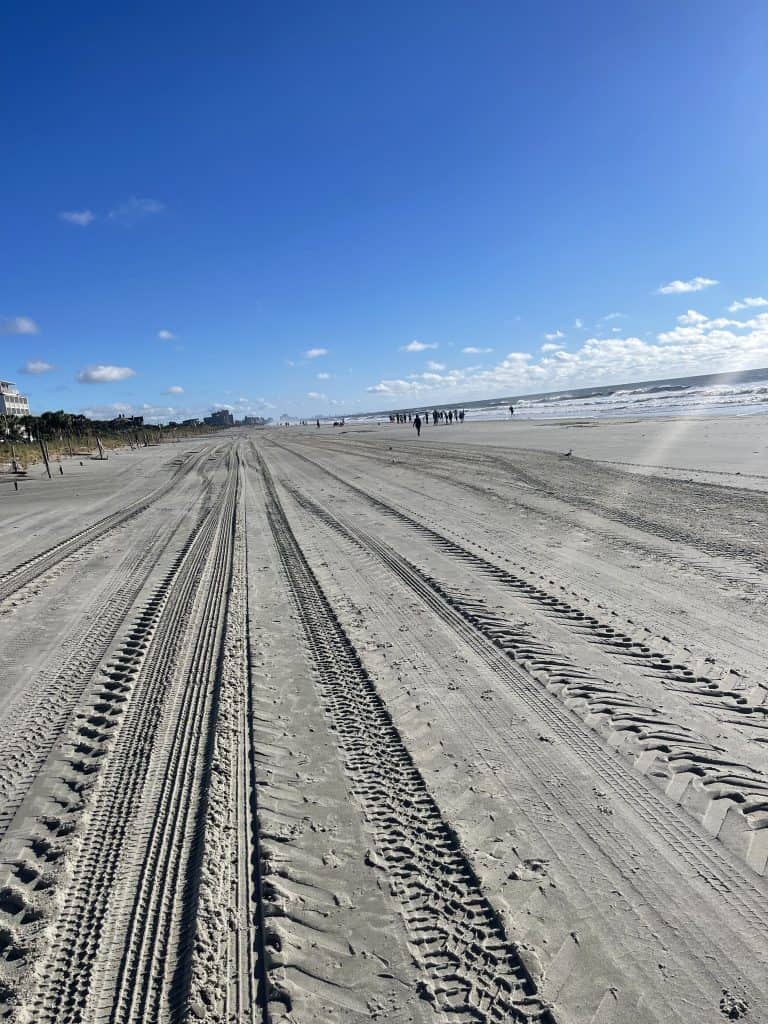 Charleston vs. Myrtle Beach Coastline Differences
Both Charleston and Myrtle Beach offer stunning views of the coast.
However, the most obvious difference between Charleston and Myrtle Beach is beach access.
While Myrtle Beach is directly on the beach, Charleston is a 20-minute drive to the closest beach, (Folly Beach or Sullivan's Island.)
Charleston is a harbor town and its coast is lined with a rocky shoreline.
While the views here are beautiful, it's not ideal for swimming or beach activities.
Myrtle Beach, on the other hand, has a sandy white beach that stretches for miles along the coast.
With hotels and condos directly on the beach, it's perfect for swimming, sunbathing, and all types of beach activities.
Both locations provide stunning coastal views and plenty of opportunities for fun, so it's worth exploring what both cities have to offer to make the most of your family vacation!
Meanwhile, Myrtle Beach offers a bustling boardwalk with plenty of restaurants and shopping options – perfect for those who are looking for a more urban beach experience.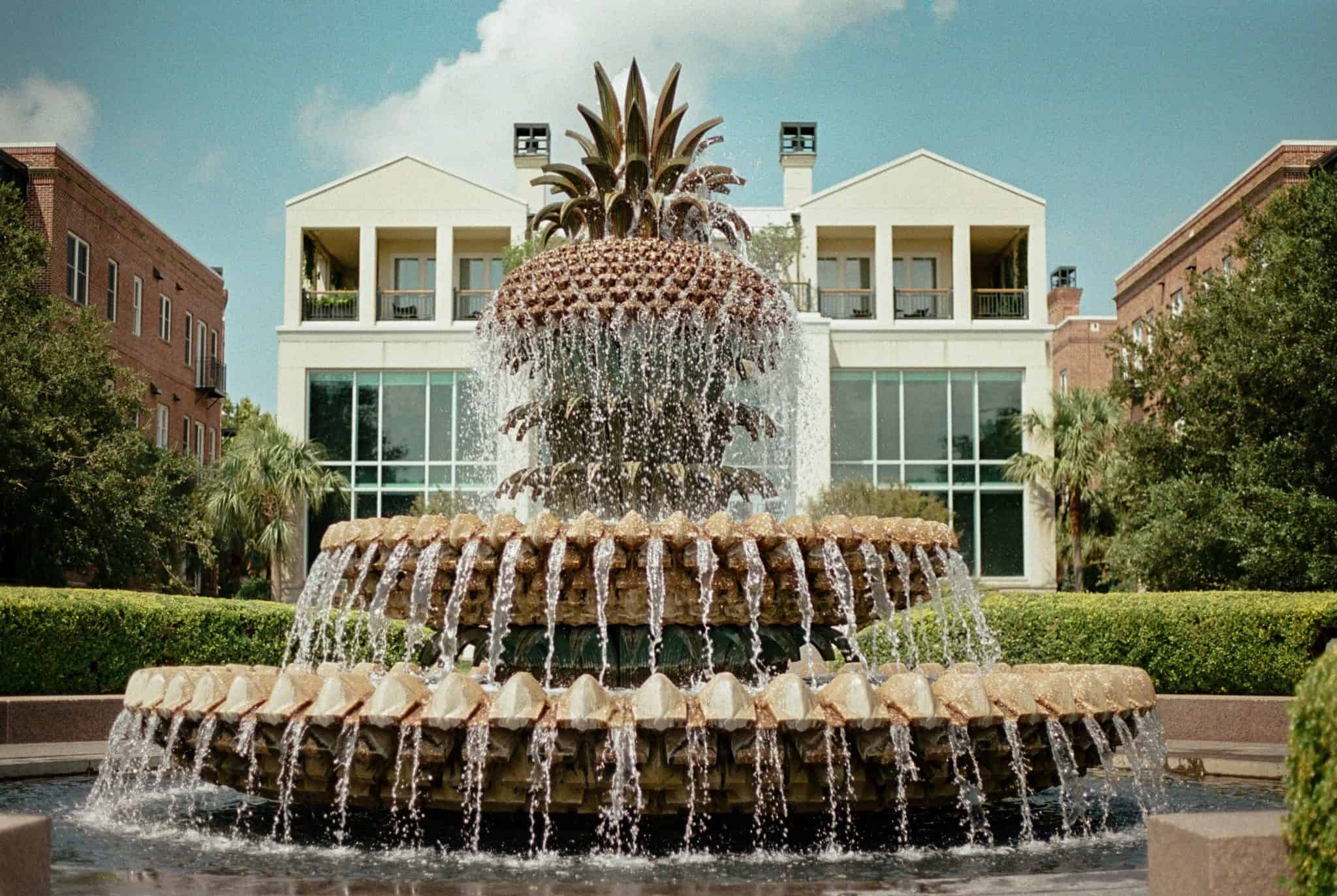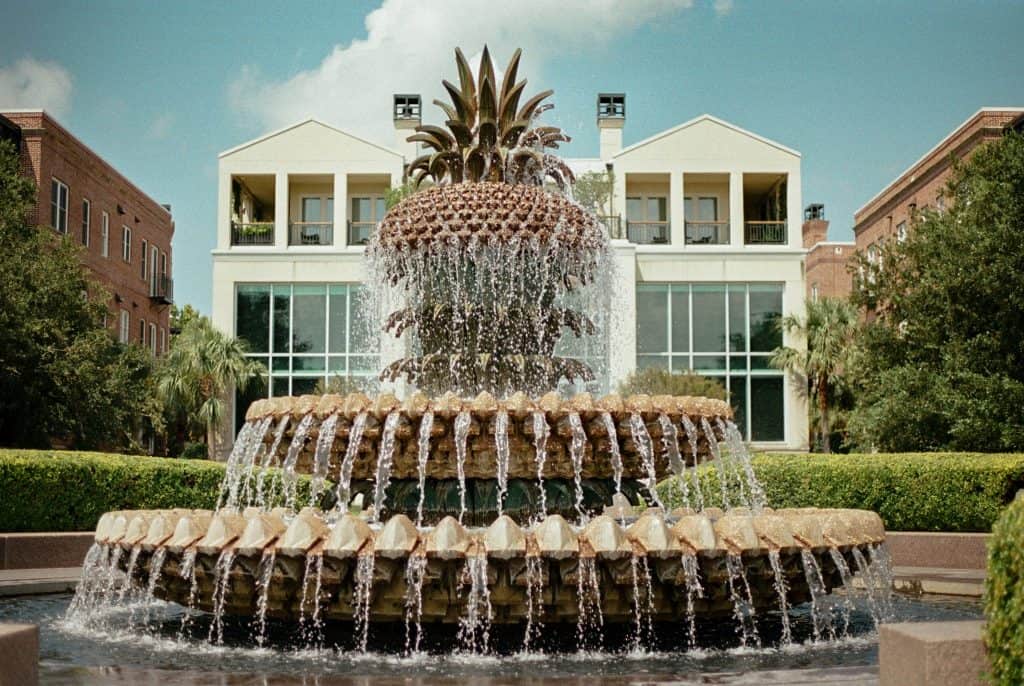 Myrtle Beach vs. Charleston Cost Comparison
When considering the cost of a trip to Charleston or Myrtle Beach, there are several factors to think about: Accommodations, Dining and Entertainment.
Generally speaking, Myrtle Beach is known as a more affordable option than Charleston.
Accommodations in Myrtle Beach are abundant and tend to be less expensive with large rental condos and high-rise hotels.
Entertainment in Myrtle Beach is also more affordable than in Charleston, with beachgoers having access to a variety of fun activities such as miniature golf and arcades without breaking the bank.
Meals at Myrtle Beach's local restaurants also tend to be cheaper, catering to large groups and families.
Charleston is known to be a more expensive destination than Myrtle Beach for families.
Think of it as a trendy, upscale town.
Accommodations in Charleston are generally more expensive than in Myrtle Beach, with more boutique hotels and less larger name brand chains.
Dining out can also cost more with a majority of local, high-end eateries.
However, there are still ways to save in Charleston.
Taking advantage of the city's many farmer's markets which offer locally produced treats at reasonable prices.
Walking around the city's historic landmarks and parks are also free and great for families to enjoy.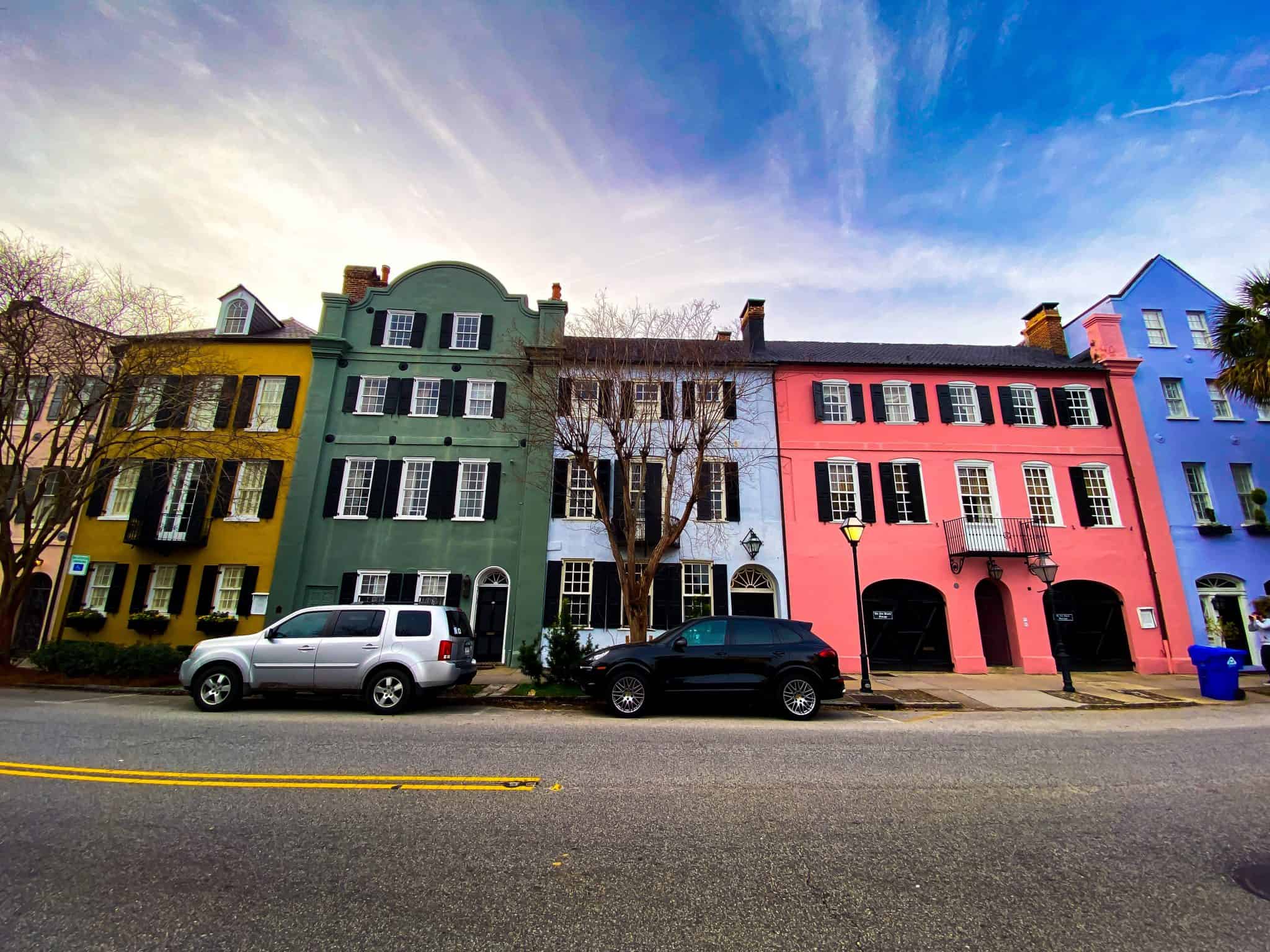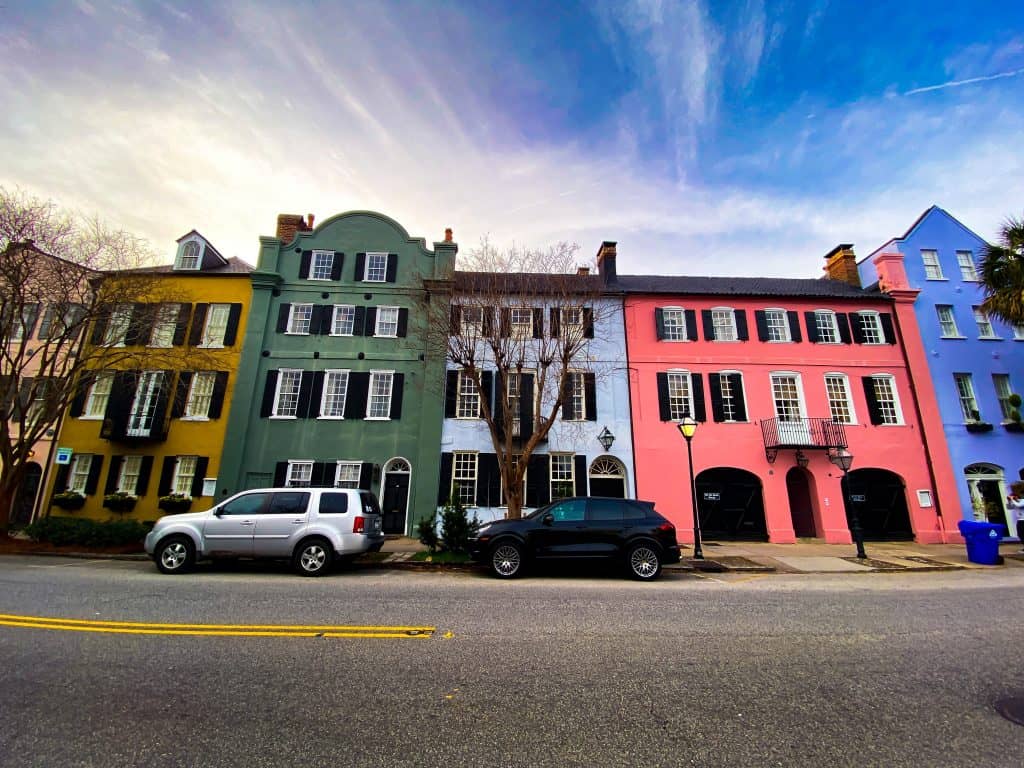 Top Charleston Activities and Attractions
Visit historic sites
Charleston is a great place to explore and learn about the city's history, with plenty of museums, plantations, and iconic sights to visit.
Take a carriage tour to take in the sights, see the unique architecture and decide where you can grab a bite to eat or shop next!
Spend an afternoon at one of Charleston's many plantations and gardens, such as Middleton Place or Magnolia Plantation & Gardens, for even more history and culture.
While these large plantations are further from the city, both offer plenty of green space for kids to explore!
Explore local markets
From farmers' markets to arts and crafts fairs, there's always something new to discover in the local markets of Charleston.
Explore the City Market for unique local crafts, grab fresh produce from the seasonal Marion Square Farmer's Market, or browse through the stalls of the Charleston Night Market for local handmade goods.
Taking a break to sample some of the area's culinary specialties is also a great way to experience the city like a local and Charleston has plenty of options!
Take a boat tour
One of the best ways to experience the beauty of Charleston is from a boat tour that offers fantastic views of the harbor.
This city is rich in history and you can get a completely different view from the water!
This is a great tour to keep the little one's attention as there is plenty to look at and they can stay active while you are learning about the city.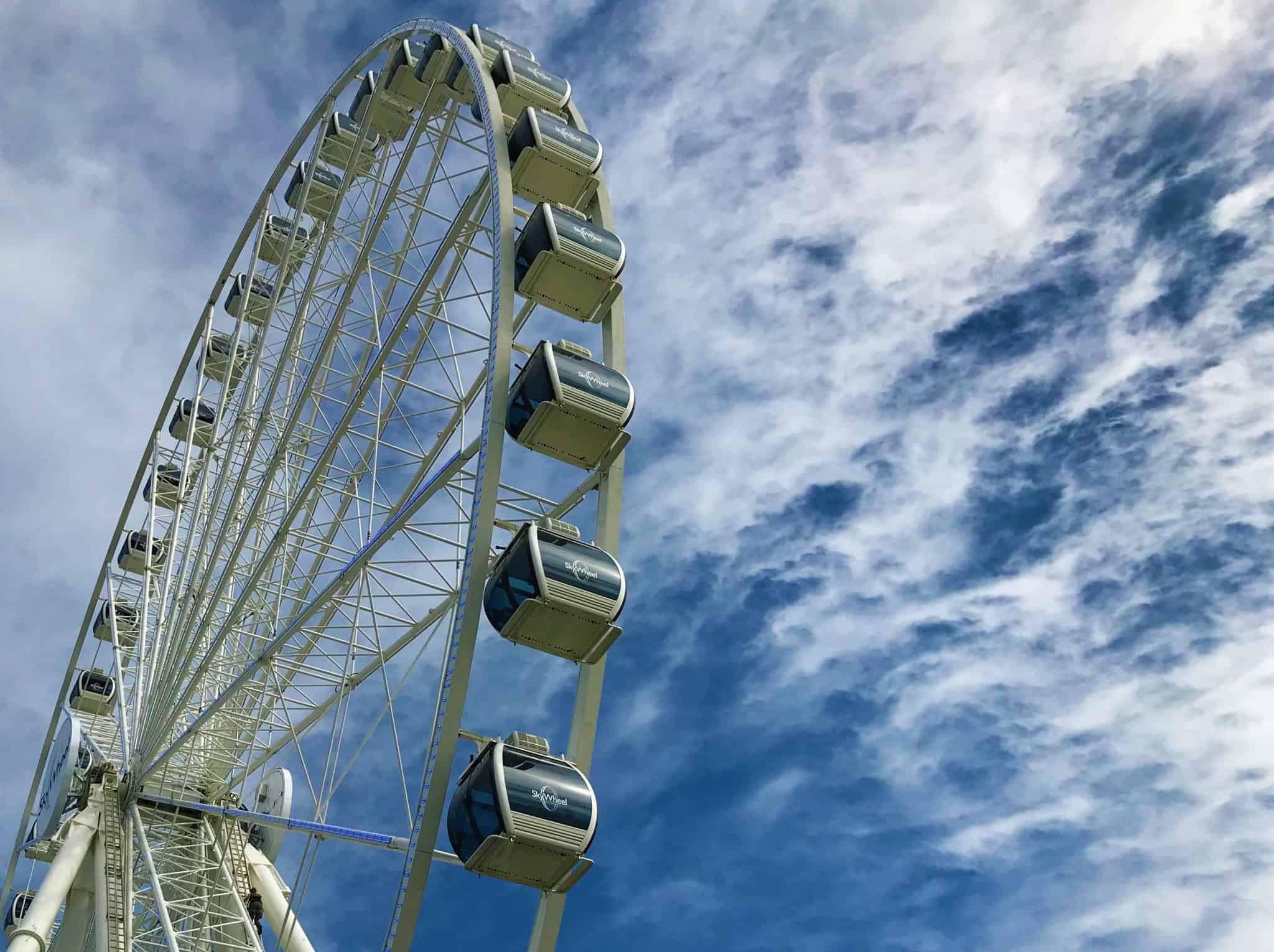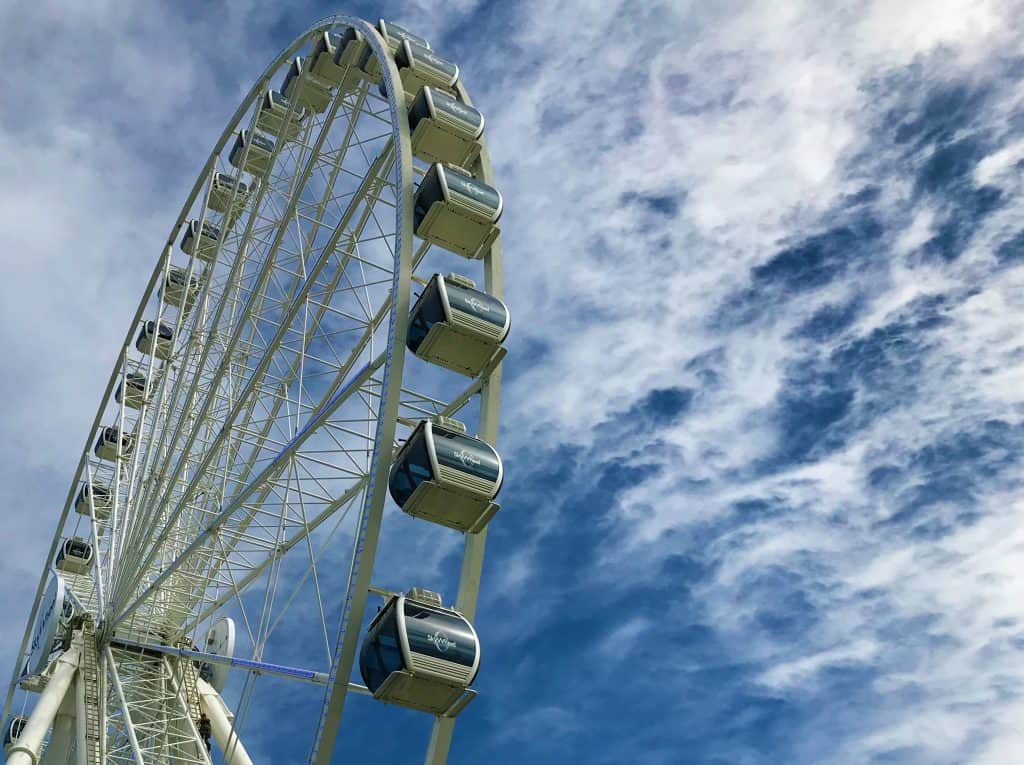 Myrtle Beach Activities
Hit the Beach
If you're staying in Myrtle Beach, chances are you've booked a beachfront hotel or condo.
Spend a day by the shore to bask in the sun and relax among gorgeous sandy beaches.
Enjoy your resort with a waterfront meal or playing in the sand with the kids.
Beach days are all about moving slow and appreciating the epic views.
Myrtle Beach Boardwalk
When you need a break, take a stroll on the 1.2 mile The Boardwalk and Promenade.
Myrtle Beach's downtown area offers restaurants and ice cream as well as a handful of shops.
Introduce your kids to the classic arcade games or take a ride on the SkyWheel.
At 200 feet above sea level, you won't regret the views and can enjoy riding in the fully enclosed gondola.
Entertainment Galore
Choose from many diverse entertainment options in Myrtle Beach – they have a little bit of everything.
Ripley's Aquarium is home to thousands of sea creatures such as sharks, stingrays, sea turtles, and jellyfish – perfect for family learning activities!
Visit the Hollywood Wax Museum or enjoy a magic show with the family.
If you really can't decide on a location, try this 1-day trip to Charleston!
If you think your family will get tired of the beach, you won't be short on things to do in this city.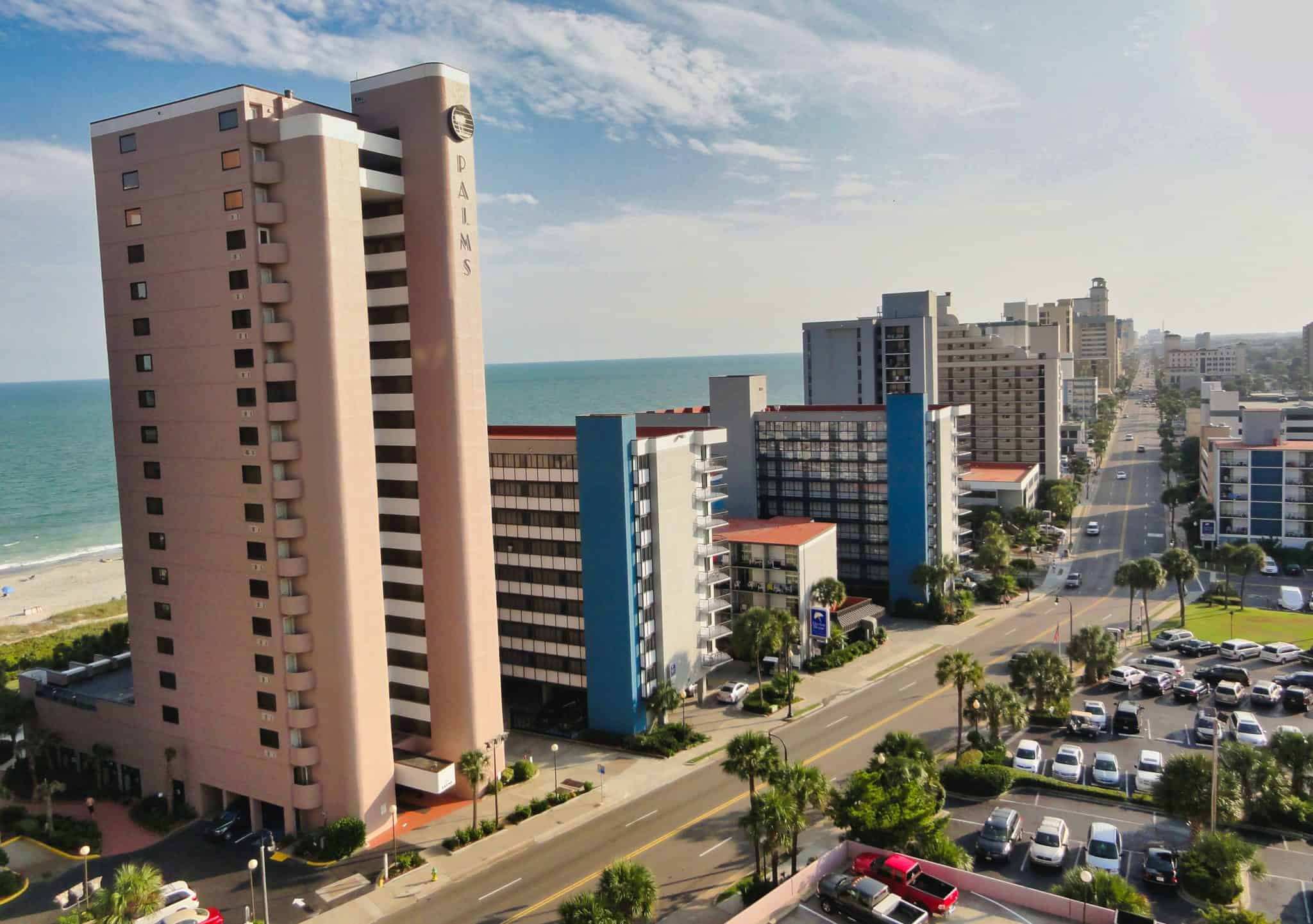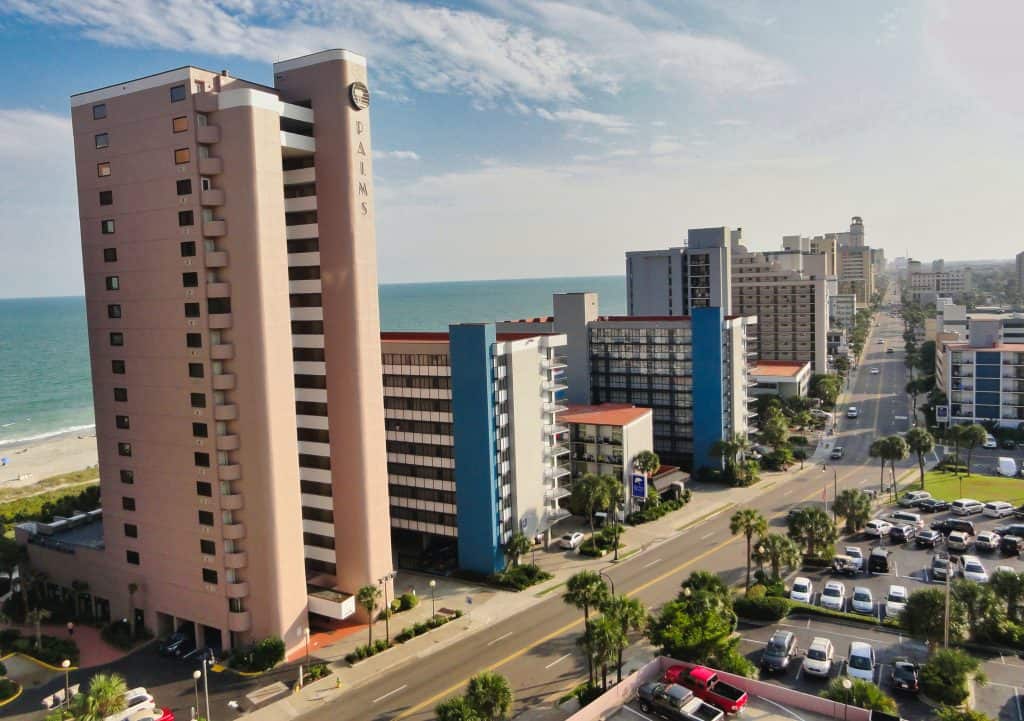 Choosing a City: Charleston or Myrtle Beach
When it comes to choosing between Charleston and Myrtle Beach, the decision can be difficult given all that each city has to offer.
While they both have stunning coastal views and plenty of opportunities for fun, there are some distinct differences in terms of their landscape, costs and activities available.
In Charleston you'll find more of a historic city bustling with activity on the harbour; whereas in Myrtle Beach visitors will be able to relax along the sandy shores with the opportunity to explore the boardwalk lined with restaurants, shops and family fun.
Overall, when comparing Charleston vs Myrtle Beach, it's important to consider the type of family vacation experience you're looking for.
If you prefer swimming and sunbathing on a sandy beach, Myrtle Beach is likely a better choice than Charleston.
If you're looking to explore the cultural scene, history, and some unique shops and dining – Charleston is the town for you.
Whichever destination you choose make sure to take advantage of everything each one has to offer!
For another coastal South Carolina vacation option, check out Hilton Head or explore Rodanthe, North Carolina in the Outer Banks!
Which city is cheaper Myrtle Beach or Charleston?
Myrtle Beach tends to be cheaper than Charleston, as it is a more cost-effective destination for families and offers more budget-friendly accommodations. Additionally, Myrtle Beach has less expensive restaurants and attractions.
In comparison, Charleston may provide slightly higher rates in certain areas due to its popularity as a tourist destination. However, there are also opportunities for savings with discounted packages offered by hotels or tours.
Ultimately, the price difference between the two cities will depend on your ideal itinerary and where you choose to stay.
Is it Cheaper to Fly Into Charleston or Myrtle Beach?
While both cities have International Airports, it is usually cheaper to fly into Myrtle Beach than it is to fly into Charleston. Flights into Myrtle Beach are generally lower due to low competition from other airports, while flights going in and out of Charleston may be more expensive due to the higher volume of airlines servicing the area.
How far is it from Charleston to Myrtle Beach?
Charleston is approximately 95 miles or just under a 2-hour drive from Myrtle Beach.
Is Charleston or Myrtle Beach better?
The answer to this question depends on what type of experience you are looking for. Charleston offers more historical attractions, beautiful architecture, and a unique cultural scene; whereas Myrtle Beach is better for beach lovers with wide sandy beaches, rolling dunes and plenty of family-friendly activities. If you prefer swimming and sunbathing in a traditional beach setting, then Myrtle Beach may be your best choice. However, if you're interested in exploring the history, culture and architecture of an area then Charleston may be the more suitable destination for your needs. Ultimately it will come down to personal preferences so make sure to consider all that each city has to offer before making a decision.
Is there a ferry from Myrtle Beach to Charleston?
No, there is no ferry service that runs between Myrtle Beach and Charleston. The two cities are located approximately 95 miles apart and the only way to travel between them is by car or plane. There are numerous ground transportation companies offering services from Myrtle Beach to Charleston.