This post may contain affiliate links. See the disclosure tab for more details.
If you're looking for a delicious breakfast with a side of adventure, then you need to check out Tusker House at Disney's Animal Kingdom.
Whether you're a long-time Disney fan or just visiting Disney for the first time, this restaurant is sure to delight everyone in your family.
From fun character interactions to yummy food options and a festive atmosphere, Tusker House is the perfect place for families to start their day of adventure.
Let's take a look at why it's the best breakfast in Animal Kingdom!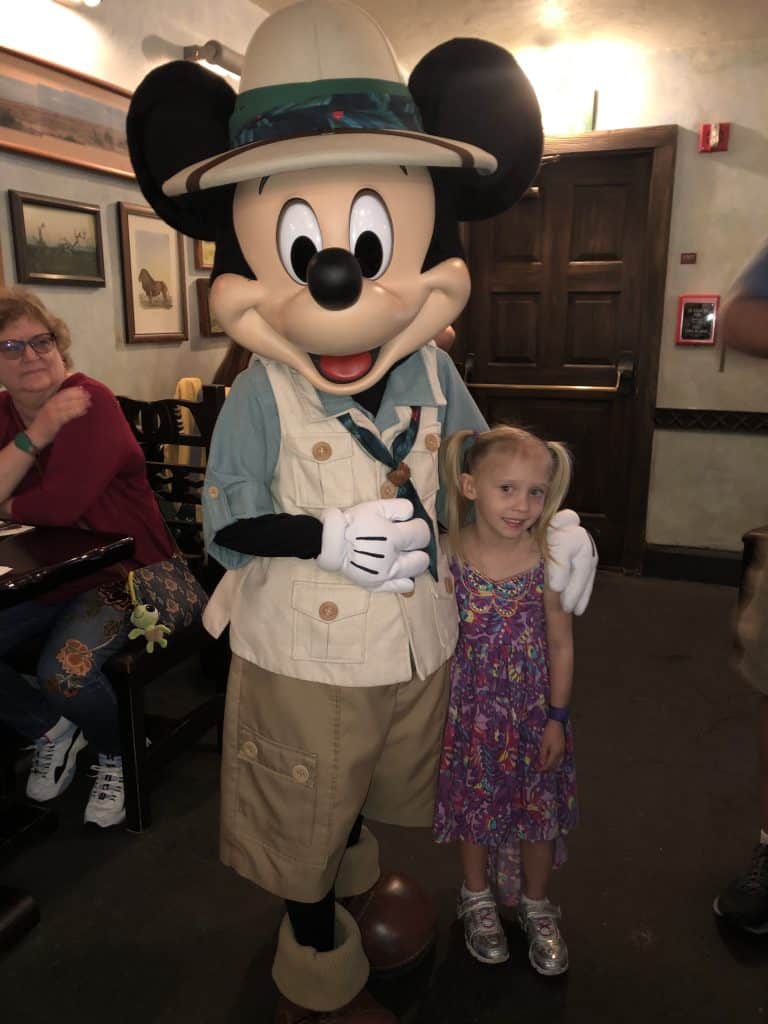 Tusker House Breakfast in Animal Kingdom
Tusker House stands out from other Disney restaurants not just because of its food selection but also because of its theme.
Tusker House brings the spirit of an African marketplace to life featuring bright colors, vibrant murals, and fun props like oversize drums and tribal masks scattered throughout.
On top of that, Donald Duck and his friends appear in their safari gear throughout your meal, making this a truly immersive experience for adults and kids alike.
Tusker House has a fun vibe that everyone can appreciate!
Plus, it's air-conditioned which makes it a great escape from the hot Florida sun!
Need a longer break from the sun? See the closest beaches to Disney World.
Pricing at Tusker House Breakfast in Animal Kingdom
Tusker House is a table service dining experience with a set price buffet menu.
The cost of breakfast is $29 per child, (age 3+,) and $45 per adult.
Tax and Gratuity are not included, so be sure to factor that into your budget.
The price does raise to $59 for adults and $38 for kids during lunch and dinner.
Breakfast/brunch is the best deal and you can get a ton of food for the price.
Animal Kingdom Character Breakfast at Tusker House
If you are visiting Animal Kingdom with toddlers, you'll want to add a character experience to your itinerary!
Tusker House is one of the few places in Animal Kingdom where you can interact with characters during your meal.
Donald Duck and his friends Daisy, Goofy, and Mickey Mouse make an appearance here, so be sure to have your camera ready!
They are dressed in their safari gear and look like they are ready for an African adventure!
During this Animal Kingdom character breakfast, each character comes to your table to greet your family and pose for pictures.
They offer a few minutes of one-on-one time with each table so you can look forward to an up close and personal experience.
The characters are great at interacting with little ones – be sure to discuss with your kids that the characters cannot talk! They are great at communicating in other ways though.
If your kids are younger, they might also be overwhelmed with the size of the characters – especially their heads! Feel free to stay back and ease into meeting them.
You can typically see them from across the room at other tables and point them out. This way they aren't super surprised when the characters arrive to greet them.
These character experiences help create memories that will last long after your trip has ended.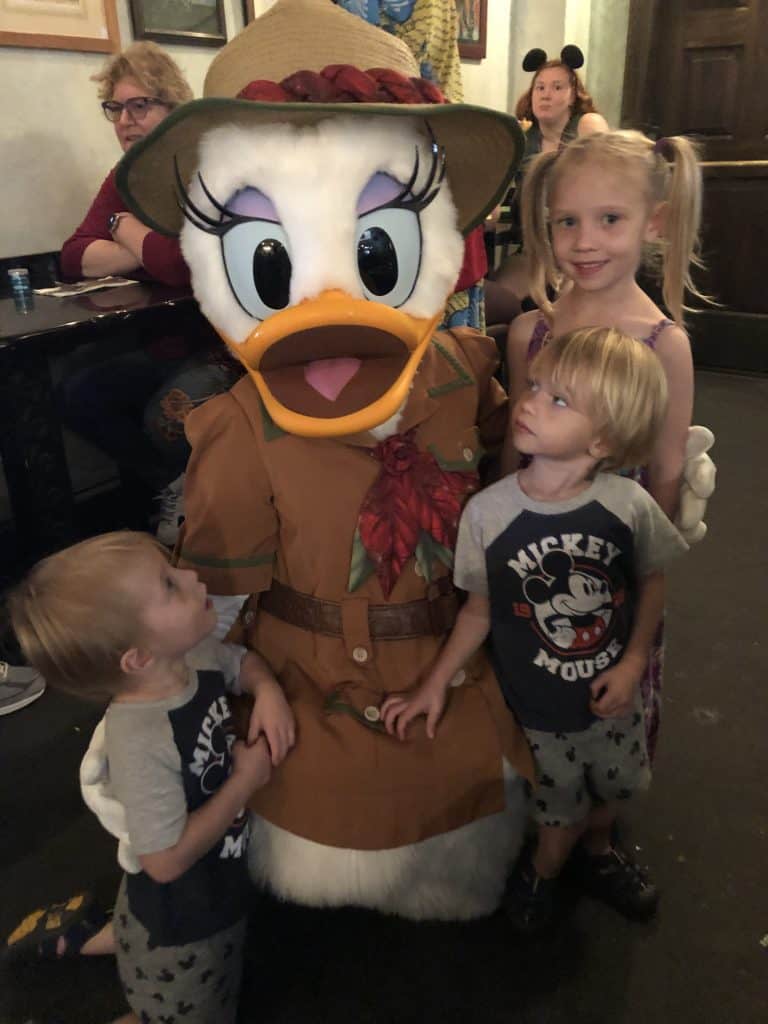 Tusker House Breakfast Menu
In our family, breakfast is usually our biggest meal and can keep us full long past lunch time!
The buffets at Walt Disney World are perfect for my husband who eats a ton and the little ones who want to try one of everything.
When it comes to food options, the Tusker House menu has something for everyone.
You'll find your classics such as eggs, bacon, sausage, and breakfast potatoes alongside fresh carved ham.
Enjoy lighter options as well like yogurt parfaits, fresh fruit and juices.
You can't miss the Mickey waffles – and Simba waffles – perfect for toddlers to admire and enjoy! These waffles are one of my favorite parts of having breakfast in Animal Kingdom!
For those with bigger appetites, they offer various hearty platters featuring African flavors.
And if you're still hungry, I recommend letting your reservation run into lunch time – more on this below!
And don't forget about dessert – there are tons of pastry options and sweet treats, from cinnamon buns to zebra coffee cake, that everyone will enjoy!
Of course allergy-friendly options available too so no one will go hungry here!
Tusker House Breakfast Hours
Tusker House breakfast hours are from 8:00 am to 10:30 am.
I would plan at least an hour for your meal to be able to get through the buffet lines and visit with the characters.
As I mentioned above, we like to enjoy brunch and came across the perfect timing for your Tusker House breakfast reservations.
They begin to set lunch dishes out around 11:00 am or a little earlier. So, if you still happen to be there, you can get breakfast and lunch dishes for your meal.
The perfect reservation would be between 9:45 to 10:15 am. That way you can get your first round of breakfast and when you return to the buffet, lunch will also be set out.
We enjoyed sampling both meals, although breakfast is my favorite meal, my husband filled up on the lunch dishes.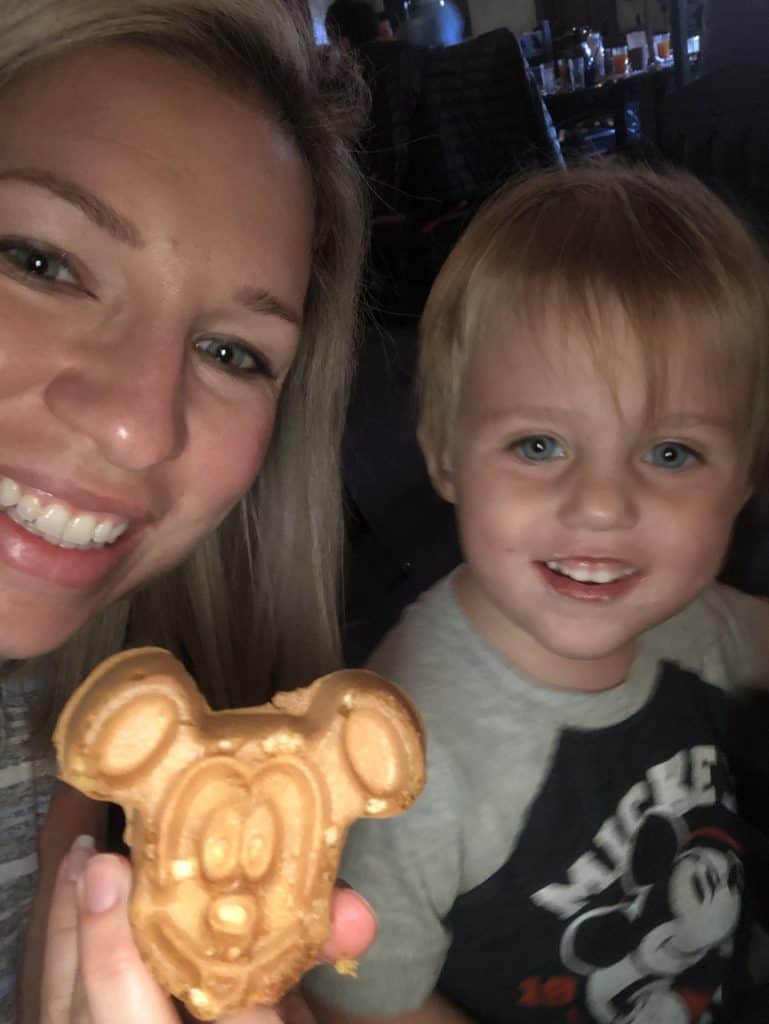 Other Animal Kingdom Breakfast Options
If you're not able to get a reservation at Tusker House, you can still find a good breakfast in Animal Kingdom.
None of these feature character interactions, but they are much lower in price and will quickly get you on your way.
Rainforest Cafe
Breakfast Hours: 8:30-10:25 am
Table Service
Menu options ranging from $15-$35
Kids Menu for children under 9
Isle of Java
Opens at 8:30 am
Quick Service
Features sausage egg and cheese biscuits, danishes and muffins
Yak & Yeti Local Foods Cafe
Opens at 9:00 am
Quick Service
Features breakfast bowls, egg muffins, and yogurt parfaits
Harambe Fruit Market
Opens at 9:00 am
Quick Service
Features a-la-cart fruit, muffins, and juices
Best Breakfast in Animal Kingdom
If you're looking for a fun-filled character breakfast in Animal Kingdom, Tusker House should be your first choice.
This popular restaurant offers delicious food options that will satisfy both adults and kids alike.
Most importantly, Tusker House offers character interactions that you will remember for years to come! It's one of those experiences that will make your Disney World vacation worth it!
So start your Animal Kingdom day off right with this amazing breakfast experience! Make your reservation at Tusker House today!
Learn more about Disney World and how to make your trip a magical experience:
Where can you get breakfast in Animal Kingdom?
If you're looking for a character experience breakfast, Tusker House is the best place to get breakfast in Animal Kingdom.
How much does Tusker House breakfast cost?
Tusker House breakfast is $45 for adults and $29 for children.