This post may contain affiliate links. See the disclosure tab for more details.
Congratulations, you're pregnant! And if you're like most soon-to-be parents, you're probably feeling a little overwhelmed by all the things you need to do before your baby arrives.
One of the items on your to-do list should be to take a babymoon—a last vacation just for the two of you before your little one makes three.
This special trip is a great opportunity to relax and bond with your partner before baby arrives.
But what should you pack for your babymoon? Here's a helpful babymoon packing list to get you started.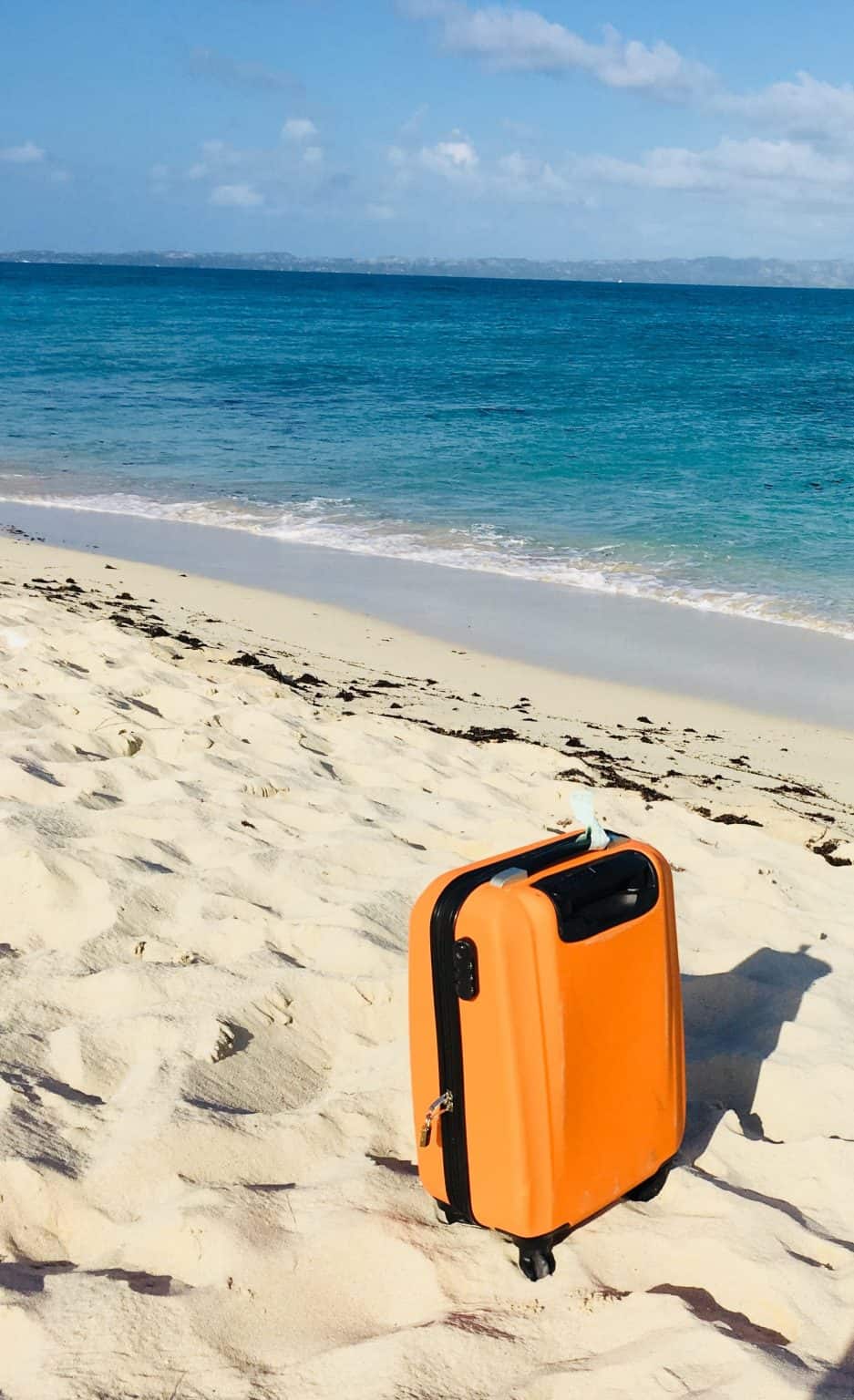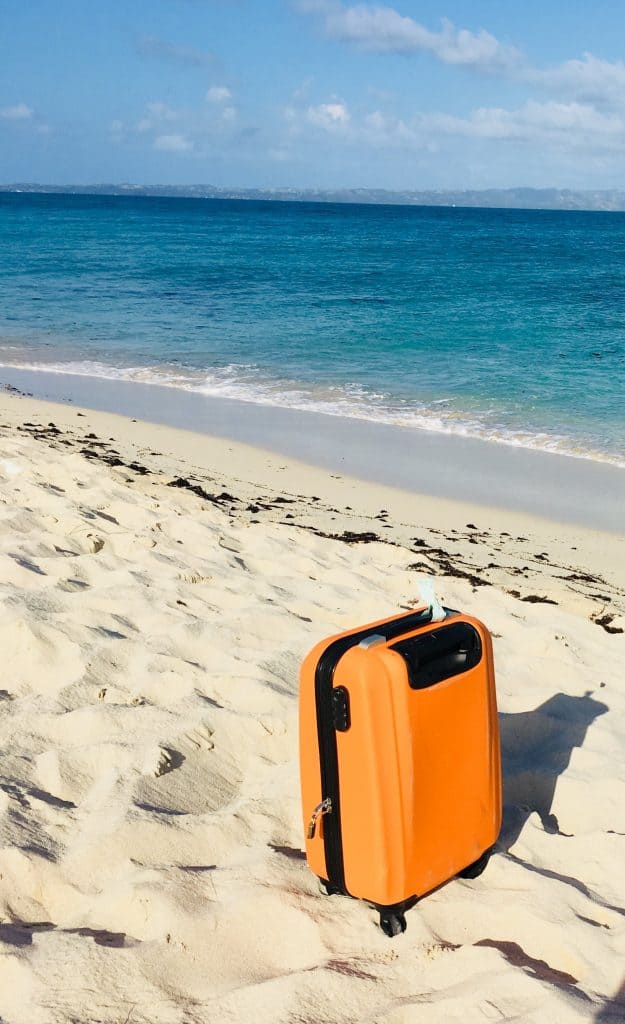 Babymoon Clothing for a Warm Destination
First, let's start with the basics: babymoon clothes.
If you're headed somewhere warm, you'll want to pack mainly for the heat.
You may spend your days lounging around the hotel, exploring a new city, or going hiking. When you decide what your itinerary looks like, you'll be able to customize your babymoon packing list with these suggestions.
Maternity Sundresses
Sundresses are an all-in-one outfit and won't take up a lot of room in your suitcase. These are the perfect babymoon outfit if you're trying to pack all your items in a backpack carry-on.
Maxi Dresses
Maxi dresses are another great option for a warm destination. They're comfortable, and can easily be dressed up or down.
Night Out Dress
A babymoon is the perfect opportunity to get dressed up and feel like yourself again. Packing one statement dress will make you feel confident and beautiful while you're away.
Casual Tank Tops and Short Sleeve Shirts
Tank tops and short sleeve shirts are your basic babymoon maternity clothes. Grab your favorites and pair them with shorts, a skirt, or jeans.
Jean Shorts or Skirt
Jean shorts or a denim skirt are perfect for warmer weather. They go with everything and can be dressed up or down.
Linen Shorts or Pants
Linen shorts or pants are a great option because they're airy and perfect for a hot day. They can also be dressed up as nice maternity resort wear.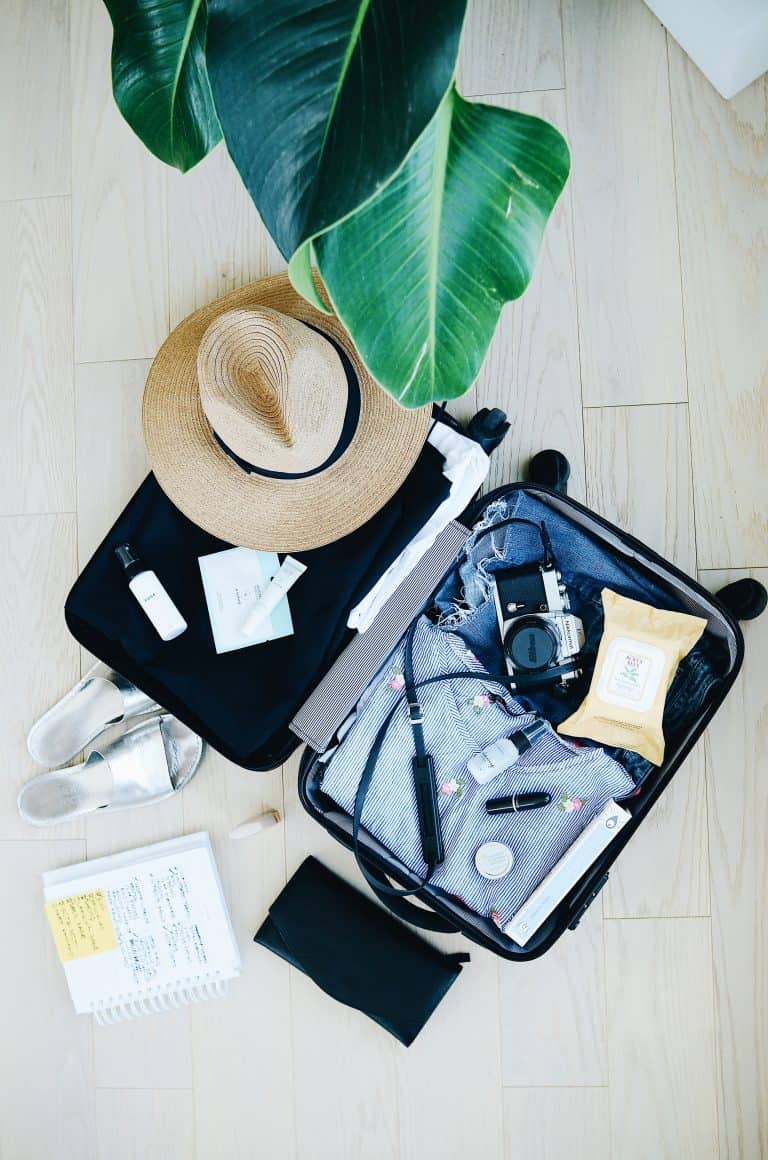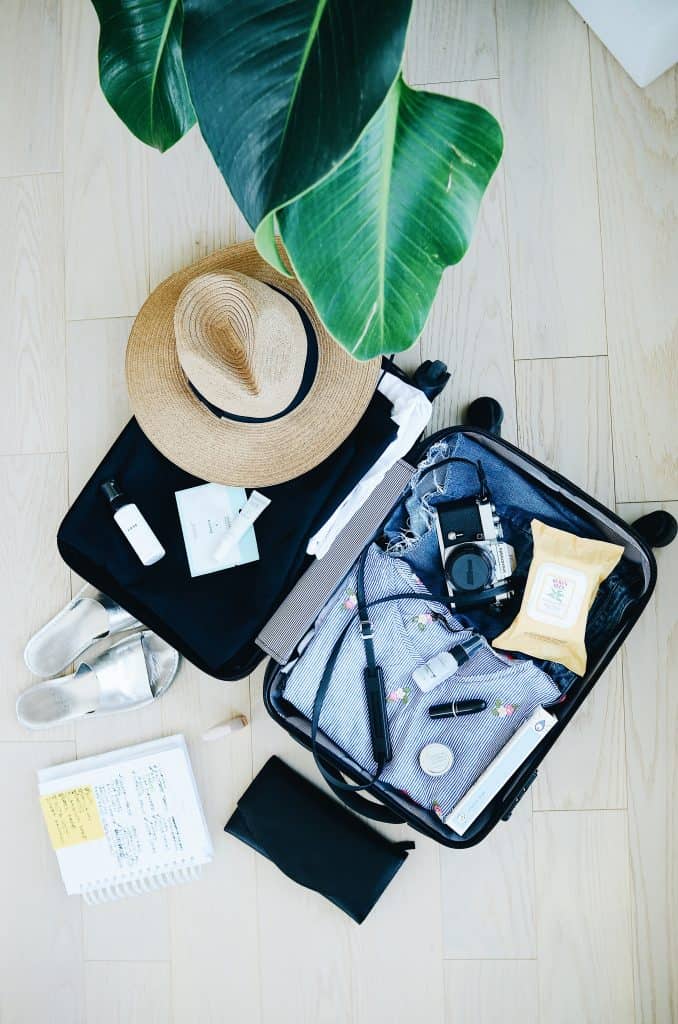 Babymoon Clothes for Layering
If you're headed to a Babymoon in Florida, the weather can be unpredictable. Packing for mostly warm temperatures with a few layering pieces will be perfect.
Long-Sleeve Shirt
If you're traveling to a place with cooler evenings, you might want to pack a long-sleeve shirt for early morning beach walks or lounging in the hotel room.
Cardigan or Light Jacket
A cardigan or jacket is a great layering piece for a babymoon. Choose one that coordinates with your warm-weather outfits.
Jeans
Jeans are always a good idea on a babymoon. They're perfect for cooler weather and can be dressed up or down.
Leggings
If casual is your style, pack leggings instead. Of course, these are super comfortable during pregnancy and you can pair them with tops or dresses if it gets chilly.
Babymoon Shoes
Of course, you can't forget your shoes! The following suggested shoes will again depend on your itinerary.
If you're going to be doing a lot of walking, (i.e. visiting Disney World,) pack comfortable shoes and socks.
Flip Flops
Flip flops or sandals are a must for any beach destination. Choose a sandal that's easy to walk in on the sand and you can rinse off when leaving the beach.
Dressier sandals
If you're going somewhere a little more formal, pack a nicer pair of sandals to easily dress up your outfits.
Sneakers or Walking Shoes
If your babymoon is on the active side, be sure to pack some nice walking shoes. These may also be the most comfortable option on travel days if you have large airports to get through.
Socks
It's easy to forget socks when you are packing for the beach! Bring a few pairs to wear with your sneakers.
Travel Items for Pregnancy
Next on the list are items to help keep you comfortable during travel. Pregnancy can make travel a little more difficult, but with the following items added to your babymoon packing list, you'll be prepared for anything.
Travel Pillow
An inflatable travel pillow will help support your back and neck during long car or plane rides.
Compression socks
Compression socks can help prevent swelling in your feet and legs, especially if you are sitting for long periods of time.
Light Blanket
Air temperatures – and body temperatures – can change quickly during travel. Grab a light blanket to keep you warm if you get cold.
Nausea Medicine
If you're prone to motion sickness, don't forget to pack some ginger candy or motion sickness bracelets – both have been shown to help relieve nausea.
Medications
It's also a good idea to keep all medications with you if you are flying. You don't want them stuck in lost luggage. These include:
any prescription medications
prenatal vitamins
pain reliever (acetaminophen)
stomach medication (Tums, Zantac)
Snacks
Pregnancy hunger is real! Be sure to pack high-protein snacks that will tide you over until the next meal.
Water Bottle
Staying hydrated during pregnancy is important, especially when you're flying. Drink plenty of water and avoid caffeine if possible. We love the FreeSip water bottle from Owala.
Entertainment
Don't forget to pack any books, magazines, or electronic entertainment you might want for travel days or lazy beach days.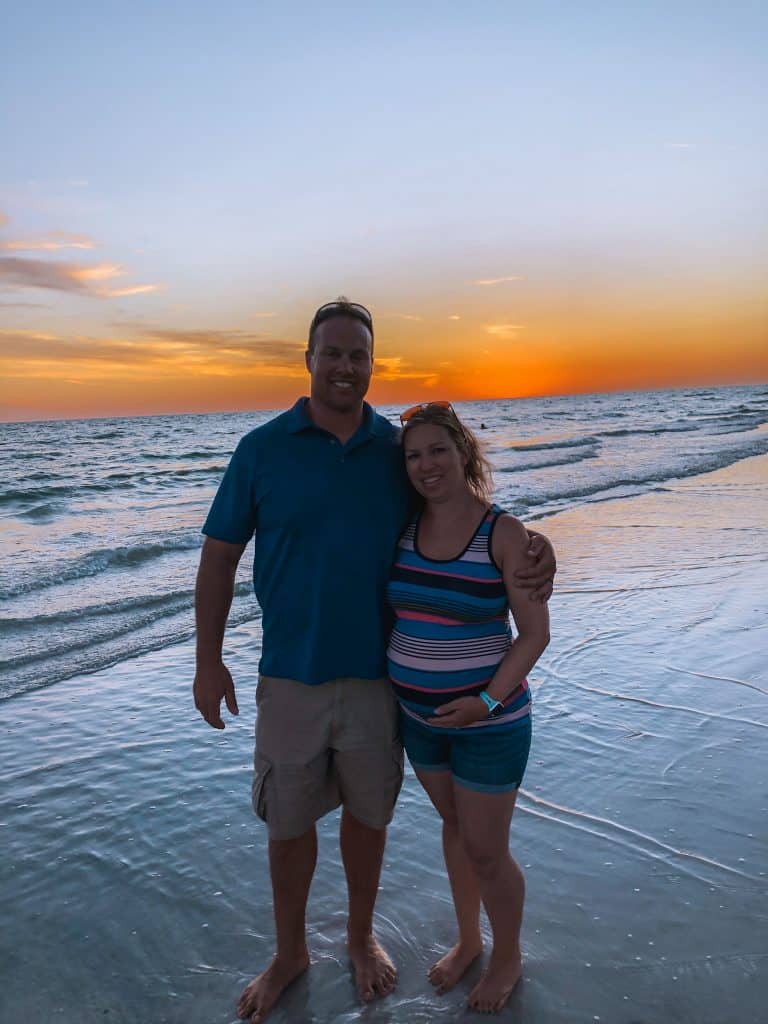 Beach Babymoon Packing List
Next, let's move on to the fun stuff! If you're going to be hitting the beach, be sure to pack the following items.
Remember, you'll be bringing a baby to the beach next time you vacation and you'll have plenty more to pack!
Beach Bag or Tote
You'll want a bag to carry all of your beach items in. Use this as your carry-on or look for a packable beach bag.
Sunhat
A wide-brimmed hat can also help protect your face from the sun's harmful rays – plus, it can add some style to your swimwear.
Pregnancy-Safe Sunscreen
It's important to choose a sunscreen that is safe for your skin. We love the Lady Face Sunscreen Stick because it's easy to apply and perfect for on-the-go!
Sunglasses
Sunglasses are another must for any babymoon. Choose a polarized pair to help protect your eyes from the sun's harmful rays.
Beach Cover-Up
A beach cover-up is perfect for throwing on over your swimsuit when you're not in the water. Look for one that's comfortable and easy to pack.
Pregnancy Toiletries for Babymoon
Now that you have your clothes and shoes all packed, it's time to focus on toiletries. In addition to your normal travel toiletries, these are things you will want to grab specifically for your babymoon packing list.
Belly Butter or Oil
Keep your skin nourished with belly butter or oil. This is essential for any trip, but don't forget to bring it with you on your babymoon.
Aloe
If you get a sunburn, you'll want aloe to soothe your skin. Packing a small bottle will keep you prepared for the worst.
Bug Spray
Remember Zika? While it's not a huge concern for pregnant women, it's still good to keep bugs away. A deet-free bug spray is a must-pack.
Thigh Rub
If your bottom half is expanding like your top half, you're not alone! Prevent uncomfortable chaffing from your thighs rubbing with this easy-to-pack stick.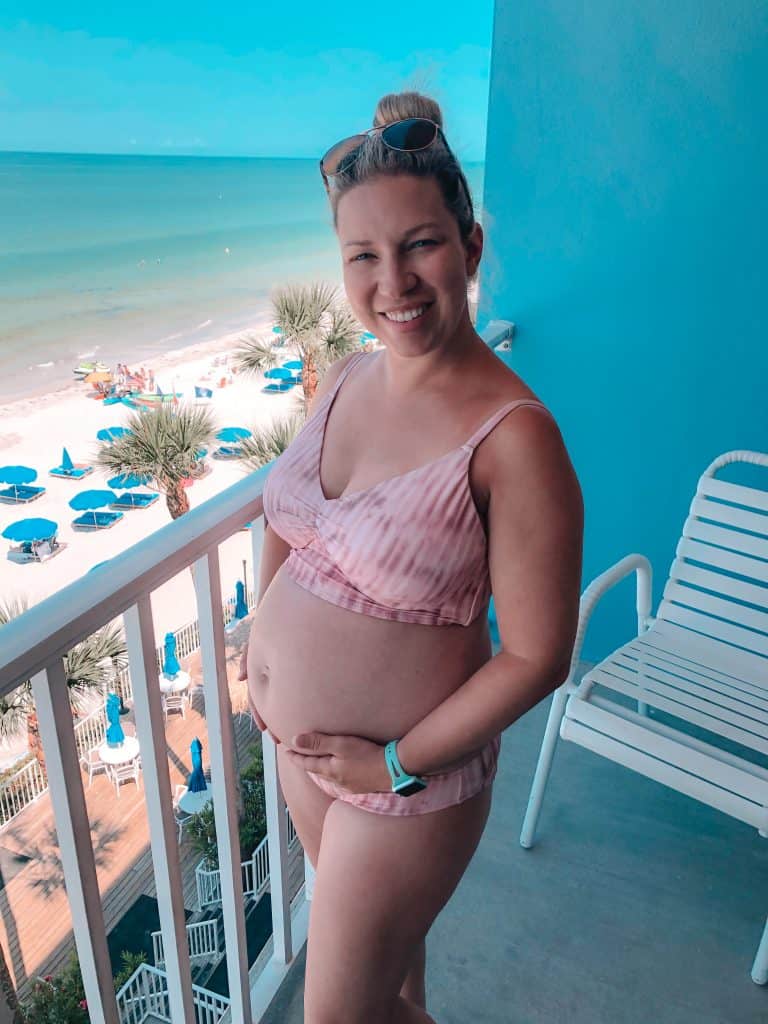 Other Babymoon Packing List Items
Herbal Tea Bags
You can easily bring along your red raspberry leaf or third trimester tea if you're already taking it! Just grab some hot water at the hotel.
Cooling Towels
Whether you're susceptible to hot flashes or not, a cooling towel can come in handy on hot days.
Personal Fan
If you're traveling to a hot climate, consider packing a small personal fan. This will help keep you cool and comfortable.
Pillow
If you have trouble sleeping when pregnant, you might want to consider packing a small pillow from home to help you get comfortable in your hotel bed.
Laundry Pods
You might want to consider doing a load or two of laundry while on your babymoon. Packing travel-sized pods will make this easy.
Hand Sanitizer
We always recommend packing travel-sized hand sanitizer. This is especially important if you're pregnant since you'll want to avoid getting sick.
Medical Information
Just in case – be sure to bring information if anything were to happen to you or your baby. Having this information on hand will keep you prepared for any issues.
Insurance card
Doctor's phone and information
Information on the nearest hospital
What You Need to Include on Your Babymoon Packing List
Pregnancy is an exciting time filled with lots of changes—including a growing belly!
While it can be tempting to spend all 9 months nesting and getting everything ready for baby's arrival, make sure you take some time out for just the two of you with a relaxing babymoon vacation.
And when it comes time to pack for your trip, use this babymoon packing list as a guide to help make sure you have everything you need for a fun and stress-free getaway. Safe travels!